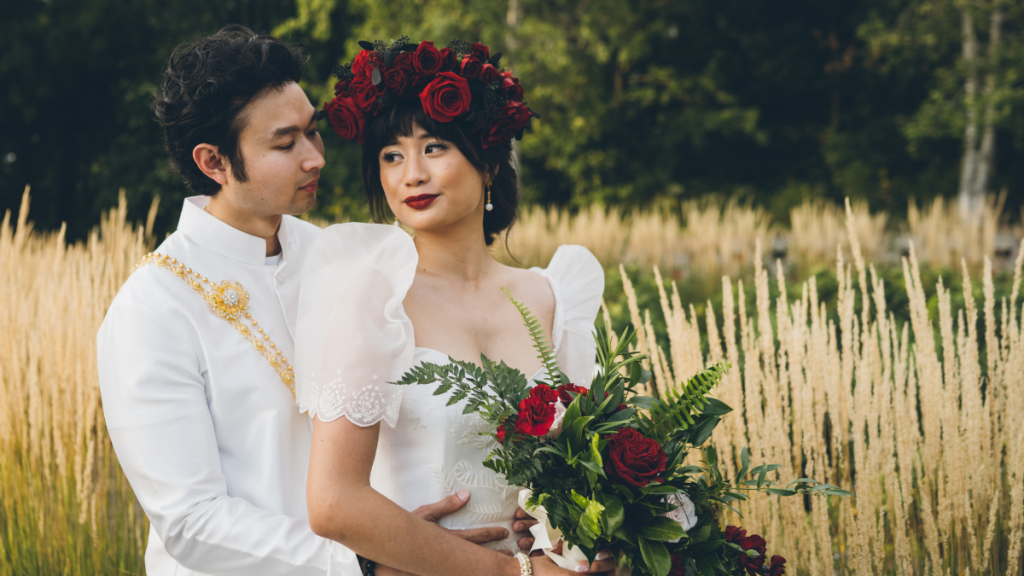 Charmaine & James' Filipino, Thai and Mythological Wedding
Charmaine and James had a clear vision for their wedding, and with some creative flair, they brought it to life. The couple wanted to honor their respective Filipino and Thai cultures while creating a cohesive and memorable experience. With the help of their friends and family, they embarked on a journey to create a wedding that was truly "theirs."
For their overarching theme, Charmaine and James were inspired by the Art Deco movement, mythology and a blend of their cultures. As they dove into this concept, they discovered intriguing overlaps between Filipino and Thai legends. This revelation led them to incorporate naga (Thailand's legendary water-dwelling serpents) and Bakunawa (a creature responsible for lunar eclipses in Filipino lore) motifs into their decor.
Drawing from more Thai legends, the couple envisioned their ceremony's aisle as a telling of the Mekong River's creation story. The aisle was lined with satin fabric that mimicked flowing water and was decorated with floating greenery. As Charmaine walked down the aisle towards James, it was as if they were walking along a river and inviting abundance in their marriage.
Handcrafted and custom-made details adorned the wedding — including the fashions. Charmaine co-designed a modern Filipiniana dress with Caroline Mangosing of VINTA Gallery, resulting in an elegant gown that highlighted their admiration for Filipino artists.
Ultimately, Charmaine and James created a wedding that celebrated their love, but also the fateful decisions of their parents to migrate from their motherlands, which ultimately led to their own meeting. This magical celebration was something that will be cherished for the rest of their years.
VENDOR LIST
PHOTOGRAPHER: Zach Caddy
VIDEOGRAPHER: Lawrence Connor
VENUE: Danada House
BOUQUET: Debi's Designs
FLORAL CROWN: Town & Country Gardens
CUSTOM DÉCOR: Mark Kachanthong (groom's brother)
BRIDE'S GOWN: VINTA Gallery
BRIDE'S JEWELRY: Cambio & Co., Sinta & Co. Filipino Weddings, Amami Filipino Jewelry
GROOM'S SUEA RAJ PATTERN: Custom from Thailand
BARONGS: Barong Warehouse
HAIR & MAKEUP: Diem Angie Beauty Team
CATERING: Marie's Catering
ENTERTAINMENT: DJ Nick2Bomb
---
---