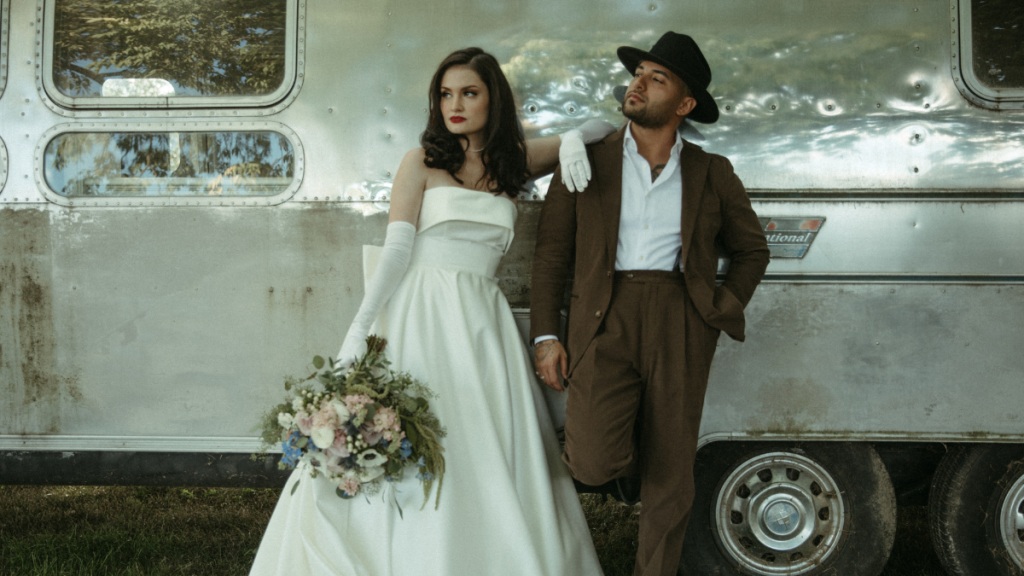 Brigitte & Ray: A 1950s-Meets-Jane Austen Fairytale
He's a senior graphic designer and she's a marketer for a national clothing company — two creatives who found each other and married in a countryside fairytale. Bursting forth from a time capsule, Brigitte and Ray's wedding was a 1950s-meets-Jane Austen fairytale. Opera gloves, cherry red lips and Cuban cigars set the stage for a dazzling day.
Venue 5126 in Oswego provided the perfect setting for the wedding. The venue's secluded location was a romantic escape from Chicago. A love story as timeless and thoughtful as this one deserved to be the biggest event in town. Their ceremony was held in the venue's barn, followed by dinner underneath a connected tent space. At dusk, the barn's large side doors opened to an exquisite sunset view, with acres of field adding to the rustic tranquility of the festivities.
Detail-oriented and stylish from head-to-toe, the bride enjoyed dwelling on the little things that brought the day to life. And that spirit of exactitude paid off, as the bride says, "The second my father took my arm to walk me down the aisle, everything from then on was a fever dream. It was such a perfect night." The lavender haze of their romance mixed with careful thoughtfulness was a recipe for success.
From antique book pages as the table runners to Brigitte's grandparents' vintage mailbox as their cardholder, the details were sentimental and charming.
"In today's world, it's not easy to drop everything and attend an event," says the bride. "I wanted these details to create an experience for everyone, a 'thank you' for being here with us to celebrate the start of our story." With chandelier lights blurring and the dance floor twirling, Brigitte and Ray created an evening to remember — for all.
VENDOR LIST
PHOTOGRAPHER: Alexis Rae Photography
VENUE: Venue 5126
PLANNER: Kristen Gerwig
FLORAL: Schaefer Greenhouses Inc.
BRIDE'S GOWN: LBR Bridal
GROOM'S FORMALWEAR: Suitsupply
HAIR: Riley Eve
MAKEUP: Mariia Bedratenko
GROOMING: Double Trouble Barber Shop
STATIONERY: Minted
CATERING & CAKE: Venue 5126
ENTERTAINMENT: DJ Suavesmooth
STRING QUARTET: Innocenti Strings
---