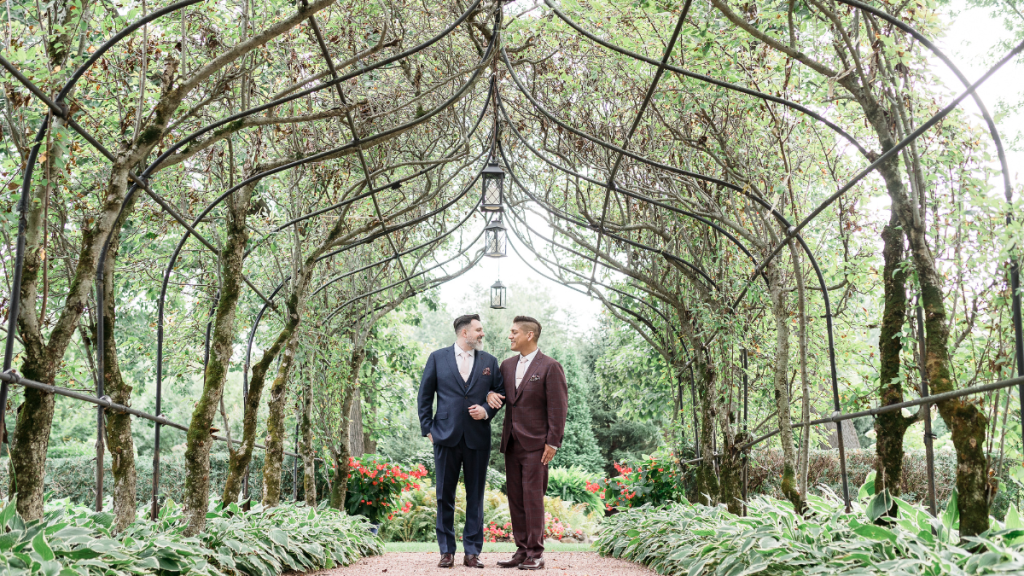 Anthony & Gary's Garden Dreamscape Wedding
Anthony and Gary's journey to their garden wedding day at Wandering Tree Estate is a beautiful one. The couple first crossed paths in 2017 at O'Hare International Airport, where Anthony worked at a gallery store. Gary, who was browsing the shop before catching a flight, struck up a conversation with Anthony, and the two hit it off. They exchanged phone numbers and arranged their first date, never imagining that it would lead them down the path to marriage.
As their relationship blossomed, Anthony and Gary quickly realized that they were each other's best friend and couldn't imagine life without one another. In 2019, Anthony proposed to Gary on a cruise ship, and they began their three- year engagement.
On their wedding day, Anthony and Gary decided to forgo tradition and got ready together, donning complementary navy and burgundy suits. It was their special day to share, and they wanted to start it off by being together.
When it came to the wedding itself, the lush grounds of Wandering Tree Estate provided the perfect backdrop. With its fragrant gardens and sparkling water, the picturesque location set the scene for an intimate celebration with their closest friends and family.
To maintain the intimate atmosphere, the couple shared their first dance alone in the venue's waterfront gazebo. It was an emotional moment as they swayed to the music, surrounded by the beauty of their surroundings.
Anthony and Gary's wedding day was a testament to their deep love and commitment to each other. From their initial meeting at the airport to their garden wedding, their journey is one filled with love, joy and the serenity that comes with marrying your best friend.
VENDOR LIST
PHOTOGRAPHER: Joshua Harrison
VENUE: Wandering Tree Estate
OFFICIANT: Dr. Elizabeth-Anne Stewart
FLORAL & DÉCOR: Mayfield Flowers
GROOMS' FORMALWEAR: The Tailor Foundation
GARY'S RING: CD Peacock
ANTHONY'S RING: Helzberg Diamonds
CATERING: Elegante Cuisine
CAKE: The Baking Institute
LIVE MUSIC: Eddy Rivera
HARPIST: Matt Brauer
DJ: Chicago Cutting Crew DJ Team
---