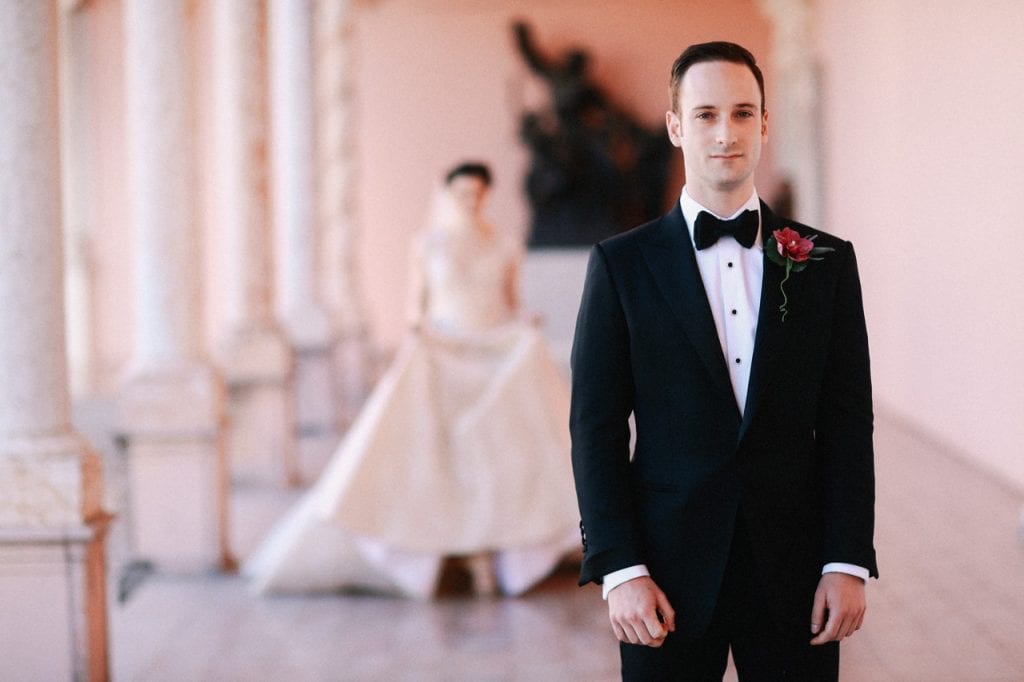 An Elegant, Old-World Wedding, at The Ringling Museum in Sarasota, Florida
Organic elegance is how Emily describes the style of her and David's wedding.
The ceremony was held, under a lush floral chuppah, on the front lawn of the opulent Ringling Ca d'Zan Mansion. After the ceremony, guests enjoyed cocktails on the marble terrace and watched as the sun set over Sarasota Bay.  Guests were then moved, by trolley, to the Ringling Museum Courtyard for dinner and dancing.
With a mix of eclectic furniture, and bold blooms, they brought garden party touches to their regal Venetian-style venue.  The couple used elements from their worldwide travels to put their signature on the day. Moroccan lanterns reflected their trip to North Africa, while bold
magenta, indigo, and purple, represented their time on the Amalfi Coast.
The bridal party sat at a 40′ king's table topped with a luxurious textured, woven metallic table linen. Emily and David sat at one end on a carved marble bench.  "The effect was of an intimate affair at a luxurious home from a bygone era," Emily said. "We hope our guests felt as transported as we did."
The celebration continued with a after-party at the Hyatt-Regency Boathouse.  The theme was 'Emily's Bat Mitzvah' and was completed with DJ, arcade machines, and late night food.
---
---