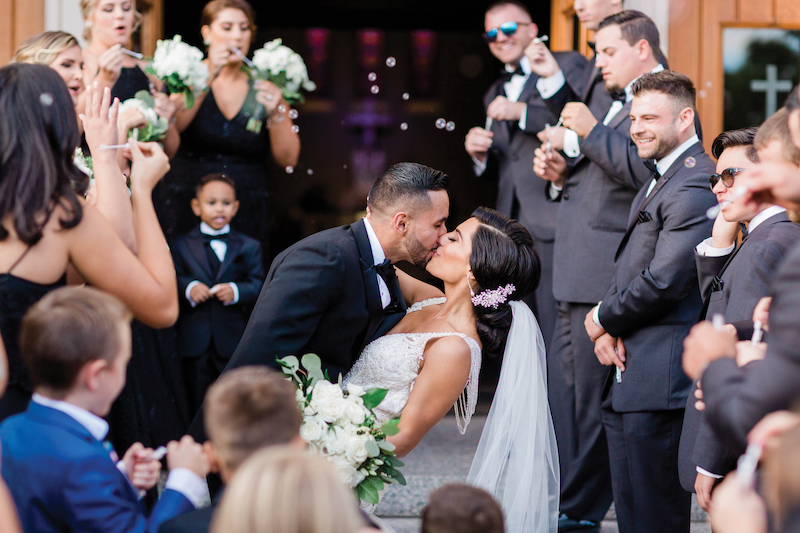 Perfectly Planned: Why You Should Hire a Wedding Planner
Written by Emily Conley | Photography by Photography by Lauryn
When was the last time you planned a large-scale, eight-hour party for 100 guests, including food, entertainment and extensive wardrobe selections? Unless you're a professional event planner, chances are you never planned such an involved affair. But it can't be that hard, right?
All in all, a wedding is really a complicated, full-scale party that requires hundreds of decisions and dozens of external vendors working together to pull off one fabulous event. Most of us don't have the time, energy or expertise to put together a wedding completely on our own. But don't despair, that's when wedding planners enter to save the day.
When you hire a wedding planner, you are hiring someone to oversee all the details of your big day so you can sit back, relax and enjoy the party. Something like the electricity hookup for the catering staff is the last thing you need to think about before walking down the aisle to marry the love of your life. Do yourself a favor and take some of the wedding stress off yourself by hiring a professional.
Besides, due to the uncertainty caused by the coronavirus public health crisis, and its resulting restrictions and safety precautions, event planning just got that much more difficult. Wedding planners have the knowledge and experience to build flexibility into contracts while pivoting and adjusting strategy with your vendors if an unforeseen circumstance impacts your big day in any way.
When you're ready to find your wedding planner, we have some of Chicago's best right here in the pages of this issue. All you have to do is decide how much help you need. Are you starting to feel less stressed already?
TIERS OF SERVICE
Wedding planners generally offer different tiers of service, priced according to the amount of time involved and services offered in each category. Before hiring a wedding planner, you and your partner should decide how much of your budget you're willing to spend, and how much help you truly need. Once you understand the volume of work you're able to take on and how much you need or want to outsource, you can get to work finding a wedding planner who offers the type of assistance you need.
FULL-SERVICE WEDDING PLANNING
If you have an incredibly demanding job, chose to have your wedding in a location where you don't live, or feel completely overwhelmed about how to start planning such a big event, then a full-service planner is probably the best choice. The investment for comprehensive wedding planning generally ranges from 10% to 20% of your total budget. In return, your planner helps you pick a wedding date, secure a venue and hone in on the specific style and vibe you want for your big day.
They will guide you through selecting your vendors, including a photographer, DJ, caterer, and florist. With his or her knowledge and recommendations, you can save hours of scrolling through reviews. Furthermore, your planner attends all vendor meetings with (or for) you and can assist with pricing negotiations. Depending on the wedding planner you work with, you're probably going to receive at least one wedding planning assistant in addition to your full- time event planner. Full-service wedding planning typically begins shortly after you get engaged and runs through the day of your wedding.
PARTIAL WEDDING PLANNING
Wedding planners may have their own term for partial wedding planning, such as month-of planning, but it generally falls between full-service planning and day-of coordination. If you already booked a venue and have a general idea for what you want your wedding to be like, partial wedding planning services are perfect for you. You get help with establishing a wedding day timeline and narrowing down your design choices, while still maintaining control of the details. You're probably going to have one or two sit- down meetings with your planner in the days leading up to your celebration, not to mention email access to your planner throughout the process.
If you decide partial planning services are right for you, be prepared to make some big decisions (like where and when to host your wedding) on your own, but feel confident knowing you have a professional to help you with the details.
DAY-OF WEDDING COORDINATION
The term "day of" is a bit misleading, as no one could come in only on your wedding day, and effectively manage all of the details and vendors. Day-of wedding coordination usually begins at least eight to 12 weeks before your big day. Your wedding coordinator meets with you once you've hired all of your outside vendors, and takes over to finalize details and confirm their coverage times for the actual day. You can expect your day-of coordinator to provide you with a timeline of events and manage the logistics of your wedding day. They also generally attend your rehearsal and coordinate any outstanding payments or gratuities.
WEDDING PLANNER OR SUPERHERO?
Most wedding planners are expert event planners with a touch of superhero thrown in. Weddings involve a lot of people and large numbers of people generally mean a few disasters are inevitable. Most planners have already solved every kind of crisis and most usually occur without the couple even knowing what had happened. From a grandparent passing out during the toasts (they were completely fine after getting some hydration) to a melting wedding cake, wedding planners are innate problem solvers. If they have been in business for a while, chances are there are very few issues they haven't handled.
Imagine you're in the stunning wedding dress of your dreams, you just married the love of your life and you are on your way to celebrate with everyone at your reception. You step out of the limo and straight into a spilled cherry slushie on the sidewalk. There's red liquid staining your white dress and you are about to walk into a room full of people who are going to be looking right at you. If you hired an experienced wedding planner, there's no need to cry. They're going to whip out some of the white chalk they carry around for just this moment (who knew?) and color right over the glaring stain. No one's ever going to know the difference. That moment right there is worth every penny you spent to hire a planning pro.
MONEY MATTERS
Weddings are not cheap. Even small, seemingly simple affairs require a significant investment. It can seem daunting to spend a chunk of your wedding budget on a planner, but not hiring a professional can end up costing you even more. Planners know the ins and outs of the local wedding market, which means they know which vendors you can trust and whom you should stay far away from. The expert advice and knowledge your wedding planner brings to the table can help you avoid expensive mistakes. A good wedding planner double-checks every contract and every decision to make sure all of the details are correct. They ensure you don't end up with a room full of gardenias when you paid for peonies.
VISION AND REALITY
You may have dreamt of your wedding day for years. Maybe you know exactly what you want the room to look like when you walk in hand in hand with your new spouse to be introduced to your guests for the first time. Or perhaps you have a Pinterest board with thousands of ideas, overflowing with inspiration. While it's fun to imagine things in your mind or look at them on a Pinterest board, bringing that vision to life is a challenge. One of the greatest benefits of a good wedding planner is his or her ability to look at your inspiration, talk to you about your desired style and vibe, and then turn those ideas and dreams into something magical.
A good wedding planner also knows the difference between Pinterest and reality. Your budget may not line up with your Pinterest dreams. He or she can help manipulate your budget and offer creative solutions to design your dream wedding, while keeping things realistic and within your budget. (However, one common misconception is that wedding planners can save couples money when it comes to negotiating contracts. While your planner may have a working relationship with a company that could cut costs a bit, a discount should never be expected.)
Wedding inspiration can quickly become overwhelming and impossible to wrangle. How do you pick a color palette that evokes the timeless, elegant vibe you know you want, but can't really describe? How do you make sure you're staying within your budget? A wedding planner has the expertise to take your dreams and intangible ideas, and turn them into a cohesive, gorgeously styled wedding day.
ADVICE AND MEDIATION
Weddings tend to cultivate unique conflicts. Bringing together two families is inherently tricky and, when you throw in all the logistical details and personal feelings involved in a wedding, the situation can get sticky. One of the best parts of having a wedding planner on board is that he or she can act as a mediator. Maybe you're too scared to tell your future mother-in-law that you think her favorite flowers are tacky and ugly, but your wedding planner can tactfully inform her that you're using specific floral arrangements without it feeling personal. If you have a particularly challenging bridesmaid who questions every decision, you can direct her to your wedding planner who always has your back.
Then there's the plethora of advice you receive when you hire a planner. Not sure if a venue is big enough for your guest list? Your planner can tell you. Can't decide if you should have live music or a DJ? Your planner can give you a rundown on the pros and cons of each, and help you make a decision. Completely lost when it comes to wedding gown styles? Your planner has seen every body type walk down the aisle and knows what gown is going to impress. Wedding planners live in the wedding world — they know what is trendy, tacky and tasteful.
WEDDING DAY DETAILS
It may seem obvious, but perhaps the biggest service a wedding planner provides is coordinating the actual wedding day. From what time your hair and makeup should be completed to sending the wedding party down the aisle, a planner has the knowledge and skills to make your day run flawlessly. Hiring a wedding planner also frees up your family members to enjoy your day instead of working to make sure everything goes to plan.
Your mom deserves to relax and enjoy your wedding day, too. You cannot coordinate your reception setup while you're busy walking down the aisle and exchanging vows. It takes a lot of work and expertise to pull off a once-in-a-lifetime event. Even the most organized of couples can't successfully enjoy their big day if they are simultaneously trying to manage it. Plan to hire a wedding planner and make sure there is room in your budget to cover the level of service you need before you make any other decisions.
---