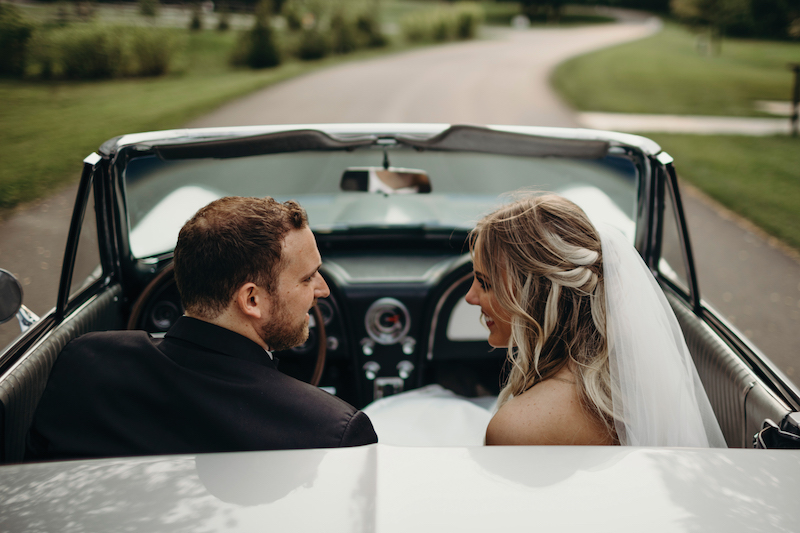 The Ride of Your Life: Personalize Your Transportation
Written by E. Ce Miller | Photography Ashley Galminas Photography
Ride In Style
Organizing wedding day transportation isn't necessarily at the top of every engaged couple's to-do list. But when the big day finally arrives, the last thing you want to be thinking about is how you and your entire wedding party are getting from the ceremony to the reception — and it's not a detail you want to leave until the last minute.
The good news is that wedding day transportation doesn't have to be all about the logistics of getting from Point A to B. With a little thought and advanced planning, you can schedule wedding day transportation that is not only functional, but also fun.
GIVE YOURSELF THE VIP TREATMENT.
If you're planning a sleek and sophisticated wedding, arranging a fleet of luxury cars or a stretch limo to transport you and your wedding party from the ceremony to the reception may be just the ticket. The tinted windows and bubbly make for a relaxing and refreshing ride, the kind of break you need between saying "I do" and dancing the night away.
GO OLD SCHOOL.
If your wedding has more of a vintage feel, then consider arranging the service of an antique automobile company. For the car-loving couple, classic cars make for some one-of-a-kind wedding snapshots and a once-in-a-lifetime experience. Plus, lots of classic car rental companies have props on hand (think red carpets, roses and parasols) for couples who want their wedding transportation to double as a creative photo opp.
TRY A TROLLEY.
Wedding trolleys are fun, and if you're trying to transport a lot of your guests at once (or have a lot of folks in the wedding party), a trolley may be the way to go. There's plenty of space to start the party a little early — so be sure you have a couple bottles of champagne and your dancing shoes on hand.
DO SOMETHING TOTALLY YOU.
Do you and your fiancé love riding motorcycles? Was your first date a tandem bike ride? Did you meet when he spilled coffee on you while riding the Red Line? Consider incorporating something unique and representative of the two of you into your wedding day transportation.
MAKE IT FUN!
If your vendors allow, be sure to bring plenty of champagne, a playlist of your favorite tunes and anything else to make your journey from ceremony to reception a blast.
---