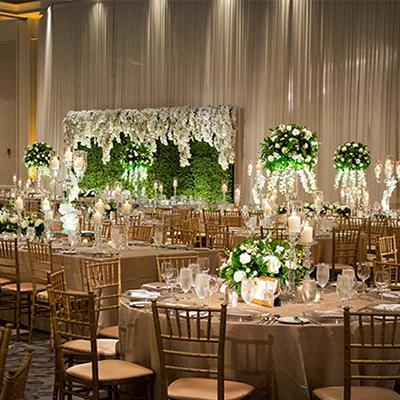 Keep Your Celebration on Schedule
Your Wedding Reception is a well-timed event. From the cocktail hour to dinner and dancing to cutting the cake, everything runs on a precise schedule, which means you need to know what to do and when to do it. ChicagoStyle Weddings breaks down the reception basics and helps you plan your party hour by hour.
Get help.
When it comes to planning your reception, don't try to do it alone. Work with a wedding planner or your venue's coordinator who can help you organize the ins and outs of your reception. These wedding professionals arrange events all the time so you can trust they know the particulars of party planning. They can help you stay on schedule and make sure you don't underestimate the time needed to tackle reception events like the first dance.
Get started early.
Venue setup takes time and should be done well before the party starts. Your reception flowers and centerpieces should be in place at least an hour before the reception starts; the same goes for your wedding cake. Decorative elements like candles, chair covers and linens should be ready to go a day before the wedding. Banquet staff can arrange these elements for you. Then you and your planner can review the look and make any necessary changes the day of your wedding – or even after the rehearsal dinner if everything is in place. If you leave these details to the last minute, you'll feel hurried and frustrated, especially if something doesn't go as planned.
Review your vendor contracts.
Part of making sure your day goes as smoothly as possible is ensuring your vendors know what's expected of them and when. If you want your DJ to be set up 30 minutes or more before the party starts, make sure that time clause is in the contract – if it's not, you don't have control over your time frame. Your planner can help you set reasonable expectations for each vendor, and she can make sure the vendors know what time table they're working with for the day of coordination.
Have a reception game plan.
As with any event, you need to develop and write out a party plan. Make sure each person assigned to a job – from the bartender to wait staff to band leader –knows what's expected of him or her. Write out the plan, review it with your vendors to foresee problems and then test the plan with a dry run a week before or more. Part of this plan involves having a backup in case something doesn't go as expected. Meet with your planner a few weeks prior to your Big Day so you can map out the day hour-by-hour, area-by-area. You'll want to figure out where you and your groom need to be at all times, plus you'll review reception details like when dinner will be served and small nuances like which tables will get served first. If it helps you and the guests in your wedding party, type up an itinerary so everyone knows what to expect.
Don't Rush.
There's a lot of fun to squeeze into a few hours, but that's no reason to rush through your wedding reception. No one will have a good time if the event is too structured and everyone feels pressured to stay on schedule. Build some flexibility into your reception so you can let the good times happen naturally without feeling the pressure to finish by a certain time. For example, if your first dance receives an encore, then go with the flow. Don't worry that an extra dance will make you stray from the schedule. These little moments are the memorable ones, so embrace them.
Don't overlook the details.
Make a list of all the important details that are essential to your reception's success. Budget enough time for each key item so your schedule doesn't get backed up or out of sync. The toasting, for example, should happen after the announcement of the bride and groom. Make sure waiters have enough time to serve guests champagne or cider so they're ready to toast your nuptials.
Plan for the unexpected.
Nothing is perfect so have wiggle room planned for your party. Maybe your menu will get a last-minute change or your DJ won't have all your guests' requests, but both are okay. If you can relax a little, you'll see that every event has a few wrinkles that aren't make-or-break moments. So take a deep breath and enjoy the what-ifs as much as possible. Your wedding reception is a once-in-a-lifetime kind of event. You get to plan all the details, like the menu, the music playlist and the décor. You want to experience every moment to the fullest, so do your best to devise a plan and a timeline that you can follow and not fret about when the day comes.
The hour-by-hour breakdown.
While you and your guests may want to boogie until the wee hours of the night, it's not likely that your venue and caterer's staff feels the same. A typical wedding reception runs approximately five hours long, and has a fairly structured schedule. Your band leader or DJ will serve as the Master of Ceremonies, or the MC, for the evening. He or she will keep your party moving along smoothly so no one feels rushed and you don't run into overtime fees.
Whether you're looking at a mid-morning reception or an evening affair, here's a general overview of how it can progress.
Hour one:
Cocktail Hour
You said "I do," kissed, and now it's time for the guests to make their way to the reception. There may be some downtime between, but guests will generally arrive to a cocktail hour pretty quickly after the service. If the ceremony is held at the same venue as the reception, guests may simply venture to another part of the space to continue the festivities.
While the new couple, their attendants, and their families are out taking glamour shots around the city, it's up to the MC to keep guests entertained. Light music in the background allows for socializing without that awkward silence. The MC can also advise guests to begin taking their seats about ten or fifteen minutes before the couple is scheduled to make their grand entrance.
Hour two:
The Newlyweds Arrive
After the MC has guided guests to their seats, the band or DJ will change up the music to indicate that something big is about to happen. The MC will take the mic and start introducing the family and wedding party as they enter one-by-one, two-by-two, or whatever-by-whatever. The newlyweds will be announced last –to wild cheers from the crowd, of course. After this, the MC will request that guests take their seats.
This is a great opportunity to move right into your first dance. You've got the spotlight, might as well use it! When the dance is over, the band or DJ will switch back to some pleasant background music to encourage chatter through dinner. Here's your chance to start greeting your guests at each table.
A few minutes later, dinner will be served. At this point, take a break and grab a bite. You've been planning this meal for months! You deserve a few minutes to try it. Let the wedding party and family eat first – especially those who are making speeches. Toasts usually begin about 20 minutes after dinner has been served.
Traditionally toasts are started by the best man, followed by the maid of honor, and then the parents' speeches. If you and your new spouse would like to say a few words, this is a great time for that as well. Be sure to give your MC a list of everyone's name so they can announce each person who will be speaking and their relation to the couple. Bonus tip –spelling the names out phonetically will drastically reduce the number of awkward pronunciations.
Hour three:
Dance, Dance
After the speeches wrap up, it's time to hit the dance floor. If you decided not to do your first dance right after your grand entrance, now would be the time to do it. Traditionally, the father-daughter dance follows, and then the mother-son dance. After that, your MC will invite guests to join the wedding party on the dance floor, and everybody starts going crazy.
Hour four:
Traditions
As the dancing continues, it's time for all the single ladies to put their hands up and catch the bouquet. It's also garter time for the guys. Your MC will keep track of time and help spread out any of the fun extras, like the Hora at a Jewish wedding, an anniversary dance, or a money dance.
About halfway through the hour, you get to smash frosting into your new spouse's face – oops, we meant cut the cake. Your MC will help to clear the floor a bit so that everyone has a great view. Then it's right back to dancing. Because let's be real –that's what everyone wants to do!
Hour five:
Take A Bow
While you and your crew are out on the dance floor getting your groove on, Grandma is probably starting to fall asleep at her table. Guests will start to trickle out during hour five, and it's time to start wrapping up the evening.
Have your MC announce last call at the bar about 30 to 45 minutes before the reception officially ends. A great way to start getting everyone out the door is to have the wedding party coordinate a fond farewell for the newlyweds outside the venue, complete with bubbles or sparklers. If you plan to do this, have your MC give the crowd a fifteen-minute warning before it begins.
If you've got a particularly rowdy crowd that doesn't seem to be taking the hint, ask your band or DJ to play a very definitive last song. It's pretty hard to misinterpret the meaning of "Closing Time" by Semisonic. After that, bring up the lights, shut off the music, and eventually people will head out.
Other things to consider.
As you're planning your reception timeline, remember that it's always best to overestimate the amount of time needed. Allow enough time between scheduled activities for the unexpected, and don't forget that you and your spouse need time to relax and enjoy your family and guests!
Check to see if your venue contract requires all guests and vendors to vacate the premises by a certain time. Remember that once your guests leave, your vendors will still need time to clean up and clear out any equipment. Those speakers don't pack themselves. Make sure to give them at least an hour to ensure you don't exceed your venue rental period. Overtime fees can get expensive quickly.