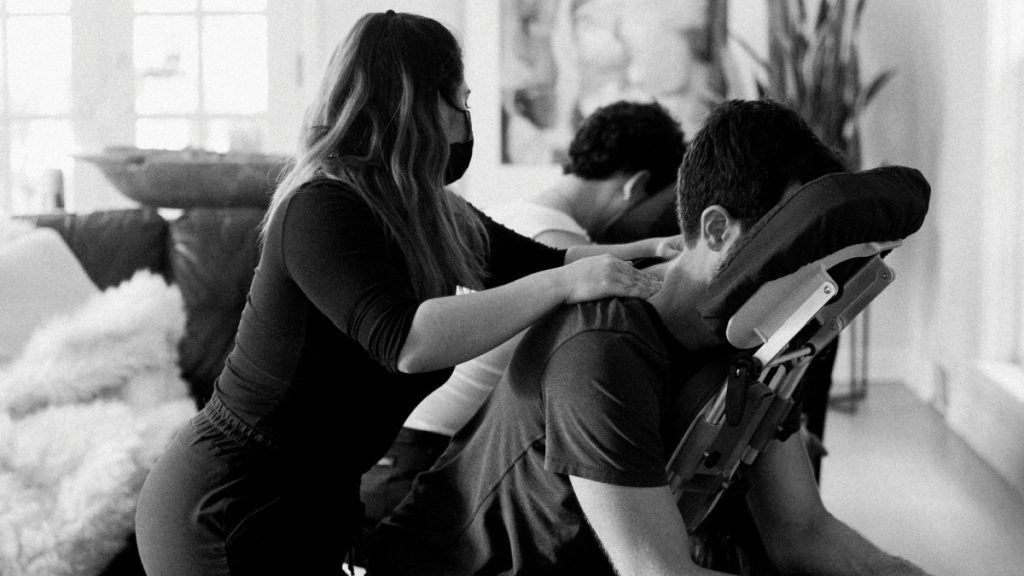 Treat Yourself with some Pre-Wedding Pampering
Photo by Kristin Sweeting Photography
It's no secret that wedding planning can be stressful. To keep yourself feeling refreshed and relaxed, be sure to schedule time to pamper yourself and prepare for the big day. Whether that be a relaxing massage to ease stress or regular hair blow-outs to keep your hair shining, check out these options for some much-needed pre-wedding pampering.
Massage It Out
Treat yourself and get a massage! Not only are massages deeply relaxing and great for stress relief, but they have many health benefits, including posture improvement and energy stimulation. Your wedding photographer will thank you.
Chicago Style Weddings Suggestion: Windy City Massage
Windy City Massage has the unique business model of coming to you. Available for booking at hotels such as Swissôtel, Kimpton Gray, The Drake Oak Brook and The Allegro Royal Sonesta Hotel, Windy City Massage professionals will come to your room for some on-location pampering.
Best Facial Forward
On your wedding day, your face and the joy it exudes are the stars of the show! A facial can make you feel rejuvenated and ready to shine and smile big.
Pro tip: If you plan on booking facial treatments, be sure to plan a trial facial a few months out. You don't want to risk any breakouts or reactions to the treatment on your wedding day!

Chicago Style Weddings Suggestion: The Peninsula Spa
The Peninsula Spa will have you feeling on top of the world with a glowing face to match. From deep-cleanings and relaxing facials to cutting-edge services, The Peninsula Spa can provide whatever you need in order to put your best face forward.
Couples Treatments

On the road to your wedding, a lot of your quality time with your partner will be spent planning. Be sure to plan dedicated time to relax with your loved one. As an alternative to a dinner date night, plan a spa treatment together. Couples' treatments are romantic, relaxing, and beneficial to the mind and body.

Chicago Style Weddings Suggestion: The Spa at Trump
The Spa at Trump has a variety of couples experiences for you and your soon-to-be spouse to indulge in. The variety of treatments include couple's massages and soaking tub experiences, complete with champagne, candles and complete tranquility.
Book a Spa Getaway
While we love a bachelorette out on the town, there's something to be said for a pampering and relaxing time with your closest friends. Your wedding will go by in a blur, so take time to spend time with your treasured attendants and family by planning a spa getaway.

Chicago Style Weddings Suggestion: Eagle Ridge Resort & Spa
Located in Galena, Eagle Ridge Resort and Spa provides the perfect backdrop for a getaway. Their Stonedrift Spa offers an extensive menu of spa services and therapies. For instance, full "Head To Toe" packages, Gentleman's Treatments or waxing services.
Nailed it!
Manicures aren't just about nails. Complete with a massage and moisturizing effects, release the stress that you're holding in your digits by investing in a good manicure. Pause sending emails and scrolling on your phone to give your hands a pampering!

Chicago Style Weddings Suggestion: The Spa Midtown – In Hyatt Lodge Oak Brook
Hyatt Lodge Oak Brook's The Spa Midtown offers a full menu of spa services, manicures and pedicures included. Nourish your hard-working hands with a manicure, and don't be afraid to get some shellac or tips to really pamper yourself.


Healthy Hair is Happy Hair

No matter your hairstylist, you have to give them a good base to work with in order for your wedding hair to shine! Leading up to your wedding, don't forget to give your hair some love with nourishing treatments and trims.
Chicago Style Weddings Suggestion: Every Kind of Beautiful
Every Kind of Beautiful knows bridal beauty. If you book Every Kind of Beautiful for your wedding glam, they've got you covered with their "The Beautiful Package." However, their services are great a la carte as well! such offerings include hydration, repair, curl care or volume treatments as well as trims and blowouts.