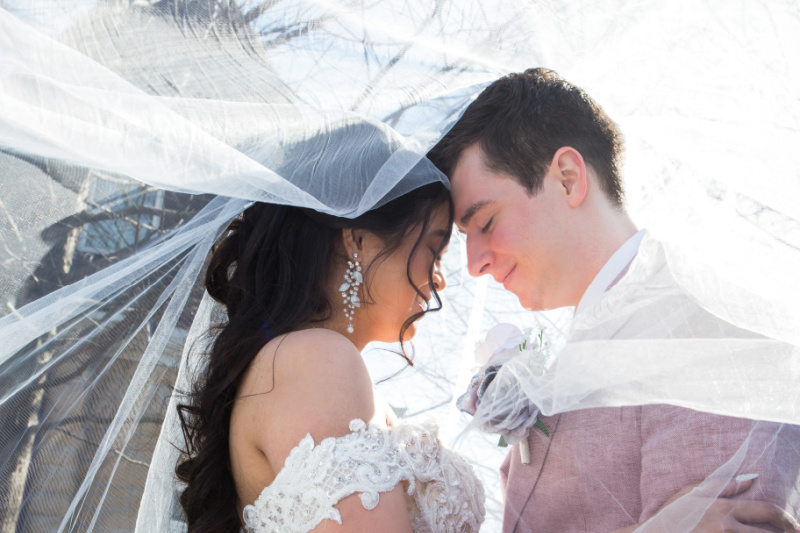 Written by Katie O'Shaughnessy | Photography by TWA Photographic Artists
Right now your mind is swirling with all the unique things you want to pack into your wedding day. Your heart may be set on the grandest, most beautiful dress money can buy or a menagerie of whimsical peacocks performing a tightly choreographed show tune. But let's just calm down here, set that aside, and take a step into the future for a minute.
It's likely that something small will go wrong despite your best intentions, but if you go with the flow and find the humor in it, you'll come to appreciate the minor glitch from the day you got hitched. That said, you can still take action to limit the likelihood of potential regrets. Here's how.
WHO'S THE BOSS?
When it comes to a big, creative event like this, everyone has an opinion, which is not necessarily a bad thing. Listen to others while still keeping your own desires at the forefront of your planning.
Family members often seem to have their own ideas of how your wedding should go. Whether they envision something more traditional than you'd like or something built from their wildly overactive imaginations, they need to know that you and your partner make the final decisions. Being direct from the beginning will keep you from being pushed around, but be kind. Remember that they just want the best for you, and any "help" they offer is out of love.
And of course, everyone wants their wedding guests to leave their big day happy. After all, they took the time out of their busy lives to celebrate your wedding. However, while you should make your guests' happiness a priority, you're undoubtedly going to worry too much about what would please them, and not enough about how you and your spouse want to spend your day. Chances are your guests are just happy to be included and celebrate with you. Make them feel special, but make sure you and your partner are happy, too.
FINISH YOUR GUEST LIST
Formulating a solid guest list early in the process removes a significant amount of stress. Knowing how many people may attend your wedding makes it so much easier to design nearly every other detail.
Your guest list can help determine how many tables and centerpieces you need, what size cake you want, how large your dance floor should be and what your budget is per plate. Getting the logistics down early saves a lot of time — and many headaches — in the long run.
DIY AT YOUR OWN RISK
DIY décor and favors may seem like an amazing idea right now, but they're also a ton of work, super time-consuming and definitely not as budget-friendly as you think. All those raw birch tree slices cost money and they don't personalize themselves. Your attendants love you to death, otherwise they wouldn't be by your side through this exciting process, but they can only tolerate so much. If you ask them to bundle 500 packets of home-dried herbs in individually- cut, hot-glued, hand-addressed tea bag sachets, they might leave you at the altar.
UNCLE HARRY IS A VERY AMATEUR PHOTOGRAPHER
Just because a family member owns a fancy camera, doesn't mean they know how to use a fancy camera. Professionals have taken classes and honed their professional skills, and it's in your best interest to hire one. Plus, you want Uncle Harry to be burning up the dance floor with Aunt Sheila.
Look at several photographers' portfolios before you make a choice. Good framing and impeccable focus are one thing. Style is another. When you're making a decision, look for someone whose style suits what you envision for your wedding. Whimsical, classic or bold, a portfolio is the best indication of what to expect on your big day.
Also, keep in mind that it's easier to boss around a hired stranger than the sweet guy who changed your diapers and fed you when your parents wanted a date night.
STAY CLASSY
Dig out pictures of your mother's and your grandmother's wedding dresses. Now imagine yourself swaddled in those puffy sleeves and yards of lumpy fabric. No thanks.
Styles and tastes change. While current fads seem amazing, be wary of hyper-modern trends. Find a classic, simple look and add your own twist. If you're tempted by an aisle-long train and voluminous chicken-wire veil, maybe bring in a level-headed bridesmaid or two. The less over-the- top your dress is, the more likely it will still be in style 10 years down the road and you won't cringe at your own wedding photos.
Do a few dance moves in the dressing room. We're not saying you need to memorize a traditional jig before your fitting, but maybe try to drop it like it's hot once or twice to make sure nothing slips out. If the cut of the dress doesn't allow you to be the most confident dancer at the reception, opt for something that will keep you comfortable enough to focus on the guests who have come out to adore you rather than the dress boning that is piercing your side for nine hours.
WHO'S THAT LADY?
It's your day, and you have professionals lined up for your hair and makeup. The inclination is to go super glam and enjoy your transformation into a supermodel, but remember who your partner fell in love with and make sure that person is the one getting married.
Unless it's your daily style, you'll look totally different when you opt for eyes smokier than the pits of hell or lipstick that causes solar flares. When you get those professionally taken photos back and wonder who your spouse is dancing with, you may regret your decision. Natural hues that highlight rather than disguise your charms will keep your style yours with all the glam you need.
HOW TO GREET IN ONE EASY STEP
For every person who regrets wasting their entire reception circling the room and repeating the same short "thank- you" speech, there's another who regrets not making it around to everyone. Your guests are your staunchest supporters. They zoomed from long distances to celebrate your union and they deserve some recognition for that. But this is your day to enjoy yourself and finding that balance is so difficult.
Consider alternatives to walking around to each individual during the reception. Everyone is busy partaking in their delicious entree, and having you pop up behind them when their mouth is full is awkward for all parties. Instead, form a receiving line as people leave the ceremony and tell them how excited you are to celebrate with them at the reception. If you'd prefer to be swept off in the limo as soon as the ceremony ends, spend the cocktail hour making your rounds. For a roaring good time, take each person into a photo booth with you and your partner as they arrive at the reception. A strip of pictures with the two of you will be thanks enough.
Another option is to prepare a toast with your spouse to thank everyone for their presence. Make it heartfelt and maybe a little tear-inducing while keeping it general enough for everyone to fall under its cozy umbrella. This way everyone gets to enjoy the party without all the awkward handshakes.
DON'T WEAR THE LAMPSHADE AT YOUR OWN PARTY
You've been lost in a storm of planning, and the lead-up to this soirée has been only one stressful item after another on your already full plate. It's easy to see the reception as the first time you really get to let loose and have a couple of cocktails. Go ahead. Have one. Have two. Then maybe slow down around three or four. Getting lit on your wedding day is not the ladylike or gentlemanly thing to do, and believe us, your guests will love reminding you about that time you drunkenly collapsed onto your own wedding cake.
You've been preparing for this night for several months (or since you saw "The Sound of Music" when you were seven and immediately began making lists and diagrams). To celebrate the success of pulling it off, you should soberly swim in the sea of "oohs" and "aahs" and look around at the amazing show you've created. Your most vivid memory shouldn't be the bathroom floor.
MAKE SURE IT'S A HAPPILY EVER AFTER
In movies, the deliriously happy couple is whisked off at the end of the party to their honeymoon while their guests wave wistfully and dab at tears. In reality, the deliriously happy couple is also deliriously exhausted and burnt- out. They may not have spent much time with each other since they said their vows, and they may (if they didn't take our earlier advice) be slightly inebriated.
Starting your honeymoon the night of or morning after your wedding may seem like a romantic whirlwind of adventure, but let us tell you what's not romantic: airport security. You don't want to stand in that line, get frisked and then propel 33,000 feet into the air while there's still tequila settling in your stomach and blisters on your dance- worn feet. Besides, what's the point of reserving an oceanside suite if you sleep through the first 48 hours of it?
Spend a day or two at home or at a nearby hotel lavishing in the love you now legally share before tackling anything strenuous like trotting the globe. Sleep off the pre-wedding anxiety, during-wedding adrenaline and after-wedding lushness. Your body and mental state will thank you for being refreshed and ready to enjoy your well-deserved time away.
HIRING A WEDDING PLANNER
A wedding is really a complicated, full-scale party that requires hundreds of decisions and dozens of external vendors working together to pull off one fabulous event. Most of us don't have the time, energy or expertise to put together a wedding completely on our own. But don't despair, that's when wedding planners enter to save the day.
When you hire a wedding planner, you are hiring someone to oversee all the details of your big day so you can sit back, relax and enjoy the party. Something like the electricity hookup for the catering staff is the last thing you need to think about before walking down the aisle to marry the love of your life. Do yourself a favor and take some of the wedding stress off yourself by hiring a professional.
Besides, due to the uncertainty caused by the coronavirus public health crisis, and its resulting restrictions and safety precautions, event planning just got that much more difficult. Wedding planners have the knowledge and experience to build flexibility into contracts while pivoting and adjusting strategy with your vendors if an unforeseen circumstance impacts your big day in any way.
TIERS OF SERVICE
Wedding planners generally offer different tiers of service, priced according to the amount of time involved and services offered in each category. Before hiring a wedding planner, you and your partner should decide how much of your budget you're willing to spend, and how much help you truly need. Once you understand the volume of work you're able to take on and how much you need or want to outsource, you can get to work finding a wedding planner who offers the type of assistance you need.
Full-Service Wedding Planning: If you have an incredibly demanding job, chose to have your wedding in a location where you don't live, or feel completely overwhelmed and clueless about how to start planning such a big event, then a full-service planner is probably the best choice. The investment for comprehensive wedding planning generally ranges from 10% to 20% of your total budget. In return, your planner helps you pick a wedding date, secure a venue and hone in on the specific style and vibe you want for your big day.
He or she guides you through selecting your vendors, including photographers, DJs, caterers, florists, rental companies and makeup and hair artists. With his or her knowledge and recommendations, you can save countless hours of scrolling through reviews. Furthermore, your planner attends all vendor meetings with (or for) you and handles pricing negotiations. Depending on the wedding planner you work with, you're probably going to receive at least one wedding planning assistant in addition to your full-time event planner. Full-service wedding planning typically begins shortly after you get engaged and runs through the day of your wedding.
Partial Wedding Planning: Wedding planners may have their own term for partial wedding planning, such as month-of planning, but it generally falls between full-service planning and day-of coordination. If you already booked a venue and have a general idea for what you want your wedding to be like, partial wedding planning services are perfect for you. You get help with establishing a wedding day timeline and narrowing down your design choices, while still maintaining control of the details. You're probably going to have one or two sit-down meetings with your planner in the days leading up to your celebration, not to mention email access to your planner throughout the process.
If you decide partial planning services are right for you, be prepared to make some big decisions (like where and when to host your wedding) on your own, but feel confident knowing you have a professional to help you with the details.
Day-of Wedding Coordination: The term "day of" is a bit misleading, as no one could come in only on your wedding day, and effectively manage all of the details and vendors. Day-of wedding coordination usually begins at least eight to 12 weeks before your big day. Your coordinator meets with you once you hire all of your outside vendors, and takes over to finalize details and confirm coverage times for the actual day. You can expect your day-of coordinator to provide a timeline of events and manage the logistics of your wedding day. They also generally attend your rehearsal and coordinate any outstanding payments or gratuities.
WEDDING PLANNER OR SUPERHERO?
Most wedding planners are expert event planners with a touch of superhero thrown in. Weddings involve a lot of people and large numbers of people generally mean a few disasters are inevitable. Most planners have already solved every kind of crisis and most usually occur without the couple even knowing what was happening. From a grandparent passing out during the toasts (they were completely fine after getting some hydration) to a melting wedding cake, wedding planners are innate problem solvers. If they have been in business for a while, chances are there are very few issues they haven't handled.
VISION AND REALITY
You may have dreamt of your wedding day for years. Maybe you know exactly what you want the room to look like when you walk in hand in hand with your new spouse to be introduced to your guests for the first time. Or perhaps you have a Pinterest board with thousands of ideas, overflowing with inspiration. While it's fun to imagine things in your mind or look at them on a Pinterest board, bringing that vision to life is a challenge. One of the greatest benefits of a good wedding planner is his or her ability to look at your inspiration, talk to you about your desired style and vibe, and then turn those ideas and dreams into something magical.
ADVICE AND MEDIATION
Weddings tend to cultivate unique conflicts. Bringing together two families is inherently tricky and, when you throw in all the logistical details and personal feelings involved in a wedding, the situation can get sticky. One of the best parts of having a wedding planner on board is that he or she can act as a mediator. Maybe you're too scared to tell your future mother-in-law that you think her favorite flowers are tacky and ugly, but your wedding planner can tactfully inform her that you're using specific floral arrangements without it feeling personal. If you have a particularly challenging bridesmaid who questions every decision, you can direct her to your wedding planner who always has your back.
Then there's the plethora of advice you receive when you hire a planner. Not sure if a venue is big enough for your guest list? Your planner can tell you. Can't decide if you should have live music or a DJ? Your planner can give you the pros and cons of each, and help you make a decision. Completely lost when it comes to a wedding gown? Your planner has seen every body type walk down the aisle and knows what is going to impress. Wedding planners live in the wedding world — they know what is trendy, tacky and tasteful.
WEDDING DAY DETAILS
It may seem obvious, but perhaps the biggest service a wedding planner provides is coordinating the actual wedding day. From what time your hair and makeup should be completed to sending the wedding party down the aisle, a planner has the knowledge and skills to make your day run flawlessly. Hiring a wedding planner also frees up your family members to enjoy your day instead of working to make sure everything goes to plan.
THE VALUE OF TIME
You are only engaged for a short amount of time and, as they always say, time is money. Do you want to spend that special season stressed out over 5,000 wedding decisions? Or would you rather spend your time creating memories with your partner and dreaming of your honeymoon?
A wedding planner's most valuable contribution is time. He or she spends time finding vendors, negotiating contracts and making decisions so you don't have to. Hiring someone who can get things done while also reducing your anxiety and workload is one of the smartest decisions you can make, besides getting married, of course!