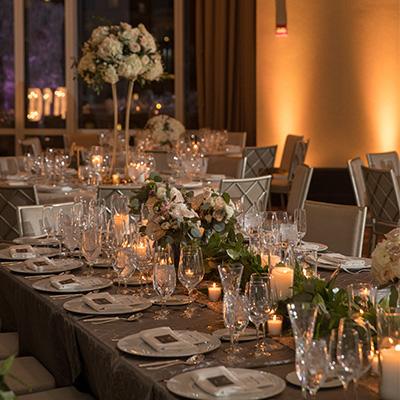 How to Plan a Timeless Wedding
Right now your mind is swirling with all the unique things you want to pack into your wedding day. Your heart may be set on the grandest, most beaded dress money can buy or a menagerie of whimsical peacocks performing a tightly choreographed show tune. But let's just calm down here and take a step into the future for a minute.
It's likely that something small will go wrong despite your best intentions, but if you go with the flow and find the humor in it you'll come to appreciate the minor hitch from the day you got hitched. That said, you should still take certain measures to reduce the severity of potential regrets. Here's how.
Who's The Boss?
When it comes to a big creative event like this, everyone has an opinion, which is not necessarily a bad thing. If no one listened to advice, we'd still be living in caves roasting squirrels over campfires, but you need to hear it while keeping your own desires at the forefront of your planning.
Family members often seem to have their own idea of how your wedding should go. Whether they envision something more traditional
than you'd like or something built from their wildly overactive imaginations, they need to know that you and your partner make the final decisions.
Never lose sight of whose wedding this is. Being direct right at the beginning will keep you from being pushed around, but be kind.  Remember that they just want the best for you, and any "help" they offer is out of love.
DIY at Your Own Risk.
DIY décor and favors may seem "totes adorbs" right now, but they're also totes work, totes time-consuming and totes not-as-budget-friendly-as-you-think. All those raw birch tree slices cost money and they don't personalize themselves. Your bridesmaids love you to death, otherwise they wouldn't be by your side through this exciting process, but they can only tolerate so much. If you ask them to bundle 500 packets of home-dried herbs in individually-cut, hot-glued, hand-addressed teabag sachets, they might leave you at the altar.
Uncle Harry is a Very Amateur Photographer.
Just because a family member owns a fancy camera, doesn't mean they know how to use a fancy camera. Professionals have taken classes and honed their professional skills, and it's in your best interest to hire one. Plus, you want Uncle Harry to be burning up the dance floor with Aunt Sheila.
Look at several photographers' portfolios before you make a choice. Good framing and impeccable focus are one thing. Style is another. When you're making a decision, look for someone whose style suits what you envision for your wedding. Whimsical, classic or bold, a portfolio is the best indication of what you'll have to preserve the big day.
Also, keep in mind that it's easier to boss around a hired stranger than the sweet guy who changed your diapers and fed you when your parents wanted a date night.
Stay Classy.
Dig out pictures of your mother's and your grandmother's wedding dresses. Now imagine yourself swaddled in those puffy sleeves and yards of lumpy fabric. No thanks.
Styles and tastes change. While current fads seem amazing, be wary of hypermodern trends. Find a classic, simple look and add your own twist. If you're tempted by an aisle-long train and voluminous chicken-wire veil, maybe bring in
a level-headed bridesmaid or two. The less over-the-top your dress is, the more likely it will still be in style 10 years down the road.
Do a few dance moves in the dressing room. We're not saying you need to memorize a traditional jig before your fitting, but maybe try to drop it likes it's hot once or twice to make sure nothing slips out. If the cut of the dress doesn't allow you to be the hottest dancer at the reception, opt for something that will keep you comfortable enough to focus on the guests who have flocked out to adore you rather than the dress boning that is piercing your side for nine hours.
Who's That Lady?
It's your day, and you have professionals lined up for your hair and makeup. The inclination is to go super glam and enjoy your transformation into a supermodel, but remember who your partner fell in love with and make sure that person is the one getting married.
Unless it's your daily style, you'll look totally different when you opt for eyes smokier than the pits of hell or lipstick that causes solar flares. When you get those professionally taken photos back and wonder who your spouse is dancing with, you may regret your decision. Natural hues that highlight rather than disguise your charms will keep your style yours with all the glam you need.
How to Greet in One Easy Step.
For every person who regrets wasting their entire reception circling the room and repeating the same short "thank you" speech, there's another who regrets not making it around to everyone. Your guests are your staunchest supporters. They zoomed from long distances to celebrate your union and they deserve some recognition for that. But this is your day to enjoy yourself and finding that balance is so difficult.
Consider alternatives to walking around to each individual during the reception. Everyone is busy shoveling in their delicious entree, and having you pop up behind them when their mouth is full is awkward for all parties. Instead, form a receiving line as people leave the ceremony and tell them how excited you are to celebrate with them at the reception. If you'd prefer to be swept off in the limo as soon as the ceremony ends, spend the cocktail hour making your rounds. For a raring good time, take each person into a photo booth with you and your partner as they arrive at the reception. A strip of pictures with the two of you will be thanks enough.
Another option is to prepare a toast with your spouse to thank everyone for their presence. Make it heartfelt and maybe a little tear-inducing while keeping it general enough for everyone to fall under its cozy umbrella. This way everyone gets to enjoy the party without all the awkward handshakes.
Don't Wear the Lampshade at Your Own Party.
You've been lost in a storm of planning, and the lead-up to this shindig has been only one stressful item on your already full plate. It's easy to see the reception as the first time you really get to let loose and sip on some cool, crisp relaxation juice. Go ahead. Have one. Have two. Then maybe slow down around three or four. Getting sauced on your wedding day is not the ladylike or gentlemanly thing to
do, and believe us, your guests will love reminding you about that time you drunkenly collapsed onto your own wedding cake.
You've been preparing for this night for several months (or since you saw "The Sound of Music" when you were seven and immediately began making lists and diagrams). With the success of pulling it off, you should soberly swim in the sea of "oohs" and "aahs" and look around at the amazing show you've created. Your most cognizant memory shouldn't be the bathroom floor.
Make Sure It's a Happily Ever After.
In movies, the deliriously happy couple is whisked off at the end of the party to their honeymoon while their guests wave wistfully and dab at tears. In reality, the deliriously happy couple is also deliriously exhausted and burnt-out. They may not have spent much time with each other since they said their vows, and they may (if they didn't take our earlier advice) be slightly inebriated.
Starting your honeymoon the night of or morning after your wedding may seem like a romantic whirlwind of adventure, but let us tell you what's not romantic: airport security. You don't want to stand in that line, get frisked and then propel 33,000 feet into the air while there's still tequila settling in your stomach and blisters on your dance-worn feet. Besides, what's the point of lodging ocean-side if you sleep through the first 48 hours of it?
Spend a day or two at home or at a nearby hotel lavishing in the love you now legally share before tackling anything strenuous like trotting the globe. Sleep off the pre-wedding anxiety, during wedding adrenaline and after-wedding lushness. Your body and mental state will thank you.