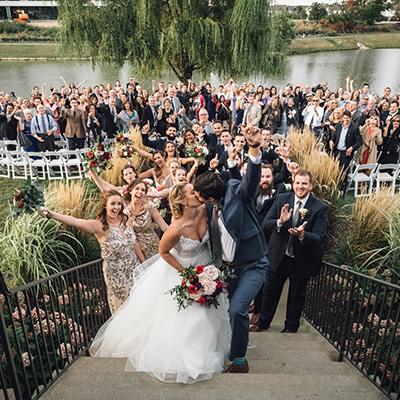 A Memorable Guest Experience
Making Your Wedding A Night to Remember
You're on fire with all this wedding planning stuff! You can visualize your dream dress, you have tentatively chosen your florist and you may have to check out that bakery just one more time to make sure it's absolutely perfect even though you've already eaten two entire cakes.
Everything will be perfect for you because it's your day and it's all about you! Right?
Wrong. Well, at least partly wrong. Your wedding should be among the best days of your life, but your enjoyment isn't the only important thing of the day. Your guests, your most fervent supporters, are coming out en masse to celebrate your union. You owe it to them to make it one of the greatest days of their lives too.
Get Them Jazzed
Pump up some anticipation by creating a website for your wedding. Include the web address on your Save the Date and update the page regularly as your planning goes along. With pictures of your first dates to photos of the proposal, you can catch up with your friends and family who haven't yet heard your heartwarming story. If you are feeling particularly ambitious, write a series of blog entries. Your guests will be happily involved as they read about your dress fittings and taste testings. But be careful not to give away too many spoilers. You still want their jaws to drop in awe on the day of the wedding.
Create an interactive experience to customize your party to your guests. Add polls regarding food options and signature drinks. Take song requests to pass on to the DJ. Most importantly, post hotel options and an itinerary so everyone knows where to be and when.
Location
Try to keep your sites as local as possible. Your guests don't want a two-hour drive between the ceremony and reception; if possible, do both parts at the same venue. After the ceremony, your party need only focus on their elation and securing their favorite mixed drink.
Before your invitations hit the postal service, drive from the ceremony site to the reception venue. Did you get lost anywhere en route? Was there a confusing detour? When you do send out your invitations, be sure to include clear directions that take construction and traffic into account.
Perfect Timing
If both parts of your wedding are at the same venue, send your guests directly into a cocktail hour and begin the wedding about an hour later. This keeps everything moving quickly but allows time for a receiving line and for your dress to be bustled.
When travel between locations is involved, allow plenty of time for your guests to get there and have a cocktail hour scheduled for shortly after their arrival. That way they don't have to go out of their way to find entertainment in the interim.
If you want to spend some time on photographs, schedule carefully so that you can still make it to the cocktail hour as a lot of couples underestimate how long is needed between events.
A Toast to the Party Ahead
Remember that the cocktail party isn't just a way to stall guests as you have your pictures taken. It's a time for you to kick off the party. With this in mind, make sure that you are as prompt as possible so you can have a private sneak peek of your venue and have time to begin greeting your guests.
Although the cocktail party doesn't require as much foresight as the reception, there should never be grumbling bellies. Think of the cocktail hour as the last chance to pump up the excitement. one option is to utilize hors d'oeuvre stations as they not only provide delicious bites for your guests, but they keep guests moving around and mingling with one another.
Since the dancing hasn't kicked off yet, you will need another form of entertainment. Since many couples do not have the budget to hire a band to play all evening, opting for a band during cocktail hour and a DJ for dinner and dancing is a popular compromise. Setting up a slide show or a picture table is an easy and inexpensive way for guests to have something to look at before your reception begins.
Throw a Reception to Remember
Don't give Jeff, the groom's best college friend, 45 minutes to give his speech. No one thinks he's as funny as your new husband does. Limit two or three speakers to five minutes each so guests don't have to wonder at the appropriateness of certain inside jokes as their stomachs cave in on themselves. Take the time to personally thank your guests for coming out to celebrate you and your love. if you weren't able to get to everyone at the cocktail hour, circle the room and say hi to each table.
Consider every aspect of your guests' comfort. Leave a basket of one-size-fits-all flip flops near the dance floor so everyone can jam without worrying about their new stellar stilettos. If it's an outdoor wedding, provide shawls, fans, heaters and a hardly-roughing-it bathroom trailer.
As the tunes get going, ask the DJ not to drown out conversation, especially during dinner. It's not a club; it's a fancy wedding. Grandma doesn't want to bump and grind, and your hip friends don't want to square dance. Find music that's SFW and pleases everyone.
It's your wedding and it should reflect the unique personalities of you and your brand-spankin'-new spouse. If your guests can say, "oh, that's so them!" they'll remember it forever. If you and your spouse are sports fans, utilizing pictures of past and present players of your favorite team as a table centerpiece is a great way to incorporate your individual style. Want to add a little wow factor? Consider hiring your team's mascot to come at the end of your wedding to greet guests. Have fun with your theme while staying true to who you are as a couple. if you don't want to spend a lot of money on flowers or centerpieces, consider bringing in additional lighting and sound systems to incorporate a visual experience for your guests.
You have already tested all the food to ensure you're feeding your guests only the highest quality fare. Hopefully you also read reviews online so you know your vendors will provide smooth service. Make sure to hire servers that introduce themselves to your guests (bonus if your bartenders can remember names)! This added layer of customer service will make your guests feel extra special and welcome.
If you are thinking about a cash bar, we need to stop you right there. Your guests bought you a gift, blocked out a whole day to devote to you and they may even be shelling out to stay the night. Buy them a drink. Even providing a limited selection of beer and wine is better than asking them to pay.
Snack Attack
At the end of the night, feet are aching and heads are spinning from the drinks that you provided (see above); your guests are going to need some munchies. PSA: only time reduces the effect of alcohol but the addition of extra goodies is always appreciated. Another great way to help your guests is to provide a shuttle service to the hotel.
Schedule reinforcement food to arrive a little over an hour before the wedding ends. Stick with your theme if you have one. Mini versions of a couple's favorite foods are always a crowd pleaser as guests love to see the connection between what is being served and the couple. Think mini burger, mini hotdogs, or even popcorn. Other popular options are ordering pizza (ahead of time of course) or hiring a food truck to show up outside. Ask your venue if they have a menu of late night snacks for an easier option as many venues have separate options for late night food and hors d'oeuvres. Make it personal by bringing in outside food from places that are important to you. Whether it's sweets from the cupcake shop you two frequented in your early days or pizza from his cousin's local parlor, it brings something special into play just when everyone thought all the excitement was over.
Favors give your guests a reminder of your Big Day. A lot of couples set up candy buffets as they take the place of a sweets table and they can be used as favors. Truly a win-win!
It Doesn't End There
After your Big Day there is still work to be done. Once the gifts have been opened and a few relaxing days have gone by, it's time to start writing those thank-you notes. Make sure each one is personalized with a heartfelt note that shows your appreciation for their presence and, of course, their present.
Yes, this takes a long time. Yes, you have to do it. Split it 50/50 with your loving partner and break it up over a couple of weeks. A few a day won't kill you. After all, every single person who showed up deserves your gratitude as much as you deserve theirs after throwing such a scintillating soirée!
Written by Katie O'Shaughnessy