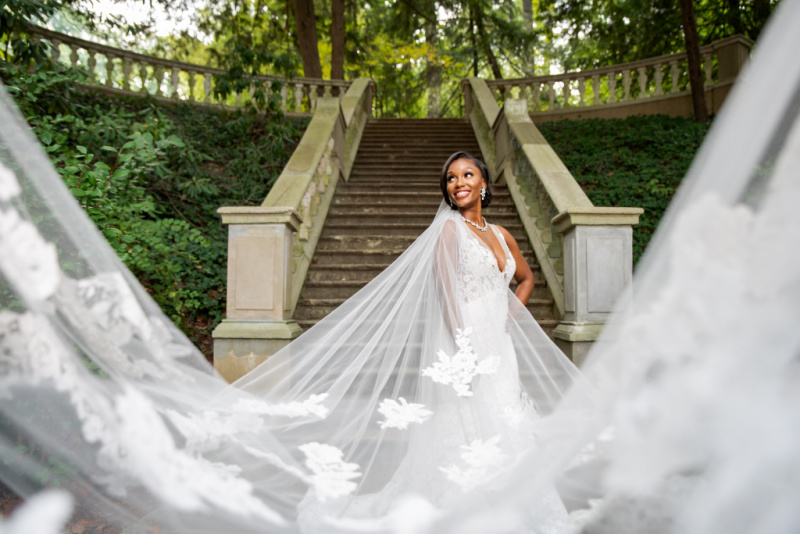 5 Fabulous Fabrics for Your Bridal Gown
By Christina Oddo | Photography by Social Shots Photography
Bridal trends come and go, but these fabulous fabrics are here to stay.
A dream dress is only as good as the material it's constructed with. Top notch boutiques will typically give their brides a quick list of "dos" and "don'ts" so they know exactly how to take care of their dresses, but in case you need a refresher, here's our guide to a few of the most popular bridal gown fabrics.
TULLE: Reminiscent of ballerina skirts, this flirty, feminine fabric is lightweight and billowy. Tulle is well-loved for its ability to create volume and avoid fraying, but wearers be warned: Tulle is highly prone to snagging. To avoid unsightly pulls in your gown, skip bedazzled accessories and opt for smoother jewelry that won't tangle and snare.
CHIFFON: This soft, delicate fabric is often used not only for gowns but also veils, capes, and other bridal accessories. Despite its slightly rough texture, chiffon's dainty translucence makes it perfect for layering. This breezy fabric is the ideal choice for outdoor, summery weddings and romantic portraits.
SILK: Long revered for its glossy shine and smooth texture, silk comes in countless varieties and has been a go-to wedding dress medium for thousands of years. Satin, one of the more famous silk derivatives, spent the past century as one of the most elegant and sought after gown fabrics, but modern silk variations like taffeta and organza are currently stealing the spotlight. While silk gowns are certainly worth the hassle, storing them properly requires a bit of extra work in dark, dry environments, so be sure to store your gown in a cotton dress bag before tucking it away in your closet.
LACE: Like silks, lace comes in a myriad of styles and textures and has been adored for centuries by designers and brides alike. From elegant Chantilly and delicate Alençon to the recently popular three-dimensional lace, this gorgeous material is sought after all around the world. Lace's intricate design makes it highly prone to minor rips and snags though, so take a few notes from the tulle to-do list and avoid accessories with sharp edges and rough links. It's also worth noting that lace yellows faster than other fabrics, which makes professional dry cleaning and proper storage a must.
CREPE: This light yet elegant material is well-known in the fashion world for its versatile applications and gauzy appearance. Perfect for formfitting gowns, crepe typically fits like a glove and leaves very little to the imagination, which makes choosing your undergarments important. Avoid unsightly bumps and lines by choosing seamless underwear or shapewear and a smooth-cupped bra.