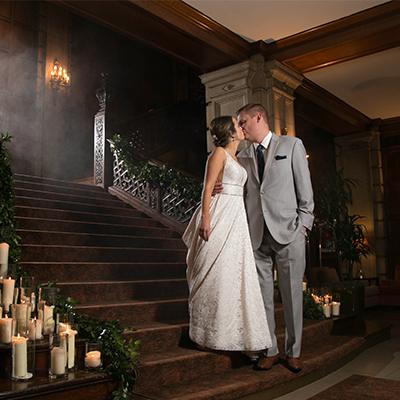 Mishaps can and do happen during weddings. From small missteps like the DJ accidentally playing a song on your "do not play" list to major mess ups like the venue double-booking your reception hall (Bride Wars comes to mind), it is possible that a few errors will occur
along the way.
It is important to remember that no matter what happens, your wedding day will turn out perfectly because it's the day you "officially" commit to spending the rest of your life with your significant other. Celebrating your love for one another is what's most important. While mistakes happen, preparing for potential errors ahead of time helps prevent a misstep from derailing the special day. Follow these simple strategies to stay ahead of mishaps and handle unavoidable issues with confidence.
Create a Great Event Team.
Having a team of professionals with years of experience is invaluable for the planning process and the wedding day itself. The more organized and reliable your team is, the less likely mistakes will happen in the first place.
The first step to creating a great team is doing your homework prior to hiring them. Start by asking recently married friends, family, and co-workers about their wedding vendors and reach out to the recommendations that strike a chord with you. Flip through these pages
and research online to find local vendors. When looking at examples of their work, make sure they align with your taste. A florist can put together a gorgeous arrangement, but if it's not your style or doesn't match your wedding theme, the vendor might not be the right fit for you.
Once you have identified potential vendors, be prepared for your initial meeting with them. Have a list of questions ready, such as: Have you ever worked on a wedding at my venue before? What do you do if a crisis arises on my wedding day? During your meeting, remember that it is as much about learning their style of work as it is getting to know them and figuring out if you will work well together.
Consider Hiring a Wedding Planner.
Every member of an orchestra is a talented musician, but for them to play in perfect harmony, they need a conductor to lead them. Think of a wedding planner as the conductor. They help orchestrate the whole event. They know everyone in the bridal party, where they need to be, and when. They work with the vendors to make sure each vendor is on time and has what they need. The wedding planner can handle payment to vendors for you and can be a go-to resource for their needs as well as the bridal party's needs that day.
Meet with Your Venue Coordinator and Wedding Planner Often.
Your venue plays a huge role in your wedding. To avoid mistakes, make sure you have picked the venue that's right for you. Talk with the coordinator and find out if other weddings similar to yours have been done there. If you want something unique at your wedding like
fireworks, make sure the venue allows for that. You don't want to bring in something special at the last minute and find out that it's not permitted. That's a big mishap waiting to happen! Being on the same page as the venue coordinator is also important if you're looking to avoid mistakes.
Meet with your coordinator several times leading up to your wedding and ask as many questions as you'd like. Some examples include: What parking is available? Is coat check available? What happens if someone needs to leave their vehicle overnight? Are vendor meals included? Who can vendors talk to if a problem arises? The more questions you ask and the more details that get planned in advance, the less likely something will go wrong. Your venue wants you to have a great experience. Communicating with them early and often helps ensure that.
Set Clear Expectations.
If you want the wedding of your dreams, you need to clearly explain what that looks like to all vendors involved. If you're not clear on your vision, no one else will be. Be polite, but firmly state what your expectations are for everything from the food served to music played. Miscommunication is a common reason for error, but it's easily avoidable by clearly stating your wants and needs.
The appointments leading up to your wedding are great opportunities to practice setting clear expectations. For example, you will likely have a hair and/or makeup trial before the Big Day. If you like how everything looks, say so. However, if the hairstyle isn't what you were expecting or you'd like different makeup, speak up. The same goes for finalizing your menu or how you want the reception set up. Talk to your wedding planner or the venue coordinator ahead of time and be firm in what you want.
Always Have a Plan B.
You know what type of wedding you want, but sometimes circumstances beyond your control prevent that from happening. You need a plan B in those cases. Let's say you're planning an outdoor wedding, but as the day draws near the forecast calls for rain. Sometimes, luck turns and the clouds part, but not always. Coordinate with your venue and wedding planner ahead of time to prepare alternative options. Make sure that you're happy with plan B, so if you have to move the wedding inside it doesn't ruin your day. If you and your vendor team know what plan A and plan B, it's much easier for either option to go off without a hitch.
Set Day-Of Timelines.
Setting a schedule for the entire day is vital to everything going smoothly. You or your wedding planner should create a timeline that includes everything from getting ready before the ceremony to the last bridal party duty. The schedule should include the time and location for every part of the day. Pass it out in advance of your wedding day. Tucking it into their gift at the rehearsal dinner is an option as is emailing or printing it the night before and passing it out. Make sure your wedding planner sends the timeline to each of your vendors as well. It helps them plan their day and what they need to accomplish. If you're wondering where to start, your venue and other members of your vendor team are great resources.
Don't Sweat the Small Stuff.
It is easier said than done, but if something does go wrong on your wedding day, try not to sweat it. In the end, you are marrying the one you love and starting your life together. That's what the day is all about. If you keep that in mind, even the biggest mishaps seem small.
Written by Colette A. Harris