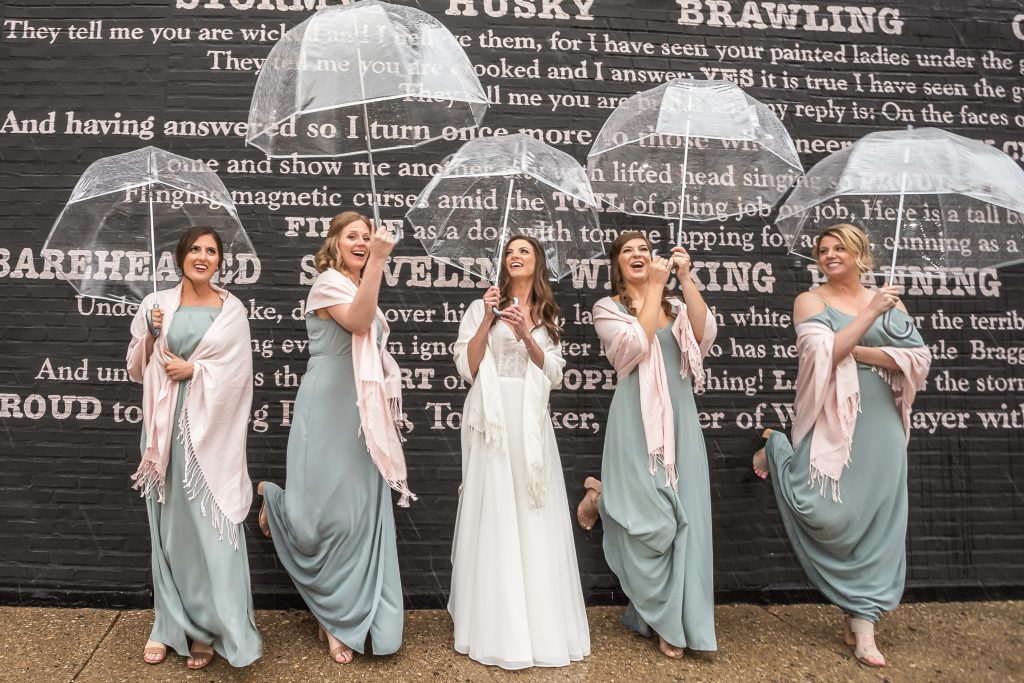 Written by Stephanie Seija | Photography by TWA Photographic Artists
Mishaps can and do happen before (and even during) any wedding celebration. Even the most organized couple is bound to run into unexpected hurdles! Throw in an unprecedented global pandemic and there's no escaping it — you'll most likely have to overcome challenges on your road to the altar. So like any good crisis manager, it's time to prepare for every problem you can see coming, and plan for how you'll deal with it.
If you start to feel overwhelmed by the unknown, don't panic. You're not alone. Take a breather, trust your vendors and remember that no matter what, your day will be perfect, because it's the day you get to "officially" commit to your significant other forever. Nothing — not even a few hiccups — can tarnish the joy in marrying the love of your life!
HIRE A WEDDING CONSULTANT
Hiring a wedding consultant is more important now than ever. The perfect wedding planner not only helps you flesh out your vision during the planning process, but they know exactly how to make that dream a reality. They've helped create hundreds of beautiful weddings, so they've seen the potential roadblocks and know how to prevent them. With their expertise, they are perfectly positioned to keep all the moving parts in sync so that you don't have to sweat the small stuff.
Great consultants are not only organizational wizards, but their goal is to make you feel at ease. They'll get to know your family and your wedding party so that they can make sure everyone is where they're supposed to be on the big day. The right planner will make sure to connect with your other vendors so they're able to facilitate payments and communication. Of all your vendors, they know you the best, and they'll keep you cool, calm and collected no matter what. Your wedding day goes by in the blink of an eye, so enjoy it and rest easy knowing that your planner has taken care of every detail.
Wedding consultants always go above and beyond, but these unpredictable times really allow them to shine. Do you suddenly need to downsize your wedding or change dates? Great planners know the business, they know your vendors (and others who can step in if an emergency arises) and they are ready to work tirelessly on your behalf to make sure nothing is overlooked. For times of crisis, you don't want to be left to navigate changing plans without their help.
KNOW YOUR VENUE
You'll soon realize that the event manager at your venue is going to be one of your main "point people." Your venue is the canvas for the rest of the incredible elements you're bringing together, and it can inspire your entire wedding aesthetic. Many of your other plans will depend on the possibilities your event space has to offer, so working and getting along with the venue manager is key to having a smooth and effortless day.
It's important to ask your venue's coordinator any questions you can think of, no matter how silly they may seem. Are sparklers allowed on the grounds? Where exactly can guests park? Is there a secure place to stash my emergency bag? How early can my vendors set up? Who should my vendors contact with questions? Can we hang things from the ceilings? Are candles with real flames allowed? Communicating early and often with your venue team will help with all your other decisions and put your mind at ease.
GATHER YOUR DREAM TEAM
When searching for vendors like the perfect florist or caterer, you'll want to look for trustworthy professionals who are organized and experienced. Scour their reviews online and get recommendations from people you know. Maybe you saw an impressive vendor in action at your college roommate's wedding — ask your friend what it was like to work with them. Beautiful portfolios are important, but personal testimonies can mean even more. Make sure their first priority is supporting their clients and collaborating to bring your vision to life.
Once you've narrowed down your options, contact a few vendors of each type and set up appointments to chat with them on the phone or in person. You want to see examples of their work (or taste their yummy meals), but more importantly, you want to see how you connect with them on a personal level and how well they seem to grasp your aesthetic and preferences. When you know they truly understand your vision, you can trust them to take your inspiration and run with it without you having to dictate every little detail.
Prepare questions ahead of time to ask potential vendors and make sure they answer to your satisfaction. Have they worked at your venue before? Teams who know your event space in and out will often come up with creative ideas you may not have thought of. Some vendors work closely together, like photographers and videographers or floral designers and caterers. Do any of your vendors have existing relationships with one another? Good vendors will work well with anyone, but it can often make things run more smoothly when they have collaborated in the past and know how to complement each other well.
SET CLEAR EXPECTATIONS
Miscommunication can lead to mishaps, but you can avoid them by setting clear expectations and speaking your mind. Not in love with your hair and makeup at your trial appointment? Indicate precisely what you'd like to look different and make sure the stylist is taking notes. Maybe you really gravitated towards one floral arrangement and particularly disliked another. Make your preferences known! Even for couples who tend to go with the flow, this is the time to be firm and decisive so that everyone is on the same page. That way you won't have any unpleasant surprises or dashed hopes when the big day comes.
The importance of laying out clear expectations goes beyond your vendors. This applies to your family and wedding party as well. Are you counting on your brother to handle the music playlist for the limo ride on the big day? Be sure he knows exactly when and where the limo will be so he can get the tunes pumping before you step inside. Hoping your maid of honor will bring those personalized champagne glasses from your bachelorette party to your getting-ready session? Make sure she's aware! It can feel strange to be so direct with your friends and family, but it's not being "bossy" when you kindly communicate reasonable expectations. This is your special day, and your loved ones truly are excited to do what they can to make it perfect for you.
CAPTURE IT IN YOUR CONTRACT
Having a clear and thorough contract with each vendor is crucial to being prepared for any situation. A good contract will protect both parties from financial loss and broken expectations. Don't be afraid to ask questions for clarity — you should understand every clause, and if something is missing, ask the vendor to write it in. There is too much on the line to be timid. Speak up!
Contracts should include the date and hours of service (usually set-up and tear-down hours are listed in addition to the "event time"), the particular job to be done (including number of staff and specific goods and supplies included) along with the pricing and payment terms with due dates. You should also be aware of any important cut-off dates, like the exact day when no more changes can be made and you're locked into the numbers given.
Make sure everything you've talked about with your vendors is written down. Nothing should be agreed to only verbally. You'll want to account for even small details in your contract. Am I expected to pay for your parking spot or transportation? How many staff dinners do you request during the reception? What happens if you get food poisoning and are too sick to do your job? What will you do if you are nine months pregnant on my wedding date and go into labor? Who will do your contracted job if you can't — or will I be expected to find a replacement? Even if you occasionally communicate with your vendors by text or Instagram DM, it's also good practice to keep a paper trail of email correspondence so that decisions and agreements are documented in a more formal way.
CHANGE PLANS GRACEFULLY
Many couples are paying closer attention to cancellation and force majeure clauses as large event plans continue to shift. Will your vendor refund any of your deposit in the event of a cancellation from either party? Check for a "force majeure" clause, also known as an "act of God" clause, which states that either party can be excused from a breach of contract when something totally outside of their control happens, like a natural disaster or a labor strike. Each vendor has their own understanding of what is covered under a force majeure clause, so they can be a bit tricky to navigate and may vary from place to place. While many contracts have now been adjusted to account for "global pandemic," some have not, so you should ask directly what would happen if government protocols suddenly changed or what kind of safety measures your guests and their staff are expected to follow.
Maybe you're making the tough decision to change your date or reimagine your wedding as a totally different kind of party. How do you approach your vendors about the contracts you've already signed? First of all, try to reach out to all of your vendors before you reschedule. If you're able, give them all a few date options and see which new date lines up with the majority of your vendors (or the ones you just can't live without). Many companies are happily accommodating date changes with no penalty to the couple or just a small fee if you must change your date for a second time.
Remember that as hard as this is for you, it's also hard for your vendors. Be respectful and understand that any decision to push back your date means a loss of potential income for the company, so implementing date-change fees are simply the way they're protecting themselves. If you're completely unable to use a previously- booked vendor for your new event, and they're not willing to let you out of the contract or refund your deposit, see if you can use their service for something else. For instance, maybe your photographer can't make your new wedding date, but they can offer an engagement session instead.
CREATE A WEDDING DAY TIMELINE
You and your wedding consultant should create a detailed timeline of the day from start to finish. This is especially helpful when several things are happening at once, like vendor set-up and getting ready photos. Be sure to factor in travel time between events (transportation time is notoriously unpredictable) and buffer time throughout the day to account for any unexpected delays. Your mentality should be to plan for the unplanned!
Along with your timeline, you should also prepare a list of important names and phone numbers. Share it with your wedding party and your vendors ahead of time — this will eliminate needless questions and stress! Be sure that your planner or someone close to you has a digital version on their phone so that you will never be without it. If you have to deviate slightly from the planned timetable, don't stress. That's why you built in some extra time!
PACK YOUR EMERGENCY KIT
An emergency kit is an essential item for your big day. Think of this as your trusty sidekick in case any little thing goes wrong! Pack your kit a week in advance to be sure you've gathered everything you might need.
What should you include? For outfit mishaps, pack safety pins, a small sewing kit and double-stick fashion tape for fabric tears or other emergencies. A stain stick is a must for any white gown! For beauty concerns, be sure to pack make-up remover wipes, lash glue, deodorant, tweezers, a nail file, bobby pins and travel-size hairspray. Blotting papers and a back-up lipstick will allow you to keep your face fresh throughout the night. A few extra earring backs, or even extra jewelry, can be life-savers in a pinch. And don't forget medicinal items like some ibuprofen, Band-Aids, tampons and extra contact lenses.
WATCH THE WEATHER
The weather is one of the biggest "what-ifs" on your wedding day, and you'll never know for sure what's in store until the day of. The only way to account for bad weather is to have a back-up plan in mind. Hoping for an outdoor ceremony? Talk with your venue about the best alternate indoor space in case of rain. Maybe you've
prepared a scenic photo tour for your wedding party between the ceremony and the reception. Is there another location if it's freezing cold or raining? Scout out the area surrounding your venue. And don't worry if things need to shift indoors — your photographer will find the right angles and the perfect lighting to capture incredible moments no matter where you are.
HAVE A PLAN B
Of course this year you're doing your best to plan your wedding according to the new realities set in place by the pandemic. But as long as protocols and rules are in flux, you may be forced to reschedule to a new date, drastically down-size or rethink the kind of event you're hosting. As you flesh out your plan B, pretend this is your primary plan and start from the ground up. This may feel like a lot of double work (you're basically planning two weddings!), but it will be so worth it in the end if you choose to go with your plan B — you'll thank yourself for the work you did ahead of time.
Your secondary plan doesn't need to be a runner-up in terms of quality. Think through ways to make your "alternate" plan feel special so that even with fewer people or in a totally different location, you will still feel like you had a complete, perfect day. Maybe there's no dance floor in your back-up plan — you can still have a first dance as a couple under the stars. No big wedding cake for your socially-distanced soirée? Plan for a mini cake just for the two of you to cut and enjoy in a more intimate setting. These little moments will be cherished memories whether 200 people witness them or not!
DON'T SWEAT THE SMALL STUFF
No matter how prepared you are, sometimes life is still unpredictable. Duct tape won't fix everything, and when you've exhausted every solution, there's nothing you can do but try and shake it off. A situation may feel chaotic on the day, but in 10 years you'll laugh as you recount the story to friends. Plan as much as you can, then let it go when the big day comes and simply savor every moment.