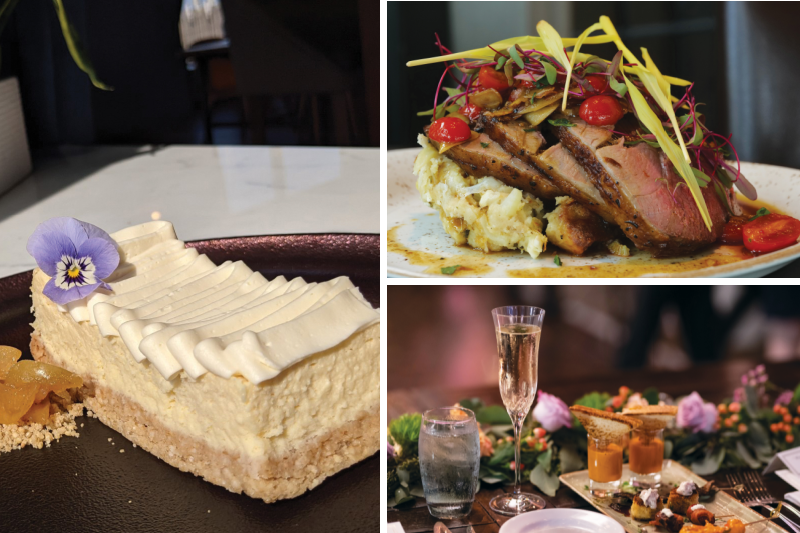 Give My Compliments to the Chef
Chicago's culinary scene is unmatched and attracts some of the world's top chefs. By pairing a sincere passion for food with pure talent, these Chicago culinary artists are sure to elevate your wedding day meal. Not only will you be served a work of art, but your guests will also talk about the delectable meal for years to come.
Mick Verheyen
Executive Chef, Belvedere Events & Banquets, Biagio Events & Catering
Chef Mick comes to Biagio Events with 40 years of culinary experience. After six years as the Chef de Cuisine at the InterContinental Chicago, he joined the Wolfgang Puck Restaurant team and opened the Wolfgang Puck Grand Cafe in Evanston where he was Executive Chef for seven years as well as a key member of the Puck Culinary Council. Chef Mick has also overseen kitchens at such notable establishments as Gibsons Steakhouse and McCormick & Schmick's before bringing his talents to Biagio's Events & Catering and Belvedere Events & Banquets.
Dish: This salmon is pan-seared perfectly and presented with fingerling potatoes, artichokes and broccolini.
Cedric Harden
Executive Chef, River Roast
Chef Cedric Harden leads the culinary program at River Roast in Chicago. Growing up in a family with deep Southern roots, Harden's passion for food was sparked at a very early age. Harden studied culinary arts at the Le Cordon Bleu Institute of Chicago and has worked in kitchens at Joey's Brickhouse, Le Lan, SOUL and Wolfgang Puck Catering, plus a seven-year tenure as sous chef at Urbanbelly, Belly Shack and BellyQ. Prior to joining River Roast, he served as executive chef at III Forks Steakhouse, where he brought a Southern spin to classic Midwest American Steakhouse fare.
Dish: Hors d'oeuvres are reimagined with tomato soup shooters and mini grilled cheeses; grilled Korean-style short rib skewers, mini Maryland crab cakes with tartar sauce; bacon wrapped dates with goat cheese and tempura shrimp skewers with Firecracker Sauce.
Zachery Rogers
Executive Chef, Elements at Water Street
Zachery Rogers comes from a family of talented Southern cooks in Athens, Georgia. Zac began his culinary career at 15. Graduating with honors, he earned an associate degree in the culinary arts from Le Cordon Bleu Atlanta. He moved to Chicago to cook for the Four Seasons Hotel Chicago, a Forbes Five-Star and AAA Five-Diamond award-winning hotel property, and helped the hotel's fine-dining restaurant, Seasons, earn its first-ever Michelin Star. He later became Executive Sous Chef at Chef by Request Catering in Lisle before joining Elements at Water Street in 2017. Since opening, Chef Zac and the Elements team have been delivering restaurant quality food in a banquet setting to Five-Star reviews.
Dish: A young chicken roulade is prepared alongside fresh broccoli rapini and handcut pappardelle pasta served in a sweety drop pepper pesto with crispy prosciutto.
Kenneth Regan
Executive Chef, The Odyssey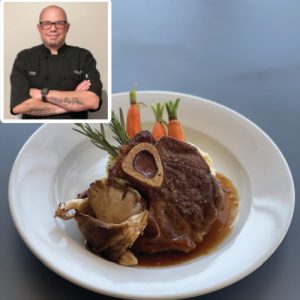 Leading the innovative culinary team at The Odyssey is award-winning Executive Chef Kenneth Regan. A graduate of The Cooking and Hospitality Institute of Chicago, Chef Ken brings his love and passion for seasonal and local ingredients to The Odyssey. Chef Ken sources only the best and freshest local ingredients, saying, "The goal is to cook as you would for your family." A seasoned talent with extensive experience in the culinary field, Chef Kenneth Regan is committed to delivering great food and service to every guest that walks through our doors.
Dish: Beef osso bucco served a top creamy mashed potatoes and roasted carrots pleases the palette.
Bruno Bell Alves
Executive Chef, Jewell Events Catering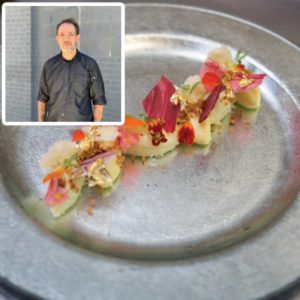 Chef Bruno is an esteemed culinary professional with an extensive background as a pastry chef. He was born in Brazil and received formal training at Le Cordon Bleu in Paris. After leaving his position as Executive Pastry Chef at Jewell a few years ago to pursue positions at other respected organizations, he has returned to Jewell as the Executive Chef. His unique background affords him a level of creativity rarely seen in the culinary field. Chef Bruno enjoys reinventing classic dishes, transforming them into unforgettable cuisine.
Dish: A stunning work of culinary art, this elderflower whipped ganache is served with a citrus sponge and topped with oatmeal streusel and meringue.
Dominique LeBlanc Beers
Executive Chef, The Metropolitan
Chef Dominique has had a passion for food her whole life. She received a bachelor's degree in Culinary Arts from the Culinary Institute of America and a master of science in Hospitality and Tourism Management from Purdue University. Prior to joining the ClubCorp family, Chef Dominique worked for White Lodging at the Marriott in Indianapolis and Omni Hotels & Resorts in Indianapolis and Chicago. Her food philosophy is centered around honoring the ingredients and making fun, approachable food that excites the palate and awakens the senses. She believes it's important to have strong relationships with farmers and producers, and to utilize food that is grown sustainably.
Dish: Honey and goat cheese complement each other perfectly in this delightful cheesecake featuring a quinoa oat crumb crust.
Dan Casey
Executive Chef, Mistwood Golf Club
Chef Dan graduated from Le Cordon Bleu College of Culinary Arts in Chicago and has over 16 years of professional experience. He joined the culinary team at Mistwood in 2016 after working for Four Seasons Hotels and Resorts at the Ritz Carlton Chicago, where he received a Michelin Bib Gourmand. He has also worked for Caesar's Entertainment at Harrah's Joliet and Walt Disney World Resort. "I like to think I have a child's perspective on our industry, and I get excited about the small things that are done really well. That reminds the people around me to look at everything with a fresh set of eyes, allow creativity to happen and not be afraid to take chances while having fun."
Dish: Prepared to perfection, this roasted leg of lamb is paired with feta cheese aligot potatoes, and served with caramelized shallots and a colorful tomato vinaigrette.