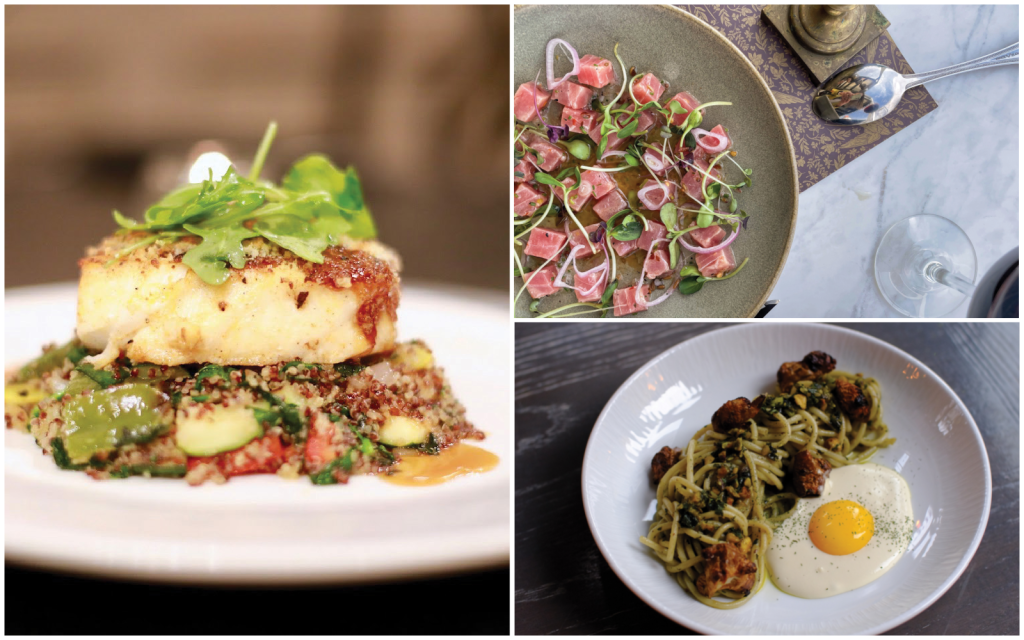 Give my compliments to the Chef: Featured 2022
Chicago's culinary scene is unmatched and attracts some of the world's top chefs. By pairing a sincere passion for food with pure talent, these Chicago culinary artists are sure to elevate your wedding day meal. Not only will you be served a work of art, but your guests will also talk about the delectable meal for years to come.
Chris Curren
Executive Chef/Owner, The Graceful Ordinary
With nearly two decades of experience in top restaurants in Chicago and Cleveland, Chris Curren has become a fixture on the Midwestern culinary scene. Curren graduated from the Pennsylvania Culinary Institute, and in 2006, opened the critically-renowned fine-dining concept Blue 13, which garnered recognition in the prestigious Michelin guide. Curren has a unique style of marrying traditional American cuisine with global influences and has earned Jean Banchet Award Rising Star Chef and Best Fine Dining categories in 2011. In 2021, Curren, alongside his wife Megan, debuted The Graceful Ordinary, a convivial upscale American tavern, in St. Charles, where he utilizes his extensive culinary talents and creativity to present an elevated, yet approachable menu of refined rustic cuisine.
Dish: This Tuna "Conserva" features raw tuna and conserva dressing served with puffed black rice, sliced shallots, avocado and peanuts.
Esequiel Dominguez
Executive Chef, The Drake Oak Brook
Executive Chef Esequiel Dominguez has curated classic American cuisine, traditional British high tea and Spanish-inspired tapas. His nearly 20 years of culinary experience started at Café Iberica, graduating to become a sous chef for 10 years, and upon mastering the tapas concept, he advanced to Executive Chef. Recruited for his culinary expertise, he opened two new establishments before joining The Drake Hotel Oak Brook as their Executive Chef in 2014. Chef Esequiel is intrigued by sophisticated dining experiences that leave everlasting impressions.
Dish: Citrus Crusted Chilean Sea Bass is served on a chiffonade of spinach and roasted vegetable quinoa, with a soy maple vinaigrette.
Jacob Verstegen
Executive Chef, Nico Osteria at Thompson Chicago
Executive Chef Jacob Verstegen oversees and leads the culinary team at The Thompson Chicago and Nico Osteria. With a varied background, Jacob builds creative menus that focus on the best produce and ingredients available that grow right in our backyard. He works under a philosophy that the food and  beverage blend well to create a unique and curated experience. His menus at Nico Osteria reflect these fundamental values by utilizing ingredients that are grown and made by the farmers and artisans around Chicago.
Dish: A vibrant Nichols Farm Beet Salad topped with gorgonzola, almond and elderflower dressing.
(The following are featured in our Summer 2022 issue)
Roberto Avila
Executive Chef, Altiro Latin Fusion
A former professional soccer player for Mexico, Executive Chef Roberto Avila went from real estate guru in Mexico to restauranteur in Illinois with his wife, Erika Villanueva, who is the interior designer and special events coordinator of Altiro's restaurants. Roberto has been successful in every journey that he has embarked on. The tenets of love and passion are reflected in the culture of Altiro's restaurants, from their interior decor, dish presentations, menu development, to sourcing of their ingredients and warm customer service.
Dish: Ala Paella consisting of pan-seared tilapia, salmon, ahi tuna, shrimp and mussels, creamy tomato sauce, and arborio sauce, served with grilled rustic bread.
Adam Wendt
Executive Sous Chef, The Metropolitan
Chef Adam Wendt started cooking at the age of 14 at an Italian bistro in Rockford, Illinois. Realizing his passion for cooking was real, he continued to cook his way through many restaurants in the area. After attending Northern Illinois University, he decided to pursue a career in cooking and move to Chicago to attend culinary school at the Cooking and Hospitality Institute of Chicago. After working in many award-winning and Michelin- starred kitchens, Wendt transitioned to The Metropolitan. Upon hearing of the Metropolitan's revamp of its fine dining room and the open position in the kitchen, Wendt became their new Executive Sous Chef.
Dish: A delectable Seared Spanish Mackerel dish completed with coconut milk and roasted chili oil.
Dan Casey
Executive Chef, Mistwood Golf Club
Chef Dan graduated from Le Cordon Bleu College of Culinary Arts in Chicago and has over 16 years of professional experience. He joined the culinary team at Mistwood in 2016 after working for Four Seasons Hotels and Resorts at the Ritz Carlton Chicago, where he received a Michelin Bib Gourmand. He has also worked for Caesar's Entertainment at Harrah's Joliet and Walt Disney World Resort. "I like to think I have a child's perspective on our industry, and I get excited about the small things that are done really well. That reminds the people around me to look at everything with a fresh set of eyes, allow creativity to happen and not be afraid to take chances while having fun."
Dish: Prepared to perfection, this roasted leg of lamb is paired with feta cheese aligot potatoes, and served with caramelized shallots and a colorful tomato vinaigrette.
Neb Miljkovic
Executive Chef, Holiday Inn Countryside
Chef Neb Miljkovic began studying culinary arts at the Culinary Institute of Belgrade, Serbia. Promptly after graduating in 1984, Neb incorporated his traditional European culinary knowledge into a position as Chef de Partie at Hotel Moscow, where he worked for three years. In 1989, Chef Neb came to Chicago to pursue his career in several restaurants within the city. He began to bring his global knowledge of food and dining to the cityscape until the summer of 2002 when he began at the Sheraton Hotel in suburban
Arlington Heights. Neb created distinctive menus for gatherings and VIP events between many positions in the Chicago suburbs. Now, Chef Neb leads a great team and prepares delicious dining and event menus at the Holiday Inn and Jameson's Charhouse located in Countryside.
Dish: Crab cakes drizzled with honey chipotle sauce and garnished with parsley.
Cedric Harden
Executive Chef, River Roast
Chef Cedric Harden leads the culinary program at River Roast in Chicago. Growing up in a family with deep Southern roots, Harden's passion for food was sparked at a very early age. Harden studied culinary arts at the Le Cordon Bleu Institute of Chicago and has worked in kitchens at Joey's Brickhouse, Le Lan, SOUL and Wolfgang Puck Catering, plus a seven-year tenure as sous chef at Urbanbelly, Belly Shack and BellyQ. Prior to joining River Roast, he served as executive chef at III Forks Steakhouse, where he brought a Southern spin to classic Midwest American Steakhouse fare.
Dish: Hors d'oeuvres for all! A finger-licking southern-style crispy chicken slider and crowd-pleasing mini burgers topped with American cheese and a special house sauce.
Mick Verheyen
Executive Chef, Belvedere Events & Banquets, Biagio Events & Catering
Chef Mick comes to Biagio Events with 40 years of culinary experience. After six years as the Chef de Cuisine at the InterContinental Chicago, he joined the Wolfgang Puck Restaurant team and opened the Wolfgang Puck Grand Cafe in Evanston where he was Executive Chef for seven
years as well as a key member of the Puck Culinary Council. Chef Mick has also overseen kitchens at such notable establishments as Gibsons Steakhouse and McCormick & Schmick's before bringing his talents to Biagio Events & Catering and Belvedere Events & Banquets.
Dish: Imported and domestic meats and cheeses, marinated bocconcini, roasted vegetables, stuffed mushrooms and roasted peppers, served with gourmet crackers and Italian breads.
Ken Regan
Executive Chef, The Odyssey
Leading the innovative culinary team at The Odyssey is Executive Chef Kenneth Regan. Born and raised in the south suburbs of Chicago, Chef Ken brings his love and passion for seasonal and local ingredients to The Odyssey. Chef Regan believes in sourcing local ingredients, such as locally grown produce, cheese and meat. Midwest Craftsmanship plays a major role while creating his menus, as Chef Regan is constantly seeking out the freshest and best ingredients. "The goal is to cook as you would for family," he says.
Dish: Pan-seared farmed Maine scallops with wild mushroom and braised leek risotto.
Bruno Bell Alves
Executive Chef, Jewell Events Catering
Chef Bruno is an esteemed culinary professional with an extensive background as a pastry chef. He was born in Brazil and received formal training at Le Cordon Bleu in Paris. After leaving his position as Executive Pastry Chef at Jewell a few years ago to pursue positions at other respected organizations, he has returned to Jewell as the Executive Chef. His unique background affords him a level of creativity rarely seen in the culinary field. Chef Bruno enjoys reinventing classic dishes, transforming them into unforgettable cuisine.
Dish: A stunning work of culinary art, this elderflower whipped ganache is served with a citrus sponge and topped with oatmeal streusel and meringue.
Jorge Ojeda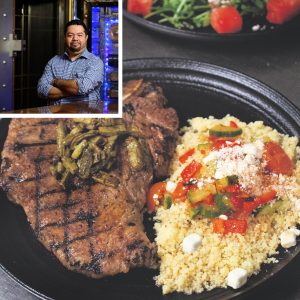 Executive Chef and General Manager, Vault 232
Jorge Ojeda developed his inventive freestyle culinary approach during a 20-year career in Chicago-area restaurants. Born in Mexico, he started as a teenage dishwasher. Ojeda then spent years assisting chefs while climbing the kitchen ranks at restaurants focused on Italian and American cuisine. At Franco's Pescheria, he led a culinary team known for exquisite seafood dishes. In 2022, Ojeda partnered with Franco's Pescheria's owner, Frank Radogna, to open Vault 232 in a renovated, historic bank in downtown Lake Zurich. As Executive Chef, Ojeda preserves ocean-centric elements while creating an inclusive menu seasoned with hints of his Mexican culinary roots.
Dish: Tequila-marinated ribeye steak, garnished with sautéed cactus and Carolina reaper pepper flakes. On the side, a refreshing couscous and feta salad.
Tyler Nelson
Executive Chef, Elements at Water Street
Tyler Nelson became passionate about the industry after his first job at a midwestern, hometown barbecue restaurant. He then ventured into Chicago nightlife and worked in a high-end steak house, later accepting the position as the opening Sous Chef for Pata Negra Restaurant, where he was soon promoted to Chef de Cuisine.
Chef Tyler's colorful palette of experience in a variety of food cultures led to his interest in the art of fine dining and catering. Before making the leap into special events, he learned the art of butchery, how to process whole cattle, lamb and pork; and mastered the precision timing of meat cookery. Now Executive Chef at Naperville's Elements at Water Street, he works with the finest of meats and freshest of ingredients to produce exceptional plates for a variety of different events.
Dish: Sesame crusted salmon, served atop a gingered carrot puree and jasmine rice with sugar snap peas, basil emulsion and local micro blooms to top it off.