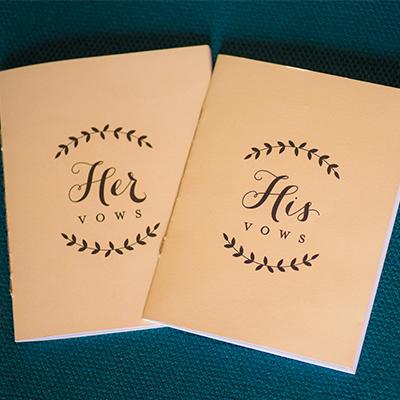 Complete Guide to Renewing Your Vows
One of the most beautiful ways for a duo to reaffirm their love for each other is through the renewal of their wedding vows. While wedding ceremonies come with quite a few must-dos, fortunately, most of the details of planning a vow renewal can be as simple or as extravagant as the couple desires. If you're ready to relive or upgrade one of the most special moments of your life and are not sure where to begin, look no further. Here are six answers to the most frequently asked questions about vow renewals.
Why should I renew?
There is absolutely no wrong reason to renew your wedding vows. Many couples will consider a vow renewal to commemorate a milestone wedding anniversary, such as their five, 10 or 15-year anniversary. Some couples may opt to renew their vows after overcoming big life obstacles or rough patches in their relationship. Others might finally have the means to have the dream wedding they wish they could've had the first time around. Realistically, anything goes when it comes to you and your spouse re-embracing your commitment, so go with your heart and renew for whichever reason feels right to you both.
When do I renew?
A couple can renew their vows any time after their first marriage ceremony. Since a renewal ceremony is not legally binding, there are no real restrictions on timing. This ultimately allows you and your sweetheart to renew your vows as soon as the next day or even 60 years down the road. Typically, the reason you choose to renew your vows will also indicate the date you'll choose to renew them. Be sure to set aside enough time to execute the type of ceremony you are planning to have. If you are looking to have a larger affair, you still want to follow the same preparation time frame for a wedding, which is 12 to 15 months. On the other hand, if you are having a casual spontaneous getaway for just the two of you, you may only need a few weeks or even a few days to prepare and plan.
Where do I renew?
The simple catch-all answer to this question is – anywhere that you would like. If you were not able to go big the first time around, renewing your vows could be the perfect time to bring out the fanfare if your budget now allows. Choose a venue the same way you would during traditional wedding planning by booking it at least eight months to a year out. On the other hand, if you felt obligated to have a larger ceremony on your Big Day, now is the time to make it an intimate occasion out of town, or at a small or casual location.
Who has to officiate?
Because the vow renewal ceremony has no legal roots, virtually anyone you would like can officiate it and they don't need to be ordained. This is unlike a wedding ceremony, where certified religious clergy or civil officiants have to perform this role. If you want to throw a tender nod to your first wedding, you can ask the person who officiated it the first time around to officiate your vow renewal as well. If you are looking for a less traditional spin, consider having a close friend, relative, or even your children officiate. If you prefer something more personal or you are renewing your vows with your partner alone, you can share the responsibility.
Who do I invite?
The truth is you do not have to invite that many people, or you can invite everyone. Wedding renewals give you free reign with how you invite your guests to your event. Unlike your original wedding ceremony, where mailing invitations was the best practice, your vow renewal offers more flexibility. You can choose to invite your guests by phone, via email, or even text.
If, however, your vow renewals are going to be as grand, if not grander, than your original wedding, then plan on sending out physical invitations. Make it clear that you are inviting guests to a vow renewal ceremony, but the rest of the information, such as location, date, and RSVP will remain the same. Determine who should be a must on your invite list based on your reason for renewing your vows. Don't be afraid to trim the guest list from your wedding ceremony and invite only your closest friends and family.
What kind of vows do you exchange?
When it comes time to renew your vows, you have a few options as to how you can go about it. Some couples pay homage to a sweet memory by exchanging the vows that they said when they were first married. Another option is for couples to completely rewrite their original vows. This is the perfect opportunity for you and your spouse to spend time reflecting and verbalizing how you feel about your relationship after a few years. Or, you can skip both of those options and stick to the traditional script. Usually, rings are exchanged after the vows are completed. Before the vow renewal ceremony, you and your partner can decide if you want to re-exchange your rings or switch them out for new ones. Couples might even consider engraving the bands of their wedding rings with a heartfelt phrase or the date of their vow renewal. If a couple is interested in exchanging new rings, however, this is the perfect opportunity to upgrade or get in on the trend of stackable wedding bands.
Overall, out of the many events tied to the bond of marriage, renewing your vows has the least amount of structure and legal necessities. For couples looking to recreate the magic of their wedding, their renewals might resemble the traditional wedding ceremony. However, if your vow renewal is part of a casual or more creative plan to renew your vows, the couple can look forward to putting as little or as much thought and preparation as they would like. This flexibility makes for a truly customizable occasion, whether you are looking for something small or large. No matter how you look at renewing your wedding vows, the act is both a sweet nod to the love you and your partner have shared over time and a chance to truly celebrate that love in whatever fashion you wish.
Written by Nesa Mangal