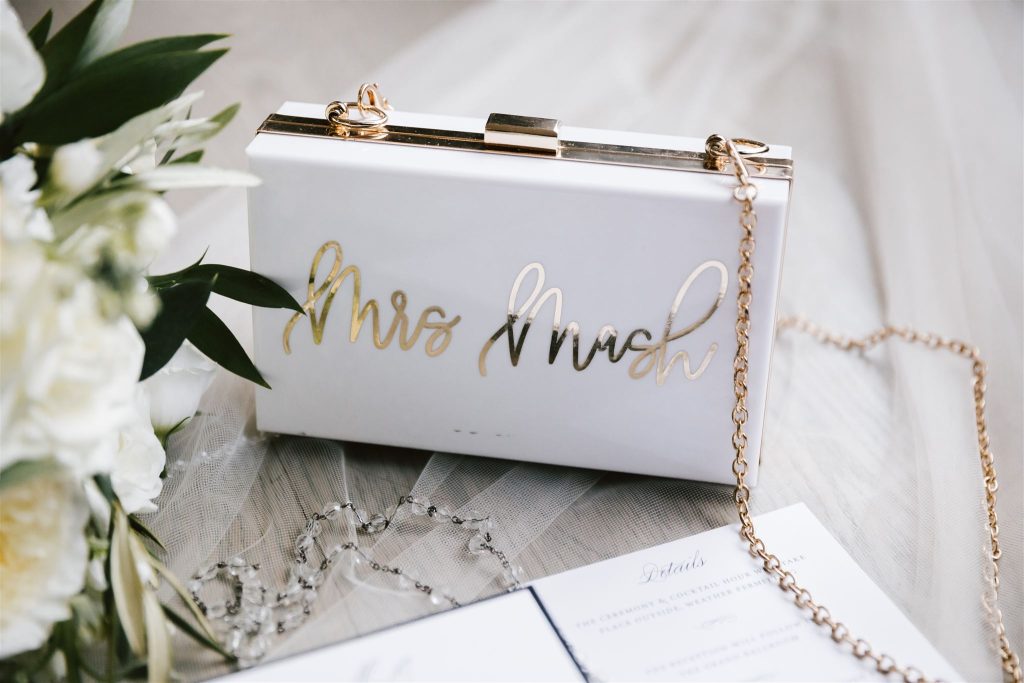 Mrs. Who? A Guide to Changing Your Last Name in Illinois
Photo by Rachael Schirano Photography
Starting your new life as a married couple comes with many exciting changes. One of the biggest changes is a new identity (so to speak). Let's not make the assumption that everyone who gets married changes their last name. In fact, data analytics show that about 20-30% of women keep their maiden name after marriage. But that does leave 70-80% of newlyweds who do take their partner's last name upon marriage.
While the origins of taking your partner's last name are admittedly outdated, the sentiment behind the practice remains. Many couples like having the same last name, as it makes them feel more unified. Other couples like the idea of creating a singular identity for when they plan to add children to their family. Others might just not like the sound of their maiden name! And every reason is perfectly valid and a good enough reason to take part in this age-old tradition.
While this administrative, post-wedding task isn't as fun as opening gifts or getting your wedding photos back, it is important that you do it correctly. To ease this daunting task, we've compiled a guide on how to legally change your last name in the state of Illinois.
*Disclaimer: These requirements are subject to change from institution to institution. Please be sure to confirm with each sector.
MARRIAGE CERTIFICATE
The first step in legally changing your name is physically obtaining your marriage certificate. It's important to note that your marriage certificate is not the same as your marriage license. Your marriage license serves as proof of eligibility to marry, while the marriage certificate is the official documentation that your marriage occurred. So before moving on to any name-change tasks, you'll need your county clerk's office certified marriage certificate. Typically, you'll receive this two to four weeks after your wedding. Even if you don't decide to change your name, having multiple, certified copies of your marriage certificate is a good idea.
You can purchase certified copies in advance when you first apply for your marriage license. This is a good idea, as you'll already have it paid for and you can receive the certificate and certified copies all at the same time. Your official certificate and its copies are issued directly from the county and will have special seals that verify its authenticity. These embossed seals mean you can't just make your own copy.
Not sure how many copies to order? Three to five is a good starting point, but don't stress; if needed, you can simply order more copies down the road.
SOCIAL SECURITY
Reporting the change to the Social Security Administration (SSA) is the gateway to the name change process. This step is required before changing your name on anything else. You can do this either by mail or in person, but there's no way to complete the process online. Why is this the crucial first step? Your SSA record is linked to your identity in the eyes of every federal and state entity. To change your name on anything official, it needs to match up with your SSA record. To get started, there are three steps:
Ensure you have the following documents: one form of a valid photo ID, original or certified copy of your marriage certificate (no photocopies!) and proof of U.S. citizenship. For each document, you need to provide either the original document or a certified, government-issued copy.
Once your identification documents are in hand, you'll need to fill out Form SS-5 (the application itself for a social security card). You can download the form from ssa.gov. Be sure to sign with your new name!
Lastly, you must submit your application. To do this, locate the closest SSA office by searching your ZIP code at ssa.gov/locator. Once you've found the most convenient location, you can either mail your application and documents to that SSA office or you can visit in person. We recommend doing this step in person to avoid mailing sensitive documents that you want to keep on-hand (like your driver's license).
Once these steps are complete, you'll receive your new SSA card in the mail in 10-14 business days (along with your documents — if you mailed them in).
Cost: none
DRIVER'S LICENSE OR STATE ID
After you've received your new Social Security card, it's time to update your driver's license or state ID.
For this step, you will need to go in-person to your local Secretary of State facility (yes, the DMV). Visit ILSOS.gov to find one convenient to you. One reason you need to do this process in-person is because you have to turn in your old license/state ID and provide acceptable new identification. When applying for an updated license/state ID, be sure to bring along your new Social Security card, current driver's license/state ID and certified marriage certificate.
The best part? No waiting! Your new driver's license will be issued the same day you go in and apply. Don't forget to prepare for the photo!
Cost: $5-$10
VEHICLE TITLE AND REGISTRATION
In Illinois, once your driver's license name is changed, you are also required to change the name on your vehicle's title and registration. So this is your next step!
To complete this, you have to either visit an Illinois Secretary of State office or mail in the required paperwork. If you're going in person, you'll need to bring along a completed and printed "Application for Vehicle Transaction" (aka VSD 190). On this form, select the "Corrected Title" option and complete the form. If possible, you might want to get this step done the same day as your driver's license update. Be prepared to provide your odometer reading, existing Illinois vehicle title and your signature.
Cost: $15 (with certified marriage certificate) or $95 (without marriage certificate)
PASSPORT
If you don't have a passport already, you can skip this step — or go ahead and apply for a passport for the first time! However, if you're looking to update your name on an existing passport, here's what to do.
You can either complete this process in person at a Passport Acceptance Facility (find a location at: iafdb.travel.state.gov) or by mail.
Depending on how old your passport is, there will be a different application you'll need to complete. All of these forms can be found at eforms.state.gov
If your passport was issued more than a year ago, you'll complete DS-82.
If your passport was issued less than a year ago, you'll complete DS-5504.
If your passport was issued more than 15 years ago, or when you were under 16, you'll complete DS-11.
In addition to the application form, you will need to provide your current U.S. passport and a certified copy of your marriage certificate.
And of course, you'll need an updated color photo for this application. If you're applying in person, the facility can take your photo.
But if you are mailing in, you'll need to follow the U.S. Department of State's guidelines. You can take the photo yourself, but we recommend you get an official photo taken at a business like The UPS Store. Walgreens, CVS or Walmart. This will ensure the photo checks all the necessary boxes. Basic requirements can be found on the U.S. Department of State's website.
Once all the required elements are submitted, you will get your new passport in the mail. The timeline for this varies widely, so be patient!
Cost:
$140 for a passport book and card $110 for a passport book
$30 for a passport card
$0 for existing passports less than a year old
VOTER REGISTRATION
It goes without saying that voting is important! You'll want to make sure your voting registration is updated to match your new name.
Head to ova.elections.il.gov and click the link "Update an Existing Registration." Follow the instructions and you're all set! Be prepared to provide the following information: Illinois Drivers License or Illinois State ID number, license/ID issue date, last four digits of your social security number and your birthdate.
BANK ACCOUNTS
Now that all of the government-related steps are complete, it's time to change your name on personal accounts. First up, we recommend you change your name at your bank or credit union. In instances where businesses might ask for two forms of ID, your new license and a credit/debit card are often checked together, so you'll want them to match!
To change the name on your account(s), most banks require you visit a physical branch office with your photo ID and a certified copy of your marriage certificate. While doing this, you can request new debit cards or checks and get it all done at once.
However, if you don't live near your bank branch or you use remote banking, going to an office might not be possible. Each institution will have a variation of the in-person method. Call the customer support phone number on the back of your card to check and see what their process is.
PERSONAL ACCOUNTS
And lastly, it's time to update everything else! This includes everything from your social media accounts to your health insurance.
After a few months you'll probably still be finding accounts out there with your old name, and that's OK! You'd be surprised just how many places have your name on file. No sweat, you can just change them as you come by them.
Common accounts to get you started include: Home mortgage or rental lease, utilities, mobile plan, internet, pharmacies, medical providers, professional certifications, online subscriptions, investment accounts, loyalty programs (airlines, hotels, etc.) and social media accounts.