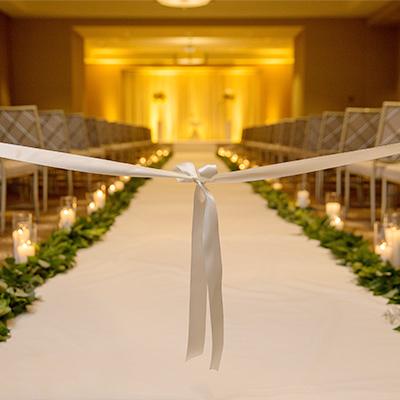 What to Plan Prior to Saying, "I Do!"
While every couple's wedding is unique, when it comes to planning the Big Day, it often seems that a large amount of focus and energy goes toward planning the perfect reception. Of course, the reception and all of its intricacies are indeed a big undertaking – but it's only one part of your wedding day. The reception is a celebration of the
ceremony that precedes it, and planning the ceremony takes time and effort as well. As you work toward putting together your perfect day, consider these seven key ceremony aspects.
1. The Angles.
Many ceremonies have a pretty standard set-up: the couple and officiant are up front, the bridal party is on either side, and the guests are seated in rows (with an aisle in-between). But that doesn't mean every ceremony looks that way. Depending on your venue, the layout might be slightly different. Make sure you discuss with your wedding planner or the venue manager exactly how everything will look. Some questions you may consider asking include: Where will you and your officiant stand? Will you be on a platform elevated slightly above your guests, or on the same level? Where will your bridal party stand or sit? Where will your guests sit? Will everyone be able to see the action?
It's worth having a conversation with your photographer and videographer once you have a concept of the layout, so they can ensure they'll be able to get the photographs they need.
2. The Duration.
If you're following a fairly traditional ceremony (such as a religious one), the length may be dictated by the predetermined elements of that ceremony. If not, it's a good idea to consider how long you ideally want your ceremony to last before figuring out the individual parts of it. Do you want it to be a short and sweet 20 minutes and get your guests quickly to cocktail hour? Or do you want to take more time – perhaps 45 minutes to an hour – to incorporate more components that are important to you? Keep in mind that the length of the ceremony affects the rest of your schedule as well. When deciding on ceremony length, try mapping out a rough itinerary for the day, working backward from your reception. If the ceremony is 45 minutes, for example, what time will you need to start in order to get you and your guests to the reception on time? If the ceremony and reception are at the same venue, what time will you need to start to ensure the cocktail hour starts on time?
3. The Order of Events.
If you are putting together your ceremony without following a predetermined layout, it's up to you to decide the order of events. Some of the most traditional elements of a ceremony include the processional, the officiant's greeting and message to the couple, the declaration of intent, the readings, the vows, the exchange of rings, the pronouncement of marriage, the kiss, and the recessional. There are of course certain components that clearly fit into certain spots, but you have some freedom with the order of the ceremony, after all, it's your ceremony. While you may find that plenty of couples do the declaration of intent immediately before the vows, for example, it's completely fine to swap those two, or include a reading in between. You can intersperse a few readings throughout the ceremony or have them read consecutively. Try "storyboarding"
the ceremony: write each element on a small piece of paper, lay them out in order, and then play around with them until you find something that feels right for you and your fiancé.
4. The Events Themselves.
One of the most fun parts of planning your ceremony is deciding what elements you'll include. Again, there are plenty of traditional components to a wedding ceremony, but you can decide which of those to use and not use, as well as any additional "events" you may fancy. The decisions can be based on whether the ceremony is religious, non-denominational, or perhaps a fusion of two different cultures. The ceremony can be based on what speaks to you and what best represents you as a couple. For example, you may want to include a memorial to loved ones, a thank you to your guests, a "Blessing of the Hands," or a musical performance, the options are limitless.
Customize the content and wording of your Big Day as you would like. Don't feel constrained to only the most common wedding readings. For example, if you want someone to recite the lyrics of your favorite song, go for it! And when it comes to things like the declaration of intent, there are many variations your officiant can use leading up to the "I do". Browse online and find versions that really speak to you. Many people choose to incorporate a mini "unity ceremony" within the larger ceremony. If you go that route, consider what style of unity ceremony you would like – such as mixing two different colors of sand into one glass vase or using two separate candles to light one unity
candle simultaneously.
5. The Music.
There are a few things to think about when it comes to ceremony music. First, decide where you want music to be incorporated into your ceremony. Will it only be during the processional and recessional? Do you want anything to play softly in the background of events like the unity ceremony or ring exchange? Do you want to include a vocal or
instrumental performance in the middle? Once you've made those decisions, you can move on to choosing the tunes and how the music will be played (such as live instrumentals via a string quartet or harp, a live vocalist, or recordings played over a speaker). If you're working with a musician, they can likely play you some samples and help you decide what direction to go with your song selections.
6. The Participants.
The participants include the usual suspects: you, your future spouse, and your officiant, of course. But, who else will be involved in your ceremony? What roles will your bridal party play in the ceremony? Will they stand the entire time on either side of you or will they sit in the front row? Are there any additional tasks you need to assign them (like holding bouquets or rings)? Beyond bridesmaids and groomsmen, consider how you might incorporate other important people into your ceremony. Perhaps you'll have two parents light the individual candles ahead of the unity ceremony or ask a close friend to do a reading.
7. The Physical Elements.
Think about what types of physical elements to include in your ceremony. Will you get married under a chuppah or wedding canopy? If so, plan ahead to secure the purchase or rental of one along with any additional components, like silk draping or an additional floral display. Don't forget to confirm the logistics of delivery, set up, and break down. Then, there are the smaller things such as an aisle runner, a microphone, and a table for the unity ceremony. Many items like candles, chairs for your musicians, programs, as well as a card box may seem like small details that can be figured out last minute, but those small details can add up to big headaches when you're trying to take care of them the week of your wedding. Get ahead of it by making a list early on, checking off when you acquire the items, and then delegating the plan to get each piece to the ceremony on time.
Written by Emma Sarran Webster