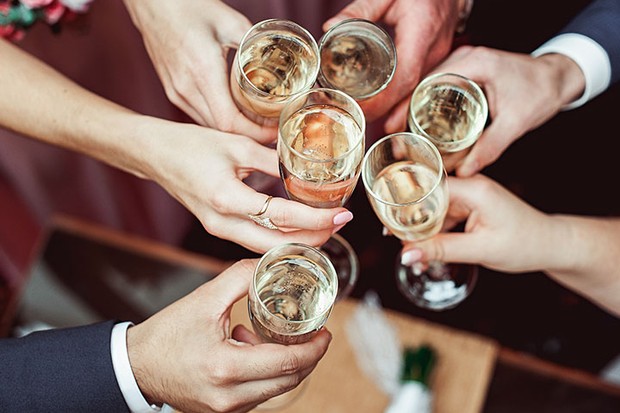 Just like a speech or a paper, a wedding toast has a beginning, middle, and an end!  Don't be stuck stuttering, nervous, or unsure what to say.  Here are some tips on how to write the perfect toast!
1. Start early – There's no winging this one! You do not want to be scrambling at the last minute on what to say.  Take notes, and brainstorm some ideas ahead of time!  Remember – the bride or groom is your best friend.  Make them proud and write something special.
2. Be yourself – We cannot stress this enough.  Use your words and write in your sense of humor.
3. Keep it short, but not too short – People have a short attention span! 1-3 minutes is ideal, five minutes is long enough!
4. Start strong – How do you know the bride and groom?  Inquiring minds want to know! How did you meet?  Consider telling a short story.
5. Be sincere – Dig deep!  Avoid googling "sweet wedding toasting quotes."  Speak from your heart.
6. If you are in doubt on whether to say something or not, leave it out – Avoid the super embarrassing stories.  It's better to be safe, than sorry.
7. Speak to both the bride and groom – This is an important one! Even if you are best friends with the bride, or best friends with the groom, remember to talk to both of them!  You are toasting them as a couple, not solo.
8. Avoid "inside jokes" – Tell stories that everyone will connect with.
9. Rehearse, Rehearse, Rehearse – Rehearse several times.  Practice your speech in front of people.  Make sure you are comfortable with your words and feel comfortable talking in front of an audience.
10.  Be confident and have fun – This is a special moment in your life and in your friends life. Avoid the bar, take deep breaths, and smile.  Be sure to raise your glass at the end and wish the lovely couple a lifetime of happiness.