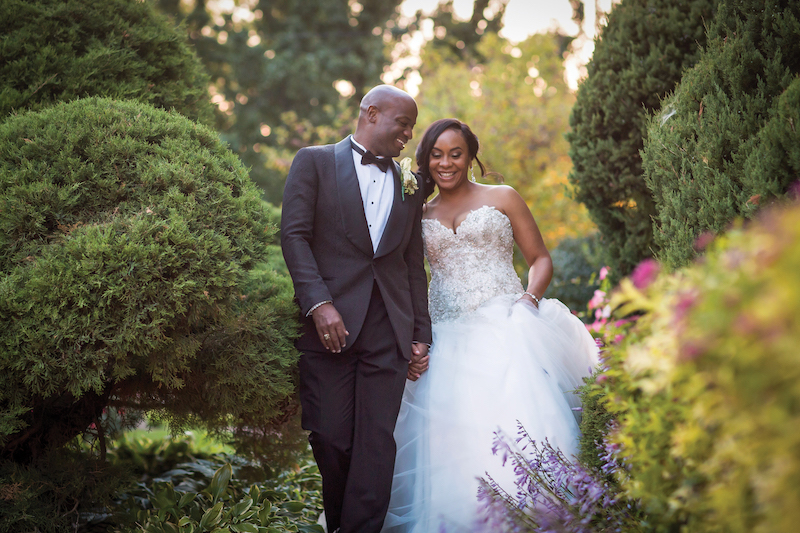 6 Tips for Outdoor Weddings
Written by Heather Hagy | Photography by TWA Photographic Artists
From blue skies and gentle breezes to longer days and busy nights, it's no wonder that summer and fall are the popular times of year to get married. Outdoor weddings are becoming increasingly popular, but not without additional precautions. Events held outside can have their own unique set of problems. Here are some tips for ensuring your outdoor soirée goes off without a hitch.
HAVE A PLAN B (AND EVEN A PLAN C).
You can plan for many aspects of your wedding, but unfortunately, the weather is not one of them. During the planning process, work with your event coordinator to devise backup plans in case of inclement weather. This helps alleviate extra stress on the big day because you'll already have plans in place if you need to shift. The best thing about backup plans is that they're not one size fits all. You can take elements from one plan and incorporate them into another on the fly to craft a backup plan that's perfect for your situation.
Common backup plans include having a tent on the grounds (look into ordering side panels to block any wind and rain), having an indoor option on standby, stalling start times if the weather is expected to clear and having outdoor heaters in case of an unexpected cold front. You can cross your fingers and hope you don't need a backup plan, but you will be thankful you have one prepared regardless of the turnout. After all, rain on your wedding day is supposedly good luck, so you may as well be ready to tackle it head on.
OFFER A SEASONAL MENU.
Of the few details guests remember after a wedding, food is almost always one of them. Heat can do awful things to some menu items and can even make guests sick, so it's critically important that your selections are made to withstand the hot summer sun. If your cocktail hour is taking place beneath the hot afternoon sun, for example, stick to seasonal veggies, fruit skewers and other light appetizers instead of heavy or dairy-based items that may melt or change texture due to heat. Also make sure all seafood, dairy and meat are stored in cooled serving dishes or on ice.
For dinner, consider comfort foods like pulled pork barbecue with a citrus salad or a pig roast with corn on the cob. These dishes are not only delicious, but bring instant nostalgia to the dog days of summer. Talk to your caterer about the best timeline options for your food in order to keep it appetizing and, most importantly, safe!
Pro tip: No matter how beautiful your cake, keep it somewhere cool before and after you cut it — you don't want it to melt or collapse on the floor from too much sun exposure!
PREPARE FOR THE ELEMENTS.
As lovely as summer can be, it can also be pretty high maintenance in terms of staying comfortable. Anticipate your guests' needs by making sure the ceremony and reception sites are equipped to combat the potentially warm weather. If you're having ceremony programs, brainstorm ways to double them as fans or distribute mini battery- operated fans so guests can cool off if it's hot. To keep guests hydrated at the ceremony, provide bottled water in themed ice buckets or a lemonade stand. Once the reception starts, move the hydration station near the dance floor — you and your guests will definitely need it later!
If you didn't already book your wedding site, research venues that offer both indoor and outdoor party areas, so guests can decide where they would be more comfortable. If you already secured your space, talk to your event coordinator about how to use natural shade and other cooling options. Guests may also appreciate having sunscreen, lotion, bug spray and other seasonal remedies on hand. Place these items in decorative containers at the wedding site or put them in a bathroom basket so guests can grab what they need for on-the-go relief.
PLAY OFF YOUR SETTING.
While indoor-only venues may have their own rules, the décor options for outdoor weddings are practically limitless. Leverage the abundant space by using scenery and natural landscapes to your decorating advantage. Some ideas include creating signage for menu items, and directions to dinner and dancing locations. You can also use battery- operated lights to string through tree branches or line the top of a tent to help create a romantic, ambient atmosphere. Strung lights look especially pretty once the sun sets, too.
Outdoor weddings not only create a memorable setting, but they also make it easy to entertain. Consider personalizing bean bag sets with your names and wedding date, or providing bocce ball, horseshoes and other casual lawn games for the adults. Bubbles and kites are great for the kiddos in attendance. Once the sun sets, you can host a bonfire with a late-night s'mores or hot dog bar. When the night ends, have a sparkler sendoff in which guests light up the path from your reception to your getaway car or release paper lanterns into the sky, a longtime Asian tradition that symbolizes good wishes.
DRESS FOR SUCCESS.
Ensure comfort and confidence on your big day by making sure your look is summer ready. Whether it's a dress or other formalwear, stick to lighter, breathable fabrics that will keep you cool. Work with your dress consultant to find a gown made of flowing fabrics, such as chiffon or crepe. If your heart is set on a gown made of heavier fabric, such as satin, consider changing into something more lightweight when it's time to dance. Guarantee all-day comfort from head to toe by wearing block heels, flats or other shoes that don't stick in the soft summer grass.
Keep your hair and makeup on point from morning to night by choosing styles that work with warm weather, not against it. Curls, waves and sculpted updos often don't do well in humidity. To fight frizz, ask your stylist
to experiment with sleeker styles at your hair trials, such as a pulled-back bun or ponytail. For a boho vibe, try a chunky braid to keep your hair away from your face and off your neck. While it's important that you look and feel your best, keep in mind that the more makeup you wear, the greater chance it may run by the end of the night, so play around with palettes that don't require a lot of layers.
Pro tip: Have your maid of honor pack travel hair spray, blotting papers and a compact in her survival kit in case of a beauty emergency.
HAVE A SMART TIMELINE.
Guests don't want to stand around in the sweltering sun while you're off taking photos, so be mindful of when the sun may be at its highest and warmest points when planning your timeline. Not sure where to start? Research when the sun is expected to set in your wedding month and year, then build your timeline around that window. This helps keep guests comfortable and simultaneously guarantees ideal natural light for photos. For reference, the hottest part of the day is usually between 1 and 3 p.m. in the afternoon, give or take.
If temperatures are expected to be hot all around, consider shortening the time between your ceremony and reception, and talk to your event coordinator to devise a plan to keep your guests cool and comfortable. Also take into consideration the direction guests may be facing for the ceremony. Those having daytime nuptials should try to orient the ceremony so the sun is on your guests' backs and not in their eyes. Guests appreciate not having to squint to see your vows and that you spared them a potentially painful sunburn.
Whether your wedding takes place in a garden or backyard, or on a mountain or beach, there's something truly special about an outdoor wedding. While they come with more dos and don'ts than traditional weddings, outdoor weddings tend to offer more possibilities for innovation. Acing an outdoor wedding is easy with a little extra planning and organization. Follow these tips and your biggest wedding day worry will be making sure your champagne flute is always full.
---