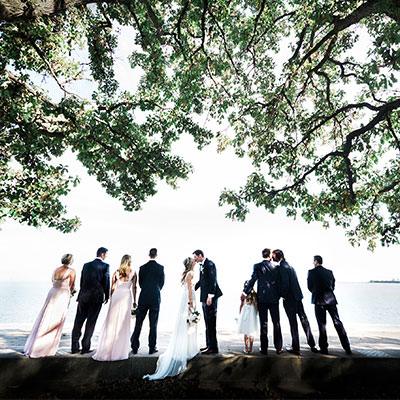 How to craft a registry you'll actually use for years to come
While dress shopping can be totally glamorous and cake tasting is a blast, one of the most fun parts of planning a wedding is – you guessed it – putting together your wedding registry. When else in your life do you really get to shop for things that are just for you, without spending a dime? But with all the fun comes a little bit of registry etiquette (and advice) you'll want to keep in mind. Don't forget, once the wedding is over the rest of your life together begins. Your wedding registry is meant to not only help the two of you celebrate your unique bond, but should also reflect the life you're building together. Follow this list of registry dos and don'ts, and you're guaranteed to put together a wedding registry that you – and your guests – will love.
Do Not: Register for the $500 bread maker
In case you can't tell, I'm using this as a metaphor. If you happen to really be a baker of breads and have been longing for the $500 bread maker – but just couldn't justify splurging on it yourself – then by all means, absolutely register for the $500 bread maker. Send me some bread if you do. What you should avoid, however, is simply assuming that the moment you say "I do" you are suddenly going to become a baker of homemade breads, or a churner of homemade ice cream, or a maker of homemade cheese, and so on, if you have never, in fact, had a desire to do any of those things before. You will not.
What is far more likely to happen if you register for the $500 bread maker without having a solid plan for where such an item will fit into your life, is that some well-intentioned and generous wedding guest will gift it to you. You will open it, because it is large and shiny and intriguing, and use it exactly one time – just enough to ensure that you have burnt so much flour into the bottom of the bread pan that there is no possibility of returning it for store credit, thereby wasting the opportunity to exchange it for $500- worth of gifts you will actually use, like say, margarita glasses. It will then become a $500 stainless steel box of guilt, which you will be forced to make counter space for, for the rest of your life, because you asked for it. Avoid this. Don't register for the $500 bread maker.
Do: Take your own unique lifestyles into consideration
For years the typical wedding registries consisted of dozens of pricey china place settings, crystal glasses, those cutlery sets with the tiny forks, and all sorts of other things that – at least in my house – only ever see the light of day on occasions like, say, Thanksgiving. The good news is those days are over, if you want them to be.
When putting together your wedding registry, really think about who you and your soon-to-be-wedded truly are as a couple. Do you love taking long backpacking trips together? Then go ahead and register for those deluxe climbing backpacks you've had your eyes on and some super-comfy hiking boots. Do you celebrate Taco Tuesday like it's a religious holiday? Then skip the fancy plates and create a taco-lover's dream registry, complete with a veggie dicer, a tortilla press, and plenty of stainless steel taco racks.
You can also register for experiences – a perfect option for the couple that loves to travel, or who is struggling to comingle all the belongings you already own. Through websites like Vebo and NewlyWish, you can register for everything from couple's food tours and yoga retreats to skiing trips and beer tastings. You know, the kind of adventures you'll remember for a lifetime.
Written by E. Ce. Miller
"Even if you already have a household set up, register for things that you love and would want to receive. If you love to cook, register for cooking classes or all those specialty pieces of cooking equipment you really would like to own. Register for holiday china. You can even register for a piece of art at many art galleries where guests can make a contribution. I learned personally by not registering for my own wedding that guests get creative and give you things you don't want, which you'll be stuck with or have to run around and return. This way you'll get things you'll love." – Frank Andonoplas, Frank Event Design