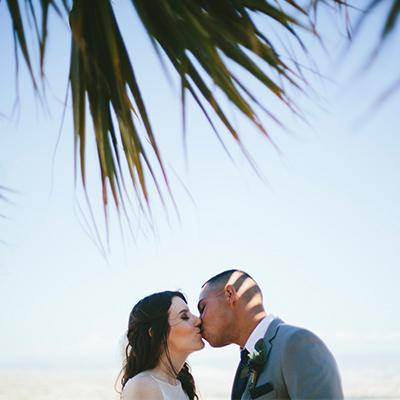 5 Reasons to gift yourself a mini vacation before your honeymoon.
I'll set the scene for you: you and your soon-to-be-wedded have just spent weeks, or months, (or more!) planning the wedding day of your dreams. You've done everything from booking venues and selecting flowers to tasting cakes and attending that very last dress fitting. No detail from your wedding programs, to your seating arrangements, to those ballet flats you're totally going to change into at the reception, has been overlooked. Now, all the two of you want to do – after enjoying the heck out of your big day, that is – is kick back, relax, and catch up on some well-deserved sleeping in. Oh, except for one tiny detail: you still have an entire honeymoon to plan.
Yikes.
After all the work that went into making your wedding day an unforgettable event, if the absolute last thing you want to do is
start planning an even more unforgettable honeymoon, don't worry: you are definitely not alone. Tons of newly-wedded couples are forgoing big, extensive honeymoons for a more local, laid-back mini-moon – at least right away. (Honestly, do you really need me to tell you that nothing extinguishes a postnuptial glow like long lines, airport security, and cramped seats? Probably not.) Making the decision to follow your wedding day with a mini-moon and saving that honeymoon for later might be exactly what you and your brand-new spouse need after saying "I do". Here's why:
You might need a little post-wedding R&R
We all know that weddings are beautiful. An entire day filled with family and friends, great food, and dancing, and a whole lot of love – there are tons of reasons why you expect your wedding to be one of the most special days of your life. But what you might not be expecting is that weddings are also exhausting! From all the planning to the partying that follows, prepare to be totally tuckered out by the time that last champagne cork is popped.
By planning a super simple mini-moon immediately following your wedding (and saving that real-deal honeymoon for a later date) you're giving yourself and your spouse the post-nuptial R&R you both deserve. Maybe you'll decide to check into a nearby spa, treat yourself to a few nights (and some room service!) in the honeymoon suite of a local hotel, or plan a camping trip to that gorgeous hiking spot just a short drive away. Whatever you decide to do, a mini-moon will give you the time and space to focus on what your wedding day was really all about: the two of you as a couple – and not, say, where on earth your gate-checked luggage ended up.
Your pocketbook might need a little R&R too
Um, hello. You just paid for an entire wedding. And I hate to break it to you, but honeymoons are usually anything but cheap. Taking a local, low-budget mini-moon will give your bank accounts some time to recover before funding your next big adventure. Because believe me – the last thing you want to do when you finally land in Paris, or Tahiti, or Melbourne, is spend your entire honeymoon stressing over how much everything costs.
Timing is everything
It's no fun to think about your job or other commitments when it comes to planning a honeymoon, but in your fastpaced and jam-packed life, it's just something you have to do. If you've already had to account for pre– and post-wedding festivities, (and of course, the big day itself) your honeymoon might start to feel a tad… rushed. Definitely not the vibe you're going for, right?
But postponing your honeymoon and swapping in a mini-moon gives you the best of both worlds: time to relax and reconnect with your spouse before heading back to daily life, and the opportunity to take your time planning that extended honeymoon later.
There are some fabulous mini-moon "travel" options
As a Chicagoan, you already know your city has tons of amazing experiences to offer travelers but just because you live
there doesn't mean you should miss out on the fun of taking in your city like a tourist would. Consider a mini-moon that starts the moment you step outside your own front door: make reservations at that exclusive restaurant you've been wanting to try, check out the latest exhibits at the Art Institute, splurge a little on Michigan Avenue, and stay in a local luxury hotel.
Or, if a slower pace is more your style, consider booking a few days at your favorite spa and schedule every single one of those pricey treatments you normally lust after, but have never bothered to treat yourself to before.
There are also tons of places within driving distance of the city, for couples who love kicking back in the great outdoors instead of on the massage table. Just because Illinois has a reputation for being flat and full of corn doesn't mean it's true (well, not entirely, anyway.) There are some seriously gorgeous national parks and hiking spots just a few hours away.
Lastly, if you want to make your mini-moon super mini, consider my personal mini-moon fave: the staycation. That's right – don't go anywhere. Just remember to turn off your cell phone, stay far away from those work e-mails, and order as much of your favorite take out as your refrigerator can handle. You can sleep in, take bubble baths, watch all your favorite movies, and simply enjoy being together – just the uninterrupted two of you.
All those great newlywed vibes will last longer, guaranteed
Do you know one of the best ways to celebrate your first wedding anniversary? By finally taking that honeymoon you've spent all year planning. Starting to plan your honeymoon after the wedding – instead of jumping on a plane the minute the last slice of wedding cake has been served – will not only give you two some amazing anniversary plans to look forward to, but you'll also be able to use that delayed honeymoon to celebrate being newlyweds all over again, from the minute that seatbelt sign is turned off. Pro tip: don't forget to tell everyone you're on your honeymoon! From hotel room upgrades to complimentary dessert, folks love to give newlyweds free stuff.
And hey: now that you and your partner have perfected the mini-moon, you can take one anytime! Keep basking in your newlywedded-ness for as long as you both shall live.
Written by E. Ce. Miller