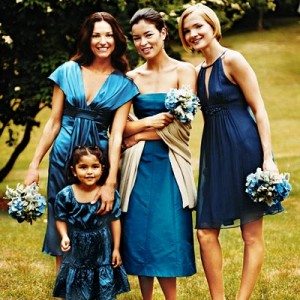 What's your 'Something Blue'?
I was at a party last weekend and people love to tell me wedding stories when they find out what I do! Quite often, it's something that I've heard of, and I graciously listen and nod. But, I this one was new and quite a fabulous idea!
The bride had quite a few girls she wanted in her wedding party and the groom only wanted a few. So the bride chose to ask all her special people to wear blue dresses (of their choice) and be her "something blue". These weren't just her high school, college and work friends, these were people who had been special or done special things to/for her throughout her life. An aunt who helped her with her homework, a teacher who helped her with her college essays, and other close friends she couldn't include in her bridal party.
She had a special announcement about the group, had them all stand up at the wedding reception, took a few fun group photos, and gave them all a special thank you for helping her become who she is today.  What a wonderful way to show appreciation.
Would love to know ways other people are showing thanks to their family and friends.