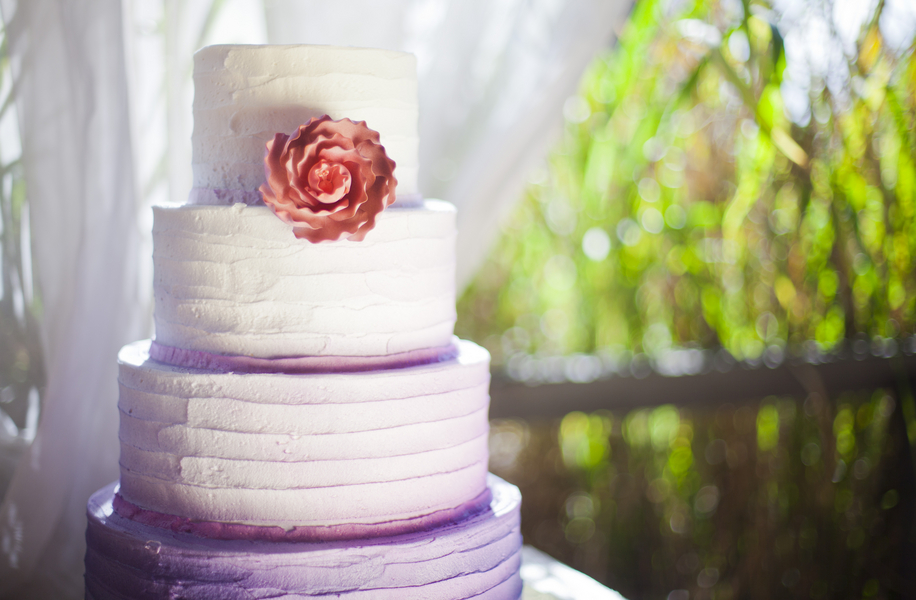 Whimsical Radiant Orchid Wedding Inspiration
Can't get enough of Radiant Orchid?  Neither can we!  That's why, along with this gorgeous bridal shower picnic we shared with you earlier this summer, we now have some Radiant Orchid wedding inspiration that's sure to set your heart aflutter!  Held at the beautiful Orlando wedding venue Birdsong Barn in Titusville, Florida, this shoot designed by Diana Marie Events was all about bringing whimsical romance to barn nuptials.  Handmade signs scripted in paint and chalk were placed throughout the yard of the venue, leading to the outdoor ceremony space where a wooden arch decorated with flowers, moss, and candles stood dreamily upon the lawn.  Steps away, sunlight streamed into the barn, bringing with it magic and warmth.  A Radiant Orchid color palette splashed the space in a spectrum of pinks and purples.  Floral arrangements of roses, lilies, and baby's breath graced the tables, touches of cotton providing a subtle Southern charm.  Add to that darling vintage furniture, rugged lanterns, glowing chandeliers, and table runners of burlap & lace, and honestly, the loveliness is limitless!  These swoon-worthy images are brought to you by Orlando wedding photographer Cat Melnyk Photography!
THEME
I wanted to create a balanced theme that that took the Radiant Orchid color and translated it into a Romantic Vintage theme with a touch of whimsy and ethereality!
PERFECT FOR
Our Romantic Vintage styled shoot is perfect for those who are planning an event that is taking place at a barn, but that they still want a feel of glamour and whimsy. The shoot was designed specifically with utilizing the open environment and outdoors in mind, so one can take our Romantic Vintage Orchid design and translate it into their own open outdoors setting as well!
COLORS
I wanted to take the 2014 Pantone Color of the Year, Radiant Orchid, and utilize its color and neighboring colors to create an orchid-purple-pink ombre color scheme.
FLOWERS
I worked with the fabulous Kelly of Kelly Shannon Floral, A Fresh Flower Boutique, to incorporate gorgeous fresh flowers into the design shoot. I was adamant about not using orchids as it would be prevalent in other photo shoots and events that utilized Vibrant Orchid. Kelly understood that and our design board, and we proceeded with roses, daisies, mini calla lilies, baby's breath and other beautiful flowers for the bouquets and centerpieces.
ITEMS TO INCORPORATE
Our Romantic Vintage design shoot needed the right décor and design items to compliment the theme. I did not want to see any "bling," but wanted to incorporate our lace linens, soft gold candlesticks/etc., milk glass vases, items that chalk can be used, and other vintage pieces. Every piece needed to not only be beautiful and fit perfectly with the theme, but be able to compliment other décor pieces, as well as standalone by itself. It was also important to incorporate these design items into the decorations – from the lace used with the custom invitations and paper pieces created by Pretty Peacock Paperie to the Vibrant Orchid ombre colors!
THINGS TO REMEMBER
As our Romantic Vintage shoot was design for the Birdsong Barn, the only specific detail that you must consider in recreating this design is open space and outdoors that the design is for! The Birdsong Barn is not enclosed by walls, so we took advantage of the open space and outdoors environment to incorporate the venue into this design.
SIGNATURE COCKTAIL
I created a signature cocktail drink that was used for this design shoot – Raspberry "cordial" with fresh blueberries in a mason jar to be drunk with a straw!
TAKE IT UP A NOTCH
If you want to take our Romantic Vintage design up a notch, I would suggest creating larger more lush centerpieces, take advantage of the open space and create more height into the design as well – hang floral chandeliers and other hanging pieces from the ceiling, etc.!
WHAT TO WEAR
I had it in mind that the bridal gown and bridal party's formalwear was to not be too extravagant with a lot of detail. I wanted the fashions to compliment the design shoot – wanted the soft whimsical colors of our design board to be utilized. I was specifically looking for the bridal gown to be of a soft pink or orchid color with a long and flowy skirt that would perfect for photos. We were looking for the soft colors of our design board to be incorporated , and I was fortunate when Angelique Bridal & Formal by Gina had fashions that were perfect for our design shoot! I was also fortunate that Boldly Unique, a custom-design hair accessories boutique, created several beautiful pieces that not only matched the fashions but our stylized shoot as well!
Shoot Professionals
Planning, Design, Linens & Decor: Diana Marie Events | Venue: Birdsong Barn | Photography: Cat Melnyk Photography | Hair & Makeup: Brides Be Beautiful | Dress: Angelique Bridal & Formal by Gina | Floral: Kelly Shannon Floral | Rentals: Wish Vintage Rentals and  Chalk Shop | Cake: Cut the Cake | Stationery: Pretty Peacock Paperie | Favors: Two Sweets Bake Shop | Hair Accessories: Boldly Unique
Click here to learn more about planning a wedding in Orlando.