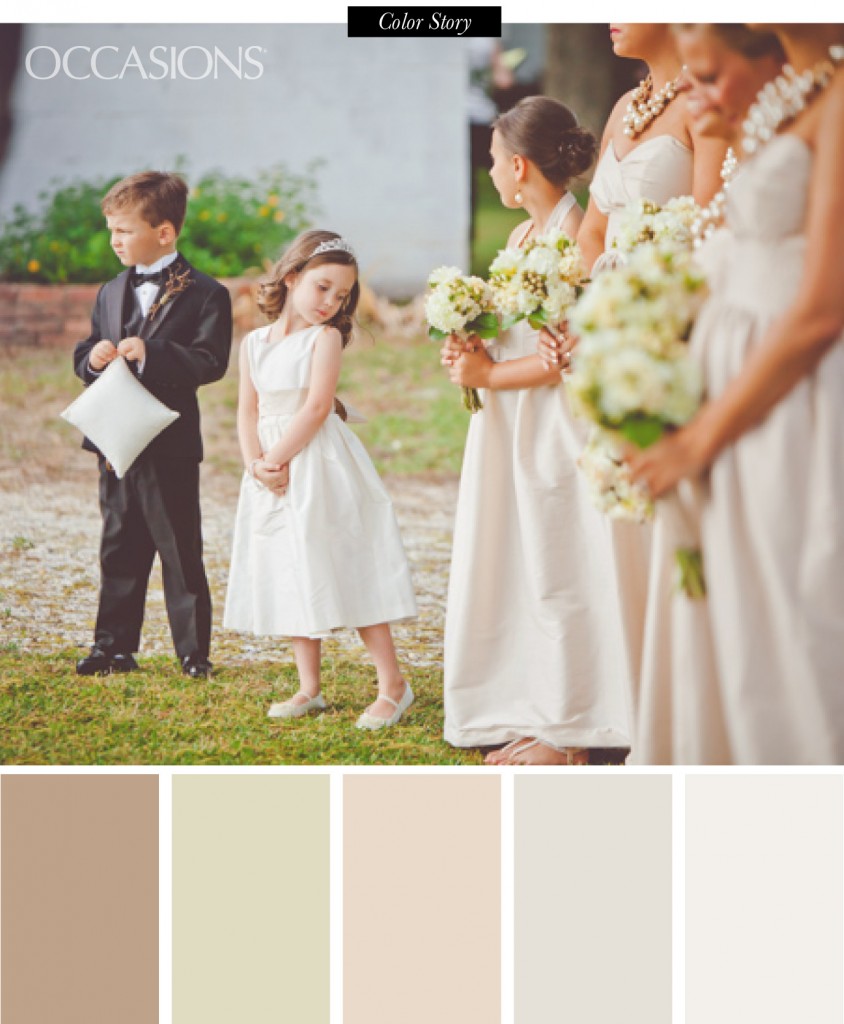 Tennille, Georgia Wedding at Private Residence by Mark Williams Studio
Though AJ and his family arrived in Anna-Grace's small town when the two of them were quite young, it wasn't until they were in college that a spark of love was struck between them.  As time passed and a memorable proposal was made, the happy couple began planning their lovely springtime wedding at Anna-Grace's family farm.  The morning's dark clouds rolled away just in time for the ceremony, showering the venue with sunlight.  Bridesmaids clad in dresses of soft champagne beamed as they walked down the outdoor aisle, and the bride dazzled her groom in a dreamy mermaid gown as the two exchanged their vows before the farm's white picket fence.  As the newlyweds and their families wandered off for a photo session, guests mingled on the lawn, sipping cocktails of watermelon mojitos & bourbon and cokes.  Elegant white flowers adorned the celebration, springing from hurricane vases and swaying from the rafters of the barn as everyone traveled through the line for a plateful of Southern cuisine from the buffet.  A night of partying and laughter created unforgettable memories for all in attendance, and the new Mr. and Mrs. glowed brighter than the sparklers around them as they escaped off to their honeymoon in Europe.  This barn chic affair is brought to you courtesy of Georgia's own wedding photographers at Mark Williams Studio!
Tell us how you met. Was it love at first sight, blind date, friends forever?
AJ moved to Sandersville, GA when he was in 4th grade (I was in 5th) and began attending Brentwood School. We "knew" each other in our tiny school of 400 people from PrK-12th grade. We showed absolutely no interest in each other all during high school, well at least I didn't.  It wasn't until we both moved off to college that we started dating. AJ invited me to a party at his house during a stint at home for Thanksgiving break. After a couple of rounds of Hockey (drinking card game), it was all downhill from there!
Tell us about your wedding gown and what your wedding party wore.
I had my wedding dress picked out in my head years before I was even proposed to. I KNEW I wanted a fitted mermaid with a very detailed bottom. I tried on other styles to please my mom and friends, but always came back to my dream style. THE dress was fitted all the way down to mid-thigh with gathered fabric. The bottom had a 4 foot train and was covered in huge detailed flowers. Describing it in words simply does not do it justice!! My gorgeous bridesmaids were sheer perfection. They wore champagne colored A-line dresses with sweetheart tops. The dresses were floor length and had super cute pockets. They fit the formal outside wedding perfectly. The guys all wore black tux with bow ties.
Splurge on…
The photographer!! Everything will be such a blur the entire day and unfortunately it all goes by SO quickly, you do not get to enjoy all the small details that you spent months and months planning. Having an amazing photographer to capture every single moment so you can re-live your special day over and over is the absolute best dollar we spent.

Was there a specific theme or style?
We were married and had the reception at my aunt and uncle's farm where my father grew up. The wedding was what I would call "barn chic" with the family farm in the background but having an elevated atmosphere with black tie attire as well as elegant flowers and decor. It was a perfect hybrid of my small town upbringing but with my formal taste of currently living in the city. I felt like every detail of the event screamed of me! My mom truly captured everything I wanted by relaying each detail to the florist and many other helpers. Thanks, Pinterest!
Please give us an overview of the event.
Living in a small town, a wedding is truly an EVENT. Approximately 300 friends and family joined us at 6:30 in the evening to watch our ceremony sunset ceremony. It was a short and sweet ceremony in front of a white picket fence on my family's farm.
What was the best wedding advice you received?
To not let a single thing that day upset you. I woke up hungover (thanks reception dinner!) to it pouring rain. My wedding was completely outside and my mom went into panic mode calling every tent company in the state for a last minute fix. I stayed cool as a cucumber.. And what do ya know? It stopped raining right at 3:00pm, the scheduled time for my pictures! I was so very thankful I was surrounded by friends that constantly kept me calm and didn't let a little rain (or headache) ruin THE best day of my life!
Did you DIY any of the details?
We had several chalk board signs that I DIYed with my own handwriting. I also did the sparklers attached to instructions with a match.
Tell us about the food and desserts.
We had a traditional Southern fare of fried chicken, pork loin, fried green tomatoes, macaroni and cheese, green beans, corn bread, and much, much more. The caterer cooked a majority of the food on site so it all tasted incredibly fresh and super yummy. We had the wedding cake of my dreams!! It was three tiers of vanilla cake with vanilla frosting and had a huge flower that was identical to the flowers on the bottom of my dress. Instead of a groom's cake, AJ had a cookie bar with chocolate and plain milk. The cookies were donated by different friends and family and provided a very special touch to the evening.
What was the most memorable moment?
Our first dance. The ceremony was such a blur and everything happened so quickly that day with getting ready and taking pictures, it was the first time that I was able to simply be with my husband in the moment. I cried tears of joy knowing I had just committed my life to my true soulmate and we were about to embark on one crazy adventure of life.
What kind of energy did your entertainment give the event?
Our entertainment MADE the reception! We had a band out of Atlanta (Enturaj) that absolutely brought the party. They played more mellow/quiet music while everyone was enjoying dinner. As soon as people started coming on to the dance floor, the band cranked the energy WAY up! They played through out the night, constantly interacting with the guests and taking requests.
If there was one thing you could change, what would it be?
Nothing!! It was literally the wedding of my dreams and I would not change a single thing!
Wedding Professionals
Venue: Private Residence | Photography: Mark Williams Studio | Hair & Makeup: Lindsey Melder of Jamison Shaw Hairdressers | Wedding Dress: Wedding Angels Bridal Boutique | Catering: The Country Buffet & J. Neil's Catering | Floral: Warthen Lane Interiors and Wiles Florist | Rentals: Don's Special Event Rentals | Entertainment: Enturaj | Photobooth: In The Mix USA
Click here to learn more about planning a wedding in Savannah.