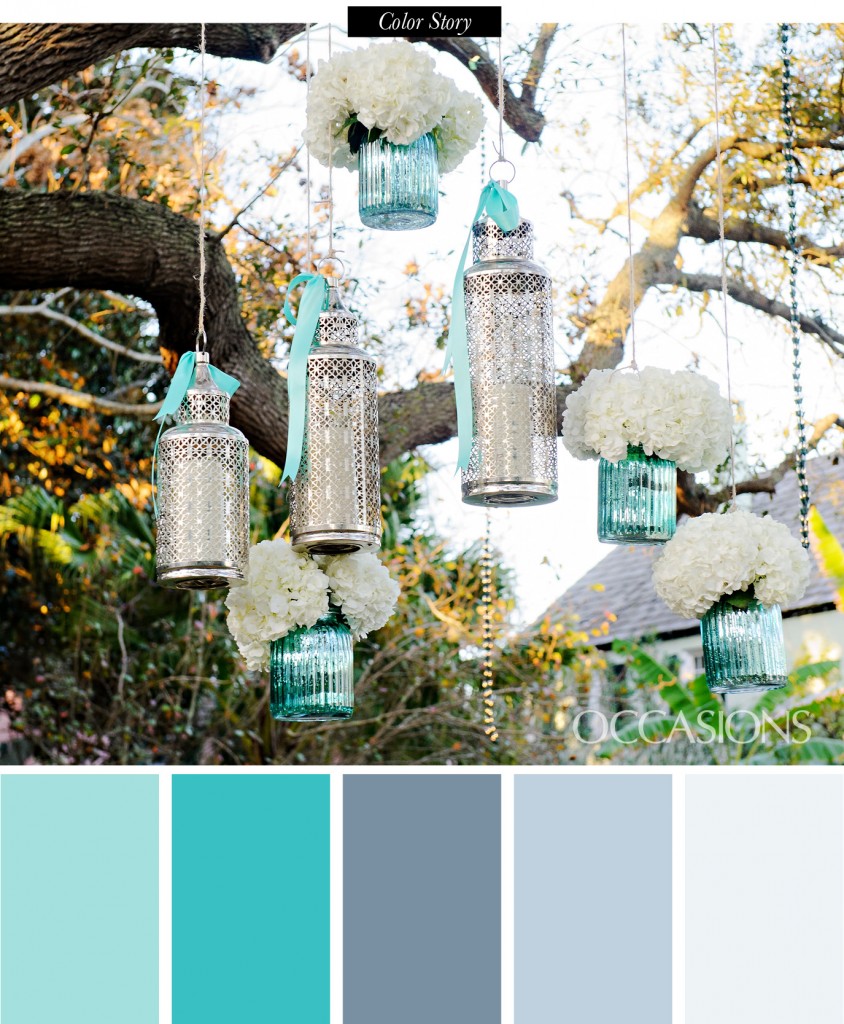 St. Augustine, Florida Wedding at The White Room by Pure Sugar Studios
Wintry white elegance and the allure of cool sea glass graced this January wedding in St. Augustine, as did 70 degree weather!  Guests gathered in the serene garden of St. Augustine wedding venue The Oldest House, conversing with one another in the evening air as they waited for the ceremony to begin.  Bridesmaids in varying shades of aqua proceeded down the petal-lined aisle, then all rose happily to their feet at the sight of Alissa, a pale bouquet in her hands and her father by her side as she made the long anticipated walk to her groom.  She and Kyle exchanged vows beneath an old oak tree, silver lanterns and gleaming jars of hydrangeas hanging magically above them.  Afterward, trolleys arrived to carry guests to another popular St. Augustine wedding venue The White Room for the reception.  Rocks were signed in lieu of a guest book, and a meal of steak and lobster was relished before Charlie Roberts drew those young and old to their feet to dance the evening away!  Photos of this Florida affair are brought to you by St. Augustine wedding photographer Pure Sugar Studios!
Tell us how you met. Was it love at first sight, blind date, friends forever?
Kyle and I met in college at University of Central Florida. We had some mutual friends. Although he is convinced I was in love with him at first sight, we became friends instantly, but it took a couple of years to realize our feelings for each other.

Now for the proposal…details!
After about 6 years of dating, I was ready for Kyle to propose. We talked about it often, but I was ready for it to happen. One day he suggested we take a little trip to St. Augustine, as it was something we always enjoyed doing and were in need of a little getaway. We climbed the lighthouse that day, then went to dinner. After dinner we went on a walk and ended up in a park across the street from the Oldest House. There was a well in the park and he said it was a wishing well. He asked me what I wished and I rolled my eyes at him because he knew the answer. Then to my surprise, he pulled out the ring and of course I said yes!

Was there a specific theme or style?
White and wintery with lots of aqua details and a touch of sparkle. There was not necessarily a specific theme, really just an indecisive bride who tried to make everything flow together.

What was the most memorable moment?
That walk down the aisle. The moment that I gripped my dad's arm and started to walk, the nerves kicked in and it all became very real. Seeing all of our loved ones together in one place for the first time as I walked toward my groom was an incredible feeling I will never forget.

What were your playful twists that made the event unique?
My uncle officiated our ceremony for us. This made it more meaningful. He is a wonderful speaker and added a little bit of humor that helped calm my nerves. Both of our venues were unique.

Tell us about your wedding gown and what your wedding party wore.
I got my gown from Brides by Demetrios. It was the 2nd dress that I tried on and I loved it, yet I went to four other stores before I realized that nothing else compared. I loved all of the beading, but my favorite part was a layer of sparkly tulle. I had custom straps added to it, but unfortunately one of them broke after the ceremony. For my bridesmaids, I wanted them to each wear a different shade of aqua. I let all of them pick out their own dress. My only regret is that one of the dresses turned out to be a much lighter shade than expected and wish that I had more time to reorder it. The groom and groomsmen all wore light gray suits that they purchased at Macy's. They had coordinating ties to match the bridesmaids.

Did you DIY any of the details?
I made a few signs for the wedding as well as the table numbers. For our favors, we bought little pots and had a local nursery supply us with succulents. For our guestbook, we had guests sign a rock and place it in a vase. I also worked a lot with our florist to incorporate a lot of the ideas that I had. I provided some lanterns I found that I loved as well as sparkle branches for the centerpieces.

Tell us about the food and desserts.
We had the most amazing food! Our guests still continue to tell us to this day that it was the best meal that they had ever had at a wedding! The meal was Steak and Lobster and it did not disappoint. Our wedding cake made by Classic Cakes was also incredible. Each tier was a different flavor. One was white cake with white chocolate filling, while the other was devil's food cake with reese's peanut butter cup filling. It was to die for! We also had a chocolate fountain station which, per the groom's request, even had bacon.

If there was one thing you could change, what would it be?
The day went so perfectly, it is hard to think of something I would change. I would have loved more time, but I'm sure the day would have still flown by.

Wedding Professionals
Photography: Pure Sugar Studios | Ceremony Venue: The Oldest House Garden | Reception Venue: The White Room | DJ: Charlie Roberts | Floral: Liz Stewart Floral Design | Cake: Classic Cakes | Videography: Visual Power Cinema

To view more historic wedding venues, click here.
Click here for more information on how to plan a Northeast Florida wedding.