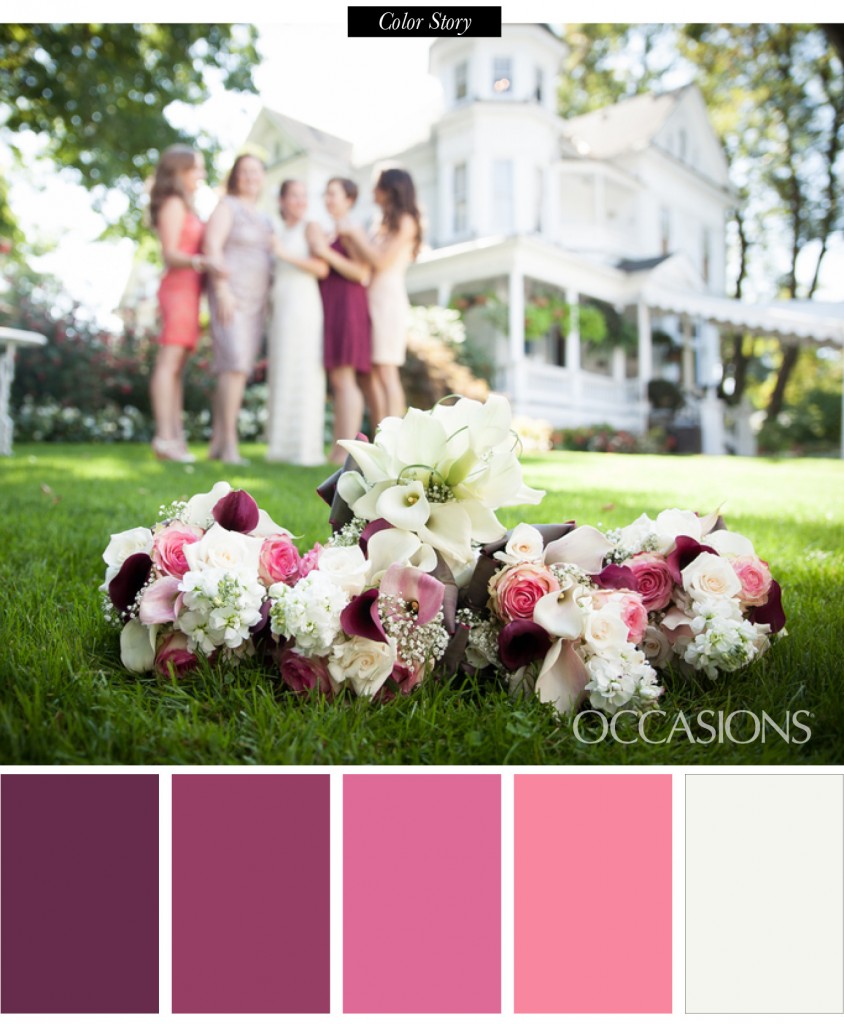 Portland, Oregon Wedding at Queen Anne Victorian Mansion by Camera Art Photography
Vintage grace, romantic antiquity, love and happily ever after.  The Portland wedding of Tonya and Jeff Roerig took place beneath the gazebo in the pristine English gardens of an 1800s mansion.  Draped in pearls and precious family heirlooms, Tonya walked down the aisle in a lace wedding gown of her own design.  Bridesmaids complimented her in pretty shades of pink, while the groom and his groomsmen sported grey pants and vests with their shirts and ties.  The service unfolded in perfect design as the two promised one another forever, Jeff declaring in his vows, "With all my heart, I do."  Following the ceremony, guests adjourned to elegantly appointed tables where they enjoyed a gourmet meal from Portland wedding venue Queen Anne Victorian Mansion, featuring chicken and an array of delectable sides.  The wedding cake by Kiah Bray boasted multiple flavors of peach, blackberry and chocolate layers.  Guests danced the night away to the beats of DJ Mighty Moves between photo shoots in the photobooth, complete with props and unending love and laughter.   Travel over to this beautiful celebration captured by Hillsboro wedding photographer Camera Art Photography!
Tell us how you met. Was it love at first sight, blind date, friends forever?
Jeff and I met at a wedding and it was love at first sight. I left the state to go to college, and when I would come home in the summer time, I would visit with my old high school friends. One friend in particular told me about her boyfriend's best friend that I should meet. Over the next 6 years, I heard about him on different occasions, by we never actually met. We even found out that we were in the same places and the same times at festivals and never ran into each other. Finally we were introduced at my friend and Jeff's best friend's wedding. I came with friends and he was one of the groomsmen. When I found myself sitting alone at the table, his mother came up to me and introduced herself and pointed out her son from across the room. Since it was fate, I got up and went to introduce myself. We both had the same job as nurses, but in different hospitals. The conversation flowed easily, so we joined the dance floor, but as I was the only single girl at the wedding, there were a lot of other men trying to pull me away and dance with me. I got flustered so I pulled a Cinderella and left the night early. Jeff had to ask around to find my contact information and face booked me the next day. The rest is history from there.

Was there a specific theme or style?
Vintage lace and pearls. My something borrowed was three my husband's grandmother's pearl necklaces, a bracelet and earrings from my mother-in-law. Just before the wedding, my mother gave me a pearl ring that my father had given her on the day I was born.
Tell us about your wedding gown and what your wedding party wore.
I designed my own gown and went through several muslin practice dresses before getting it just right. It had a high boat neckline in the front then dropped down very low in the back. I used a beautiful lace over a rose silk. The scallops of the lace made a gorgeous hem, and I chose to not have a train. The skirt of the gown was fitted, but flowed nicely. I lined the seams of the bodice with pearls, and scallops of the lace lined the back opening. My bridesmaid had to sew me into the dress since I left out a zipper. The bridesmaids each chose their own dress, with my approval. Each found something in the pink spectrum that was flattering on their bodies and that they felt comfortable in. The dresses were all tea length and had lace on them. The groomsmen wore grey pants and vests from H&M, brown belts and shoes and white shirts underneath with green and pink ties. They all looked very handsome indeed!

Now for the proposal…details!
Jeff and I love to ski and he had promised me a weekend in Bend OR. Since we both had to work New Year's Eve, we celebrated by going over the weekend afterwards. He had reserved a room at a hotel in downtown Bend, the St. Francis School, that I had always dreamed about staying at. When we got into town, and checked in. We walked to Bend Brewing for dinner and afterwards he suggested a walk along the river front park and mirror pond. I normally would have been very interested in a stroll, but it was 15 degrees out and ice all over the ground. It took some convincing, but I finally agreed and while we were walking through the park he started reminiscing about how wonderful the last year and a half has been and when we stopped on the bridge overlooking the pond, he dropped down on one knee and asked me to be his wife. It was so dark, I couldn't see the ring, and he couldn't see the tears coming down my face, so he had to ask me again. I said an enthusiastic YES and we walked over to a streetlight so I could put on the ring. His brother and sister in law were hiding in the bushes taking pictures, then took us out for champagne and dessert at an upscale restaurant. Later that night, Jeff and I went to the soaking pools at the hotel got to fantasize about what our life was going to look like and what we wanted our dream wedding to be. The rest of the weekend we celebrated with skiing, friends and family.

Please give us an overview of the event.
The wedding turned out to be the most perfect day of my life. It will be the only day that everyone that my husband and I love were in the same place, celebrating at the same time. The day went more smoothly then I had imagined, and after several cloudy, cold days, on the day of the wedding the sun peaked out and the weather was perfect.

What was the best wedding advice you received?
Don't forget that the day is supposed to be about the bride and groom.

Smartest savings…
Don't worry about the table decorations or centerpieces, hopefully everybody is more interested in the conversations around them and don't sit down for too long.

Did you DIY any of the details?
I designed and made my own wedding dress. My husband, mother-in-law, my own mom and I made the strawberry jam favors that were placed on each table for the guests to take home.

Tell us about the food and desserts.
The food was catered by the Queen Anne Victorian Mansion owner. It was a delicious meal of chicken, rice pilaf, and salad. The cake was designed and made by my life long friend Kiah Bray. She made each layer of the cake a different delicious flavor, there were peach, blackberry and chocolate layers. On the outside, she frosted the cake with purple and pink layers and dropped on pearl beads and white flowers similar to my bouquet.

What kind of energy did your entertainment give the event?
DJ Mighty Moves was perfect, he could read the crowd and had the dance floor full throughout the night. If people needed a break from the music, there were lawn games and a photo booth with funny props that kept people laughing all night. There was also a fire pit for people to smoke a cigar or english gardens to wander through.

What was the most memorable moment?
When Jeff said "with all of my heart I do", and when the best man (and Jeff's older brother) sang his speech to us. During Jeff's brother's wedding, Jeff played the ukelele and sang his speech for their wedding. His brother had to try to outdo him at our wedding.

Wedding Professionals
Venue & Catering: Queen Anne Victorian Mansion | Photography: Camera Art Photography | Cake: Kiah Bray | Entertainment: DJ Mighty Moves