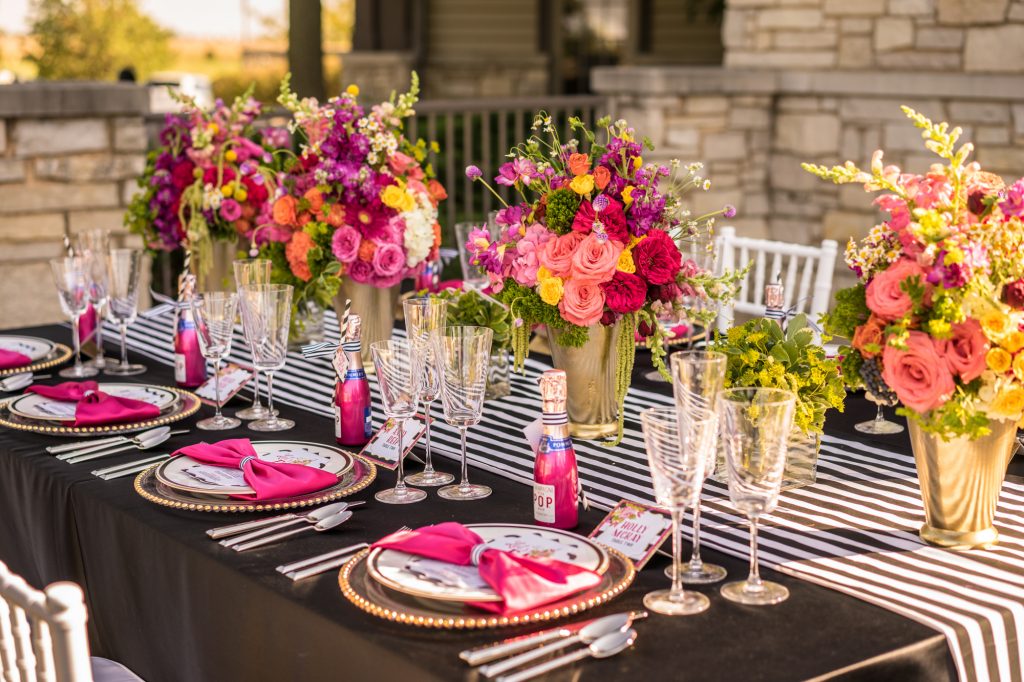 Partyscapes: Pop, fizz, clink! Wedding Inspiration
Pop, fizz, clink! Never be afraid of mixing color, patterns, and texture. Giselle from Jasmine Galleria created the ultimate Partyscape at the Bolingbrook Golf Club by mixing a variety of colors and patterns in the most classic and beautiful way.
With a solid black tablecloth and striped black and white runner, the Pop, fizz, clink! Partyscape was truly all about the details. Paired with small, lush centerpieces from Jasmine Galleria, intimate and detailed place settings from the Kate Spade New York Collection at Macy's (see the polka dot champagne glasses) and black and white striped with pink accent invitation set by Kelly Reif Stationery Studio, the vision of the team came together in the best way possible.
The Partyscape wouldn't be complete without glorious sweets by Creative Cakes.  As an alternative to a typical white wedding cake, Creative Cakes created a multi-patterned, geometric shaped wedding cake, decadent rice Krispie bars, personalized cookies, cake pops, and more. This is one wedding we'd RSVP for ASAP.
From Jasmine Galleria… The concept began with the graphic simplicity of black and white stripes. We contrasted it by incorporating vivid hues and textures, showcasing a classic yet modern scene. The goal was to create personality and a fun-loving atmosphere marrying the distinct elements. Inspiration was drawn from multiple sources, most notably Kate Spade.
Planner/Stylist: Giselle Tillich, Jasmine Galleria • Location: Bolingbrook Golf Club • Photography: Stephen Orlick, Jasmine Galleria • Floral Design & Draping: Jasmine Galleria • Cakes & Sweets: Creative Cakes • Stationery: Kelly Reif Stationery Studio • Linens & Rentals: Jasmine Galleria • Tableware: Macy's, Kate Spade New York • Videography: Travis Heberling, Jasmine Galleria • Models: Angela Rosales, Brent Williams • Hair & Makeup: Allison Schnase & Kasey Surges; Jasmine Galleria