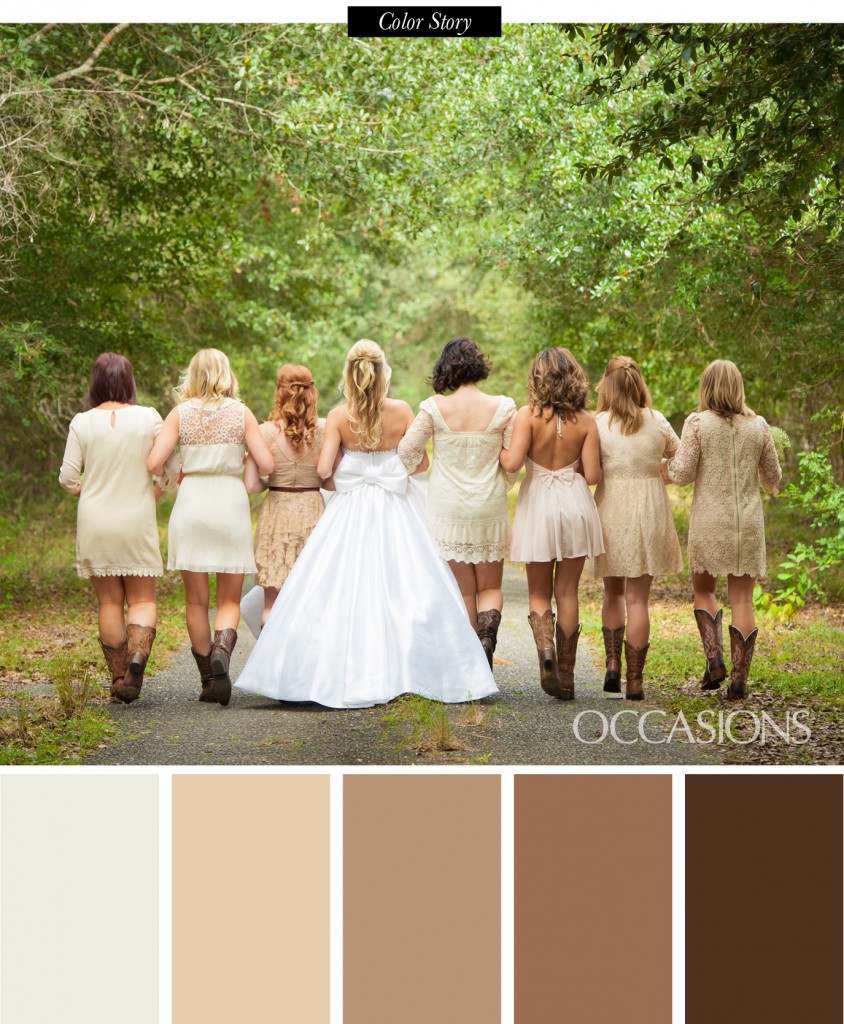 Orlando, Florida Wedding at The Smith Ranch by Earthmuse Photography
If you're a Southern girl with a love for all things simple, rustic, and elegant (like me!), then trust me, this wedding is sure to be your cup of tea . . . sweet tea, that is.  Though Abby and Aaron became engaged while on a cruise to the Bahamas, they steered their wedding plans clear of the ocean and instead opted for the rich green land of The Smith Ranch, a Florida property owned by a close family friend.  The order of the day?  Laid back and country.  It was cowboy boots and short cream dresses for the ladies, while the groomsmen wore black jackets and blue jeans.  Hay bales lined the outdoor aisle as Abby made her grand entrance, a true belle in her pure white ball gown.  Vows were made beside the gleaming pond, and afterwards a reception boasting decor of burlap awaited all in attendance.  There were many second helpings of the homemade barbecue, sides, and desserts before guests were glued to the dance floor grooving to . . . what else? . . . country music.  This celebration of Southern love and living is brought to you by Orlando wedding photographer Earthmuse Photography!
Tell us how you met. Was it love at first sight, blind date, friends forever?
Aaron and I met through a mutual friend during college. It wasn't a setup or anything, we were actually both at a point in our lives where we were very happy with ourselves, being single. It happened so naturally and effortlessly. He was so hard-working and a total gentelman which was refreshing. He also resembles Matt Damon which is a bonus!

Tell us about your wedding gown and what your wedding party wore.
My wedding gown is from Alfred Angelo Bridal in Altomonte, FL. It is a ball gown style, very simple, with a little lace crochet on the top. I had a flower removed from the waistline and added an oversized bow to the back. I was fortunate enough to have my grandmother purchase my gown for me. My bridesmaids chose their own dresses. The only thing I asked was that they be just above the knee and some shade of cream/blush. I didn't even see them together until the day of the wedding! My girls did good; they looked beautiful together! Aaron and the groomsmen wore jeans, white button downs, black sport coats, and blush pink ties.

Please give us an overview of the event.
Aaron and I were married in early November (statistically the driest month in Florida) outside at The Smith Ranch. The ceremony and reception both took place at this location. It was very laid back and fun!

Was there a specific theme or style?
Our wedding was rustic chic. It was very natural and simplistic.
What was the most memorable moment?
Well, it's hard to forget that my husband chipped his front tooth about an hour before show time! He rushed to an emergency dentist and somehow made it to the alter just in time, with perfect teeth. 

Did you DIY any of the details?
Pretty much everything! The bouquets were put together by my Aunt Sandy. All the food was made by my family. The table decorations and the arbor we stood under during the ceremony were made/decorated by family. Actually, I'm not even sure we bought anything already made!

Smartest savings…
Venue and food. Again, we were very fortunate in this department. Our location is not a wedding venue. It is a ranch. And its' owner is a good family friend who opened it to us. We also have amazing family who volunteered to bring large food dishes.

Tell us about the food and desserts.
Homemade southern BBQ!  We had a simple white Publix cake and adorned it with the cake topper from my parents wedding. We also had several pies!

If there was one thing you could change, what would it be?
I think Aaron and I both agree that the only thing we would do differently is not leave each others' side. We had an extensive guest list and we both wanted to make sure to circulate and thank everyone for coming which meant we spent very little time with each other.

What kind of energy did your entertainment give the event?
My husband used to manage a country bar and his favorite DJ, David Townsley, played at our reception. Country music all the way; the perfect combination of party and romance.

Wedding Professionals
Photography: Earthmuse Photography | Hair: Firefly Salon | Rentals: Nelson's Tents & Events | Wedding Dress: Alfred Angelo | Cake: Publix | Floral: Mattern Wholesale Florist
For more ranch wedding venues near you click here.
Click here for more information on how to plan an Orlando wedding.