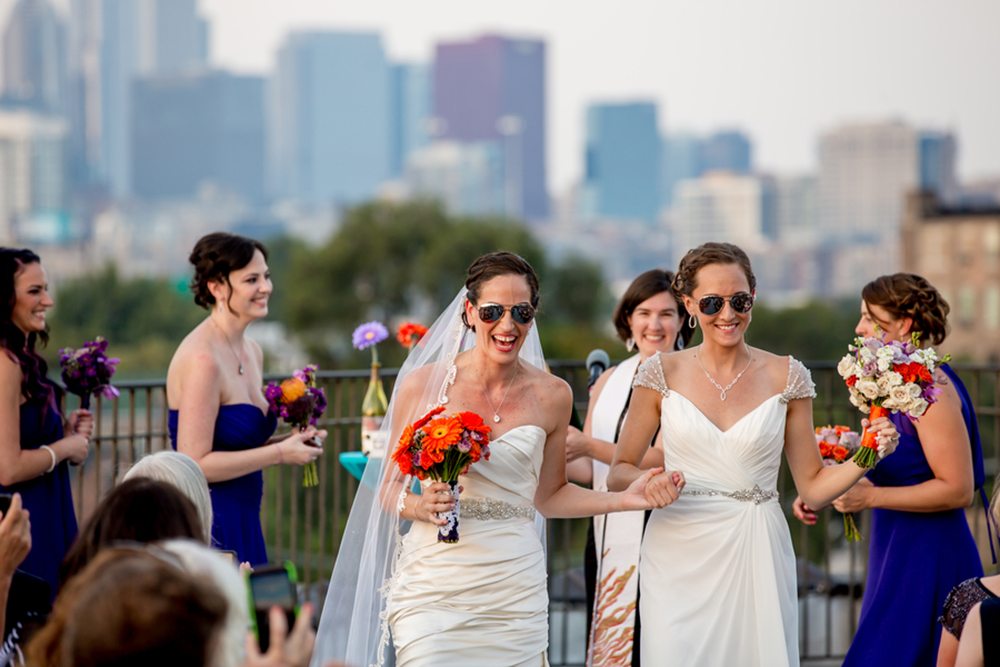 Orange and Purple Around the World Themed Wedding
Music, travel, love and a rooftop Chicago wedding complete with wide-eyed smiles make up Steph + Jackie's wedding at Lacuna Events. Their love of travel came early on in their relationship when Steph told Jackie she wanted to quit her job and travel around the world — so that's exactly what they did. The newlywed's love of the world inspired every element of their big day, starting with their table decor.
Inspired by the places they've visited — from Paris to Hollywood and beyond, mementos from their travels were scattered throughout. Small suitcases waited for guests' at the entrance of the reception and family + friends even signed a globe guestbook. Once they found their suitcase, they discovered the destination they would be "traveling to."
Family got in the fun too!  Jackie's aunt created a 4-tiered cake of chocolate, vanilla and lemon. With pearls, Gerber daisies, a Chicago skyline and penguin cake topper holding a suitcase labeled "Neverland" as a nod to the couple's favorite movie, Peter Pan.
But wait — you need to hear their engagement stories! (yes, stories!)
From Jackie: "We both wanted to be surprised, so we decided to pick a 4-week period in which the engagements would happen. Only Chris, our mutual friend (and Steph's maid of honor), knew both engagement dates to ensure they weren't planned on the same day!
Jackie first proposed to Steph with a scavenger hunt around Chicago by picking twelve places around the city that were important to them from Millennium Park, Coffee at Elaine's in Hotel Lincoln — and more. A friend woke Steph up first thing in the morning and gave her everything she needed throughout the day including warm gear, snacks, water, and other fun tidbits.
Jackie says,"She would go to each destination in order, and discover the clue to her next destination, which usually involved a fun fact about our relationship that she had to guess correctly. After figuring out the next destination, she had to perform the challenge from a ring, and document it via a Polaroid camera that our friend was carrying." Steph didn't know it — but Jackie was traveling to each destination ahead of time and planting clues for the next destination!
"The day ended with myself meeting her at the final stop, a comedy show. I then took her back to our apartment where I had made a special sign out of Christmas lights and placed candle lit luminaries all around. I proposed to her then."
Little did Jackie know, Steph would be proposing to her in the same way, with an exciting scavenger hunt one week after Jackie's proposal. Steph says, "I bought a small notebook that looked like a cassette tape and on each page was a song lyric, a memory, and a clue to the next destination. Jackie received this book from our local Starbucks barista when we went to get get coffee one morning. She was not allowed to turn the page until she guessed where we were going next. At each location, there was a wrapped gift and a puzzle piece waiting for her." 
Bouncing around to meaningful places to get her puzzle pieces, later that day, Jackie went home to put her puzzle together, soon realizing there were a few pieces missing. A two-day proposal began!
Steph added,  "The next day I woke up early, packed, and headed to the airport. I left a boarding pass on her night stand and had put her sister, in charge of giving her a wake up call after I left. We were headed to Boston! I flew out three hours before her to finish planting my clues and packages. When she arrived, I was waiting with a sign that said "to me, you are perfect" that was borrowed from the movie, Love Actually. After an adventure filled day, we ended back at place we had stayed in two years earlier on the first trip we took together. As she put her final puzzle pieces together, I turned on a playlist that included every song from her clue book. When she was done, I handed her the last gift…a postcard with a diamond on it. She laughed and read the postcard and I told her I had something shinier to give her — a ring."
---