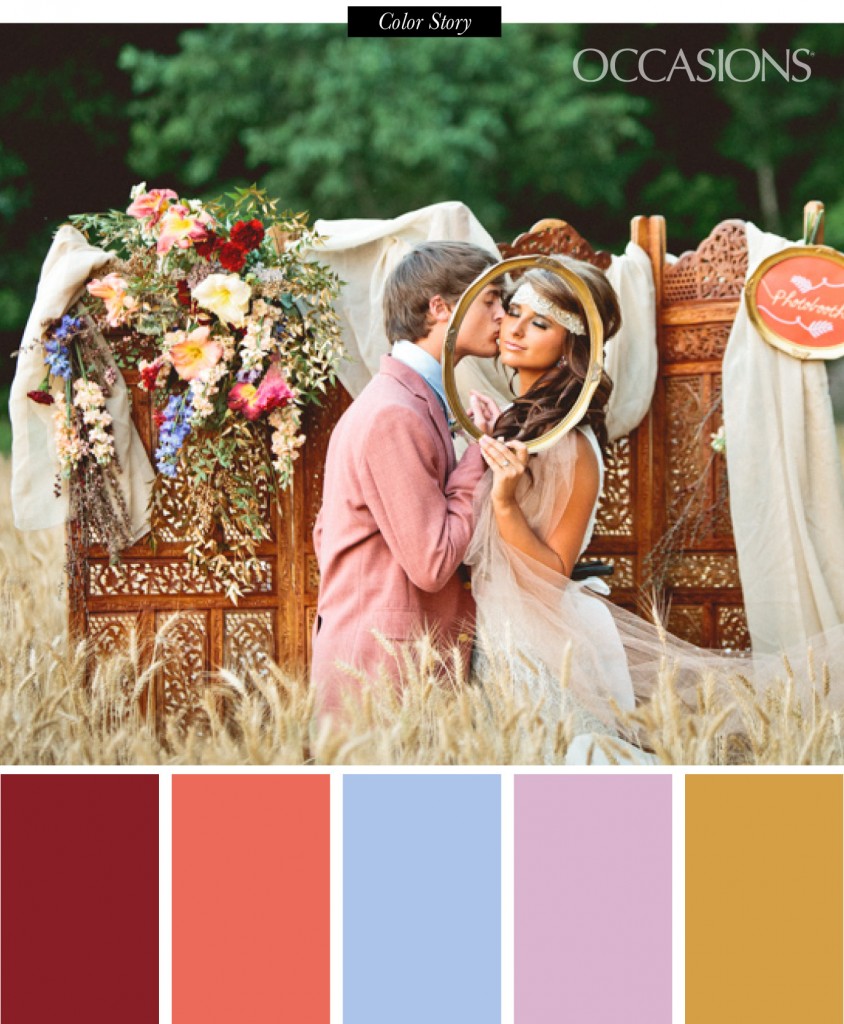 Old South Wedding Inspiration
Kissed by the golden glow of a Georgia sunset, this breathtaking wedding shoot resurrects the beauty of the Old South for new generations to enjoy.  Surrounded by a sea of shimmering wheat, this scene's old plantation furniture, bright flowers, and assortment of vintage and modern details causes the romance of the past and the present to gloriously collide.  Concept and photography by Savannah wedding planner and photographer Mark Williams Studio!
THEME
Southern Heritage at Sunset
COLORS
This shoot was set in a wheat field to have an overall mood of warm earthy tans.  With vibrant pops of Pantone Colors including Samba and Acai from the 2013 predictions and Placid Blue, Cayenne, and Violet Tulip from the 2014 predictions.  This mix of bright colors draws the viewer into its beauty in the midst of the mellow mood of the soft tan field.
ITEMS TO INCORPORATE
Utilize pieces that you already have to round out your style. (Couch, table décor, china, vintage pieces, etc.)  You may decide to "individualize the head table" so that your personal touch can be added to a large event.
FLOWERS
Daylilies in warm peach, red, and yellow hues, purple allium, oatleaf hydrangeas, soft blue variegated hydrangeas, succulents, stokes aster, and wheat to bring in a seasonal touch.  Other flowers were red tulips, magenta celosia, light pink spray roses, deep magenta snap dragon, red carnations, deep blue delphinium, and peach stock.
PERFECT FOR
The couple that dares to defy the "season."  Taking advantage of things around you that aren't the typical "pink and green" May wedding often make for the most beautiful ones.  This is great for the couple that finds beautiful in their heritage and past.  Utilizing things of your past and your families can become one of the most helpful design tools of all.
WHAT TO WEAR
Re-embroidered lace gown with organza ruffle skirt by Thie.
SIGNATURE COCKTAIL
A seasonal berry sangria would be the perfect starter for cocktail hour at an outdoor wedding.  Most of the time in the South you can count on one thing….HEAT.  Have something with alcohol, but that is also very refreshing after the ceremony.
THINGS TO REMEMBER
This wedding is such a beautiful mix of every season that we think it could be pulled off at almost any time.  Consider lighting when you choose your venue and wedding ceremony time.  The key to a perfect event is timing and direction of the light across the event surface.
TAKE IT UP A NOTCH
Hire the right vendors to create your event, whether on a large or small scale.  From experience, even a wedding with over 500 people can have just enough "you" in the right areas to still knock their socks off.
Shoot Professionals
Design, Photography, Paper Styling, Florals & Vintage Rentals: Mark Williams Studio | Coordination: Posh Petals and Pearls | Dress: BleuBelle Bridal | Bridal Head Piece, Veil & Belt: French Knot Studios | Groom's Attire: The Statesboro Sir Shop | Hair & Makeup: Main Street Styles