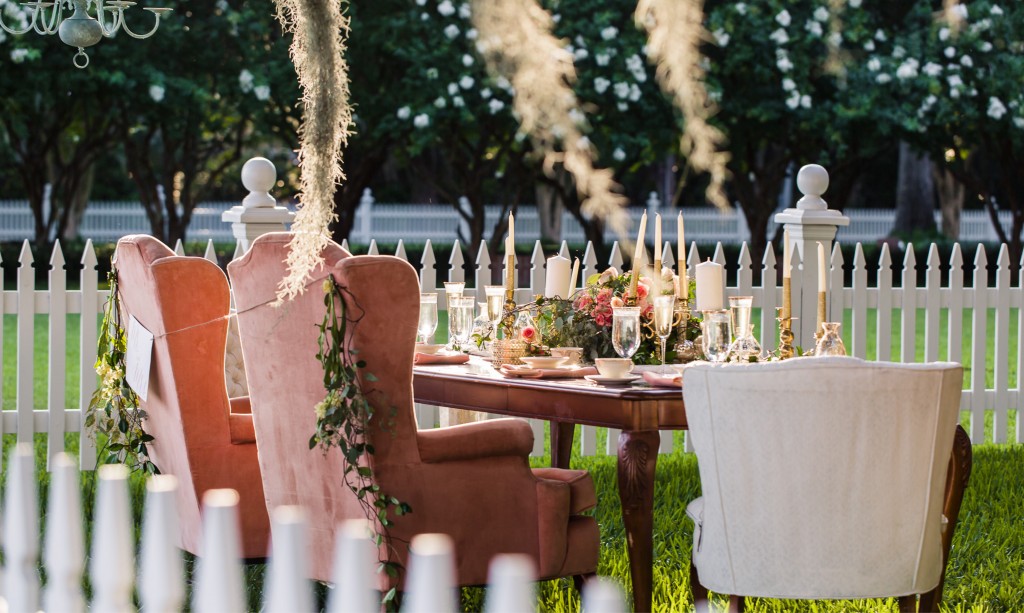 Old Florida Wedding Inspiration
With its punches of peach, vintage furniture, flamingo details, and lush Palmetto setting, this shoot designed by Inspired Events was a flawless combination of Old Florida charm and simple Southern beauty.  Complete with worn white church pews, delicate flowers, and iced tea, weddings down South don't get much sweeter than this.  This happy scene was captured at Palmetto Riverside Bed and Breakfast by Sarasota wedding photographer Cat Pennenga Photography.  (For a behind-the-scenes look at the shoot and the vendors who made it all happen, be sure to peruse this pretty post all the way to the end!)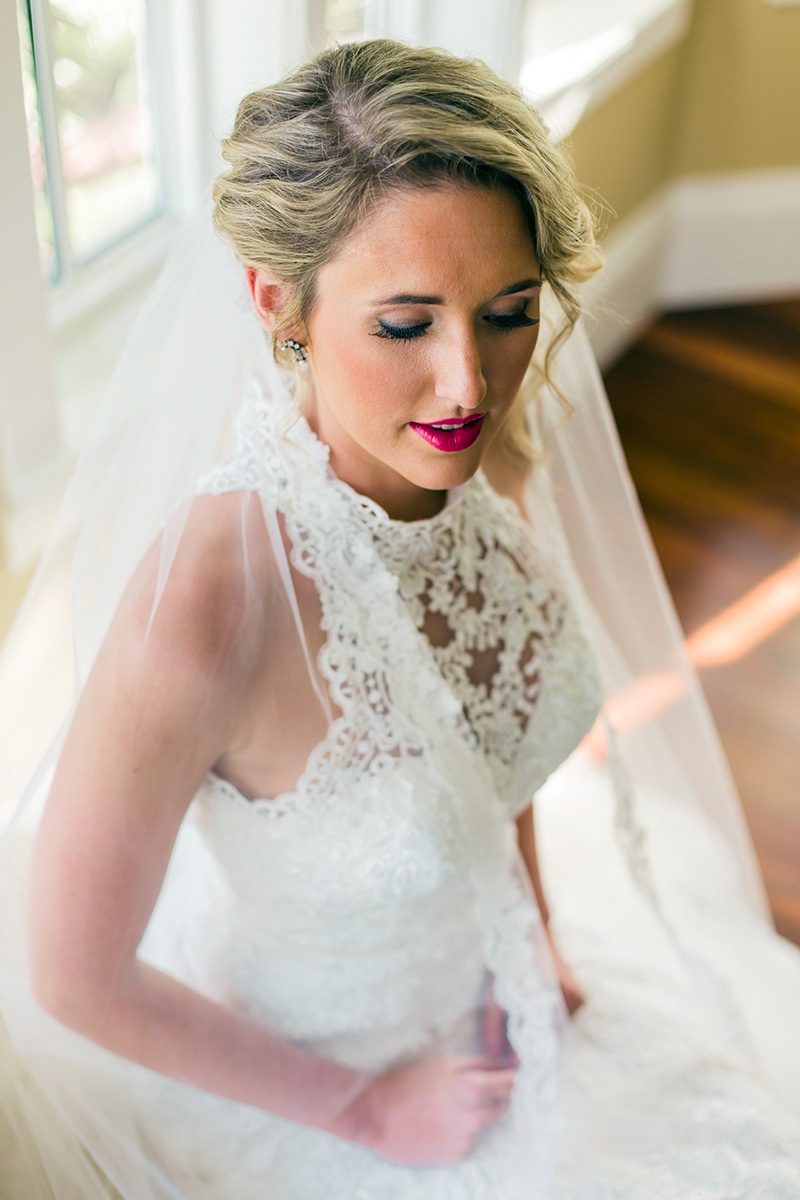 INSPIRATION
For our Southern Old Florida shoot we were inspired by the beautiful venue Palmetto Riverside Bed and Breakfast. We were inspired by the building's historical Old Florida charm and the greenery and Southern feel of the property's grounds. I was also inspired by the color peach and wanted to highlight the venue's white building and lush green surroundings.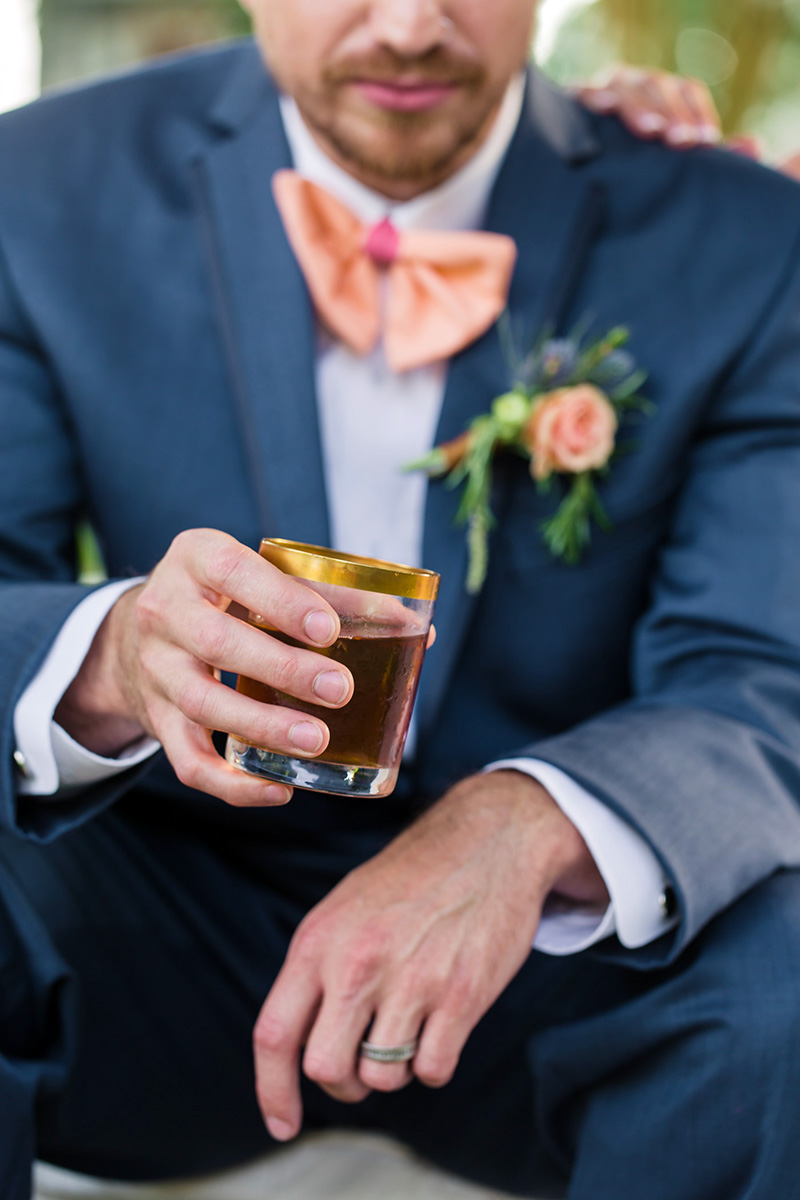 THEME
For our Southern Old Florida shoot we were inspired by the beautiful venue Palmetto Riverside Bed and Breakfast. We were inspired by the venue's Old Florida charm to create a dreamy shoot with punches of peach, a little southern twang and the Florida icon, the lawn flamingo! I knew immediately with the backdrop of both the venue framed by a white picket fence and the moss-lined large oak trees in the front lawn we had to use not only a whimsical vintage approach but needed to modernize our pieces with accents and styling to relate to today's bride and groom. Peach is a wonderful color to derive inspiration from and it is a lovely new alternative to the ever beautiful and traditional color pink. I wanted to highlight the peach color yet still pay homage through adding the traditional pink with our flamingos in mind. About the flamingos, when first thinking of the area both Cat (photographer) and I knew we had to incorporate them somehow. Cat, the genius she is said we needed to transform them to their gold color. I was sold. So, for this shoot we went obvious and modernized our lady flamingo by transforming her to a vision of gold with our lawn figures and then in a more subtle pink/peach hue as a main theme on our stationery for the shoot and accents elsewhere throughout.
For the ceremony we opted for our white church pews and white quilted benches for seating and our white washed columns for the alter area. Beautiful whimsical arrangements went atop the colums as well as lined the aisleway. We used a wooden oak dining table and unique structured chairs to the main Head table. We accented the table with modern and vintage touches with a lace runner, gold rimmed china, a whimsical centerpiece, peach napkins and gold accents. We had other vintage furniture pieces including a hutch and dressers to display the desserts, welcome table and favors and a lovely lounge area for the bridal party to relax in. The bride and groom and bridesmaid and groomsmen flowed effortlessly through the space in their Southern inspired attire. Lace for the bride, chiffon for the bridesmaid and a navy and peach combo for the groom and groomsman.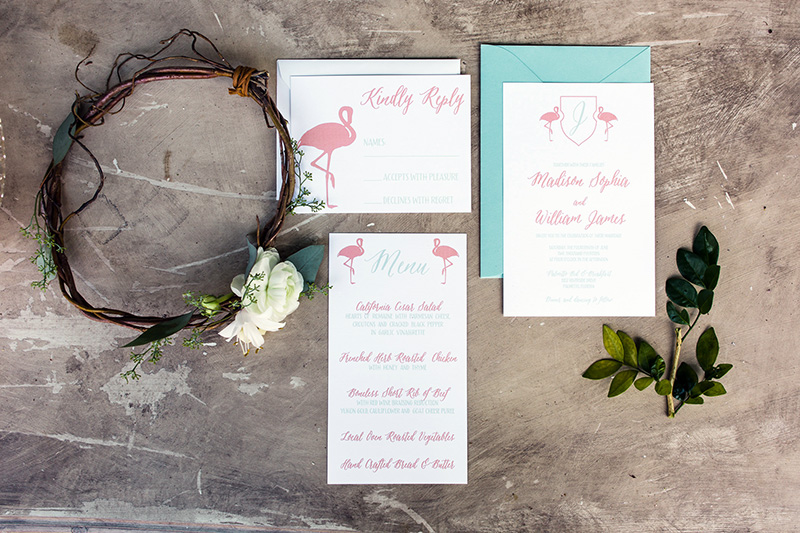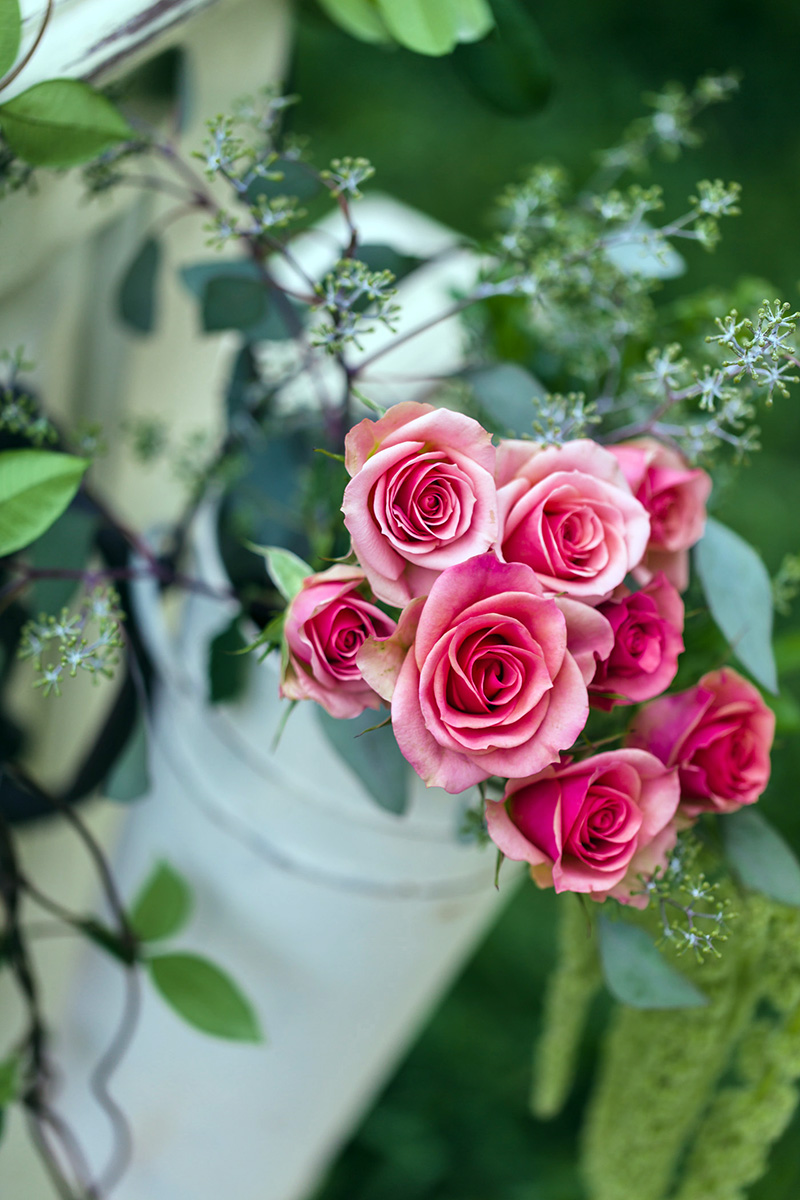 WHAT TO WEAR
Bride's dress: Allure style#2653 Ivory from Something Blue Bridal
Bridesmaids dress: Bill Levkoff style#737 from Something Blue Bridal
Groom's Tux: Slate Blue Aspen by Stephen Geoffrey from Something Blue Bridal; Bow tie by Bows by Kiero
Groomsmen: Model's own navy slacks & white button down; Bow tie by Bows by Kiero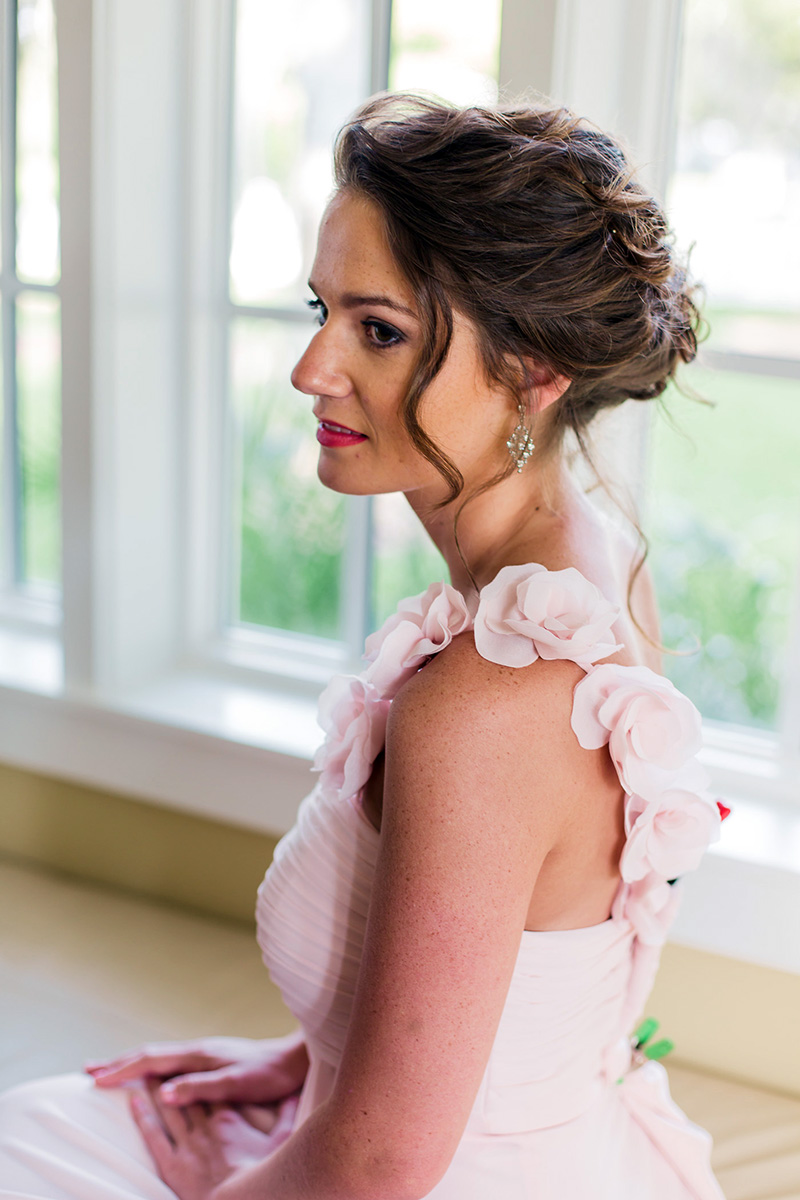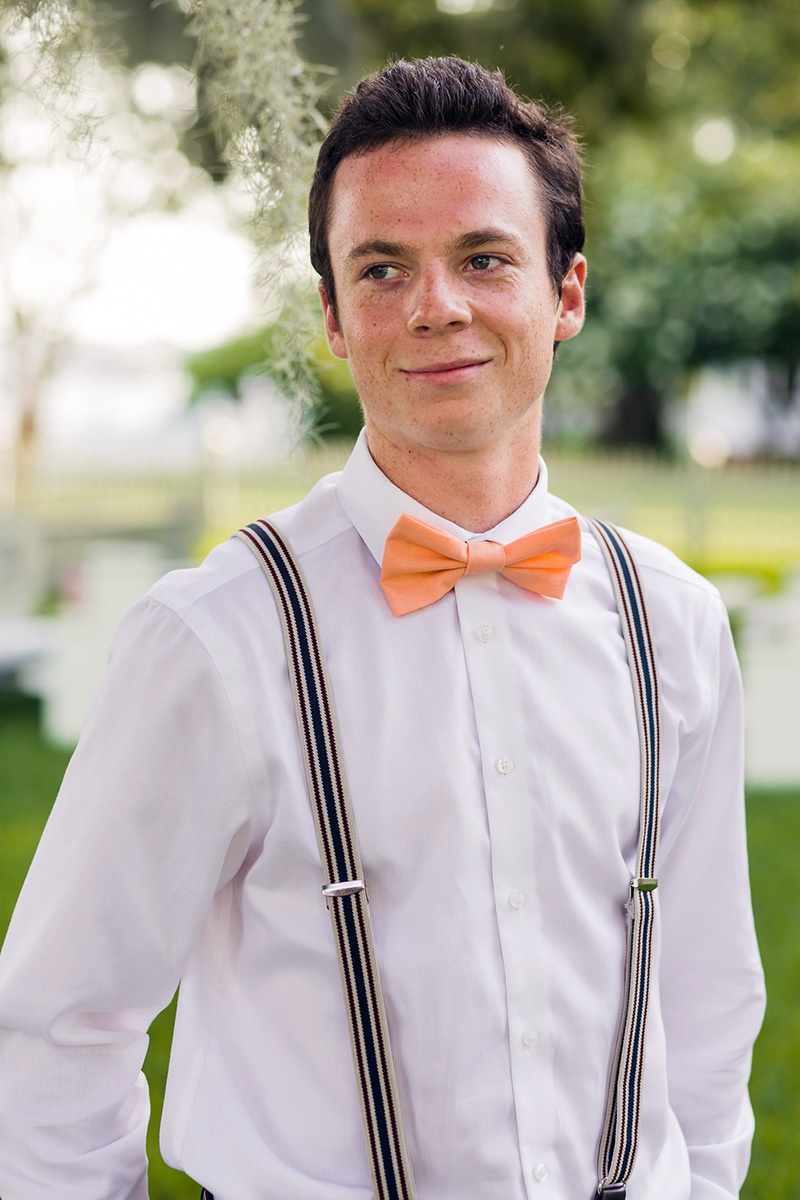 COLORS
Peach, pink, and ivory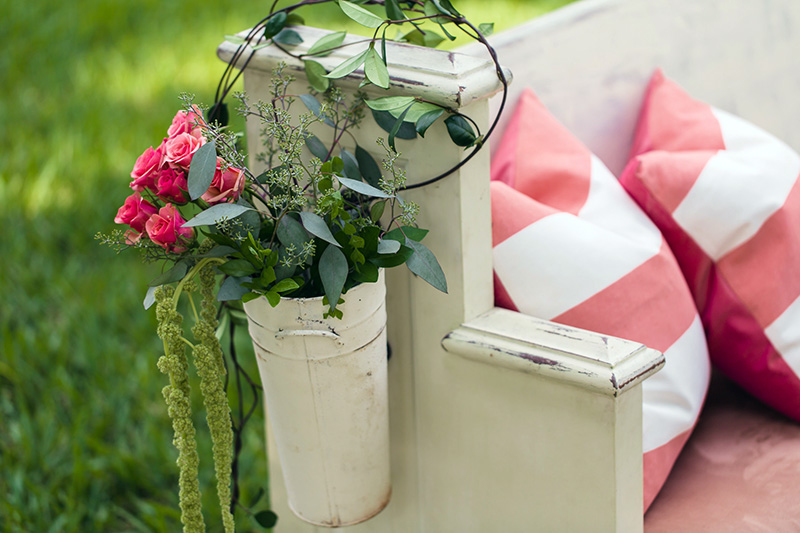 PERFECT FOR
Southern / Feminine / A little quirky / Vintage Modern / Creatives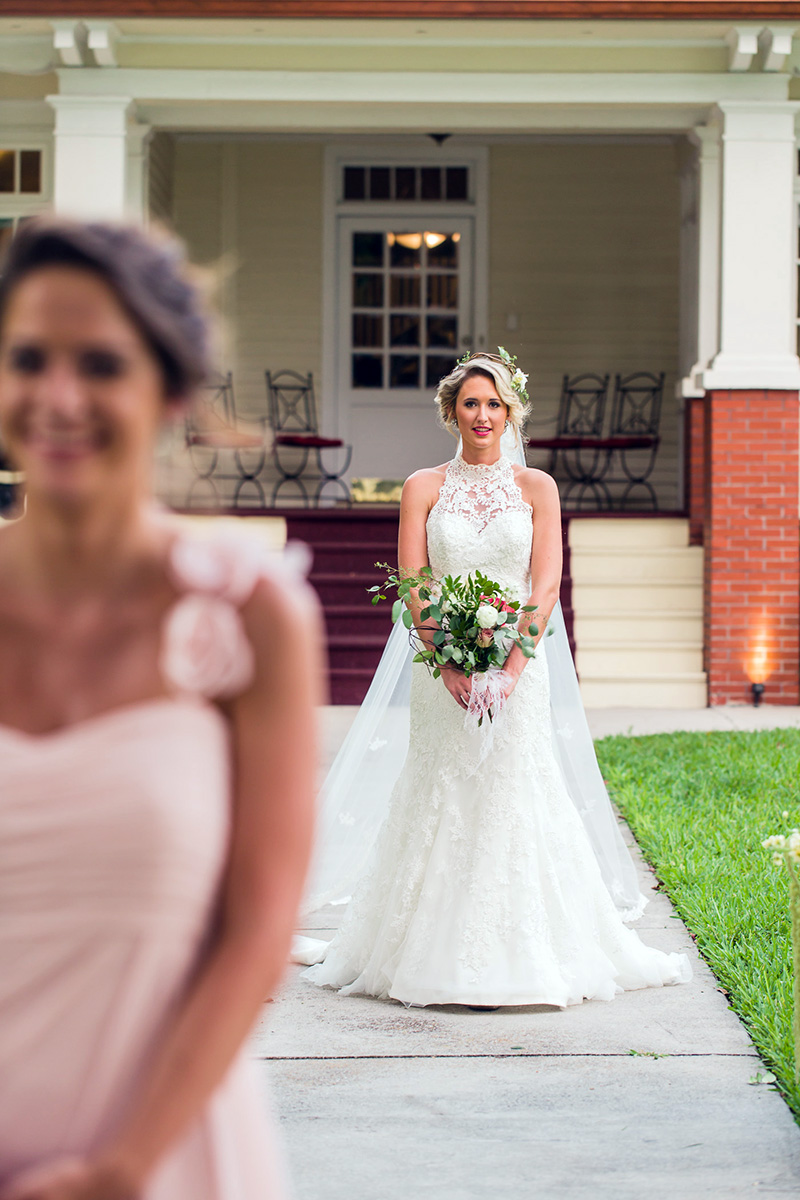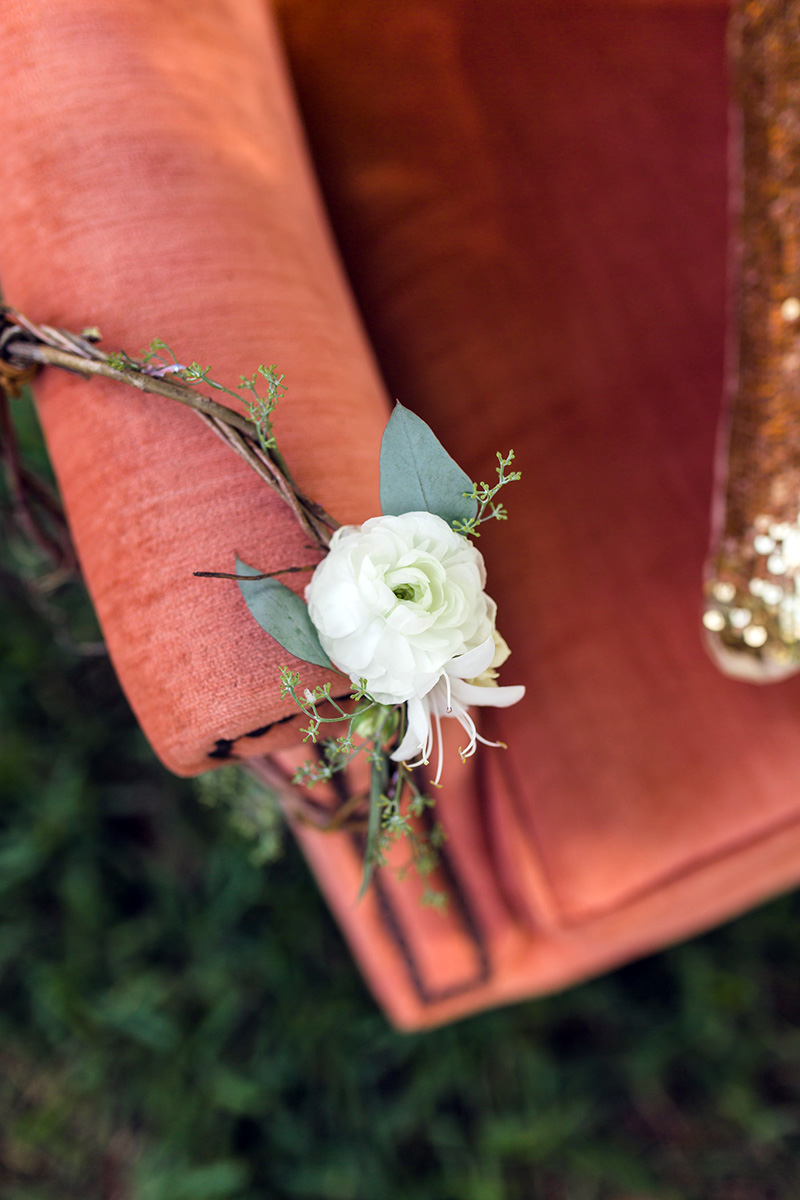 SIGNATURE COCKTAIL
Drunken Peach Iced Tea::
1-1/2 oz peach liqueur
1 oz spiced rum
1 oz peach schnapps
½ oz vodka
5 oz sweet tea
Lemon wedge
Combine all of the spirits in a large glass with ice. Stir the iced tea into the glass. Garnish with a lemon wedge.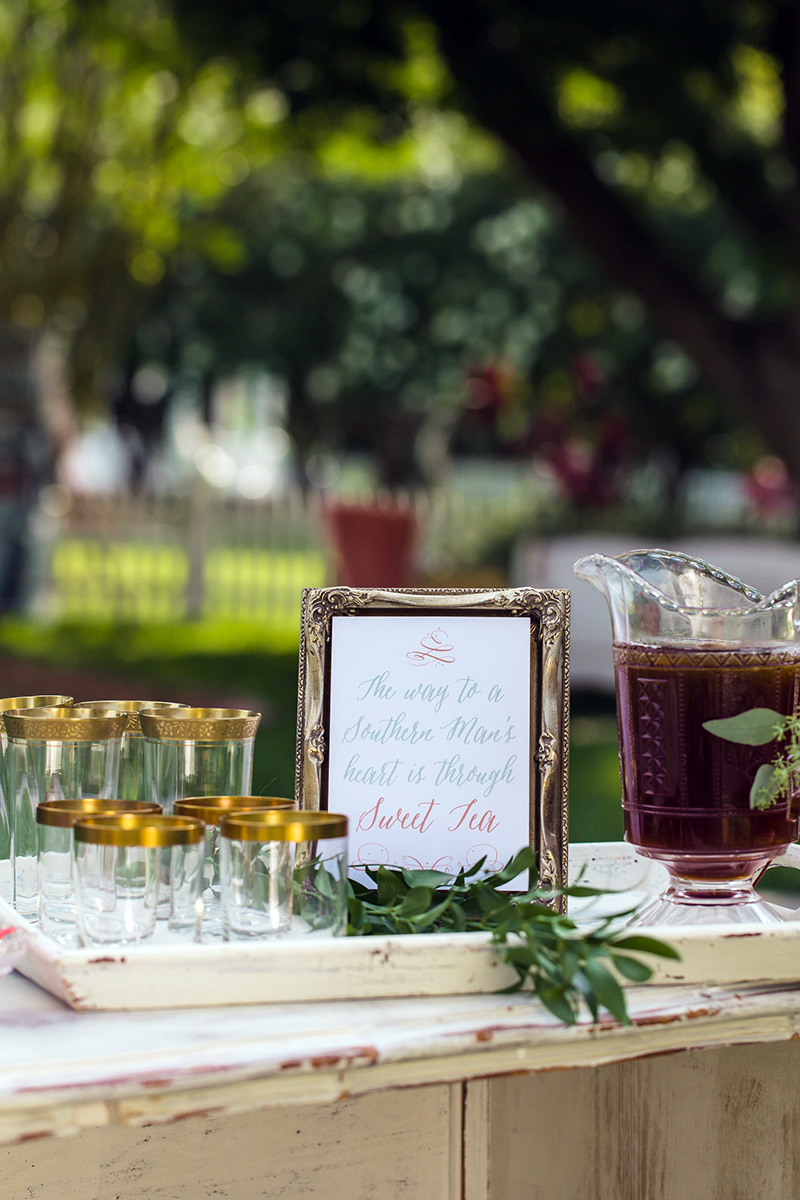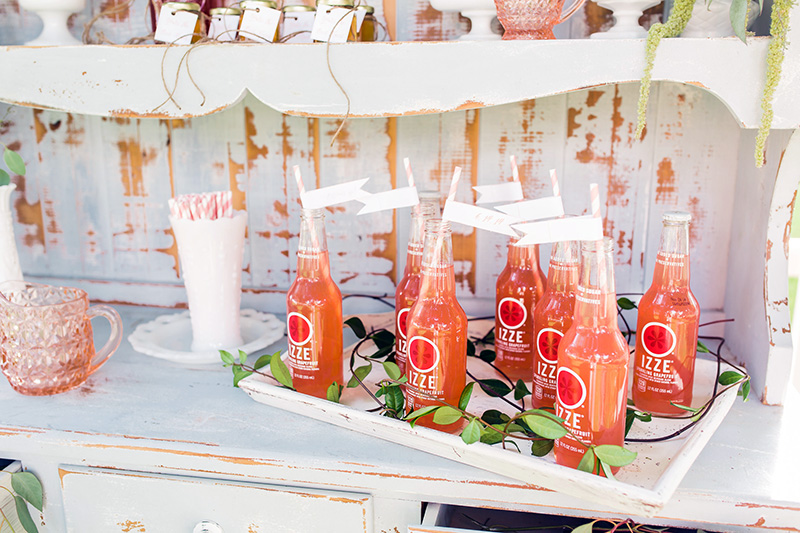 FLOWERS
Victoria used Ranunculus, jasmine, seeded eucalyptus, pink spray roses, green hanging amaranthus, antique lavender roses, assorted greenery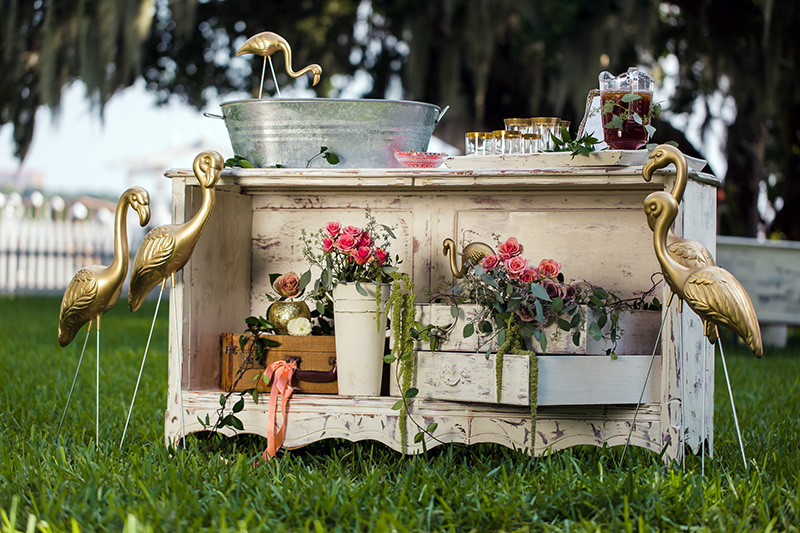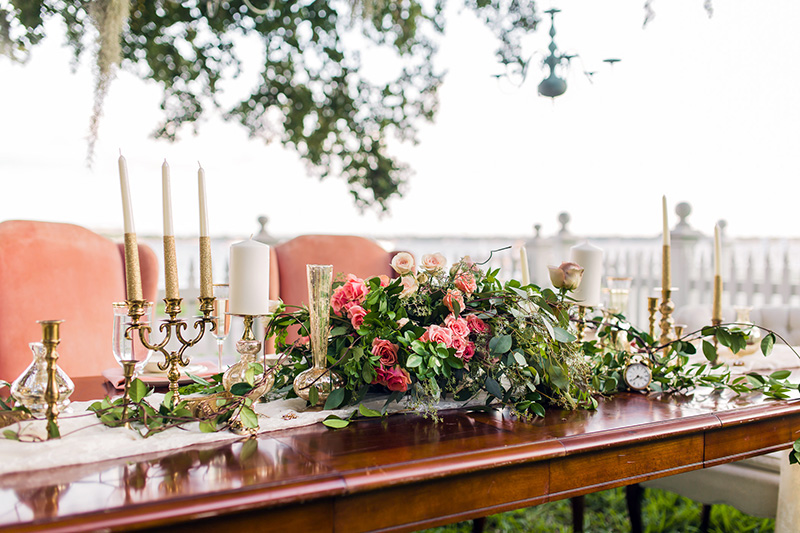 ITEMS TO INCORPORATE
Don't be afraid to mix styles. You can achieve a similar look as this shoot when playing with that vintage yet modern vibe. Be sure to have a couple colors that are your main inspiration and then add in touches of other hues or colors as accents to the overall color scheme. Be creative in your approach from everything to the napkin color to your flowers and add in aspects that are unique to your personality. Gone are the days that you have to match your dress perfectly to your man's tie and the linens on the table. Styling a well coordinated and cohesive event with personal and unique touches is much more on trend than matching each element to a pantone color swatch.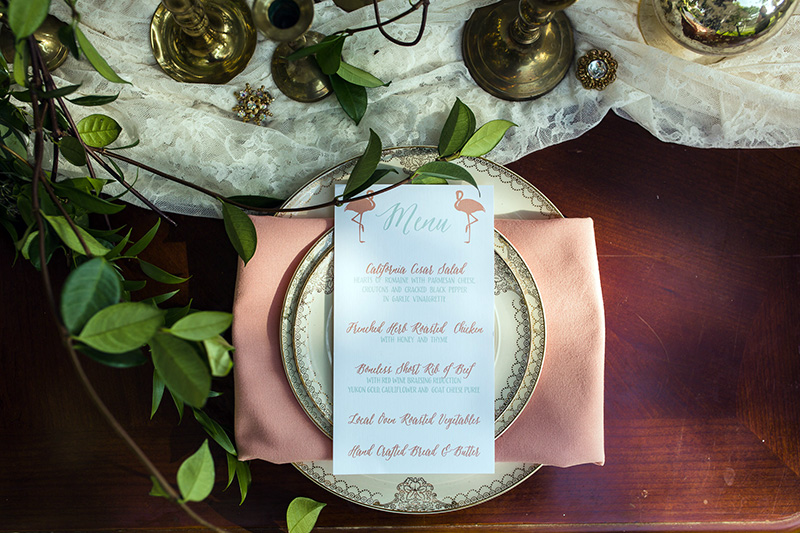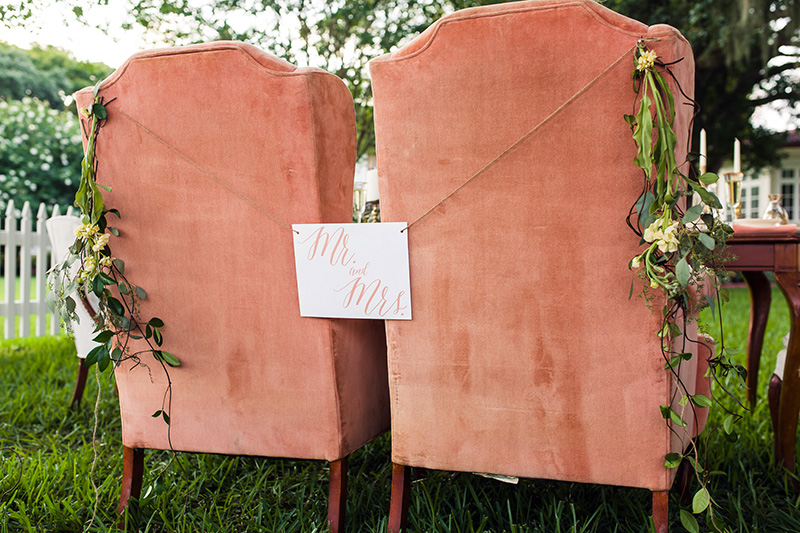 PRICING
Attire
Formalwear: $300
Bowtie: $20
Bride Dress:: $1200
Bridesmaid Dress:: $250
Tablescape
Centerpiece – $60/per table (flowers only)
Candlesticks/Addtn'l elements:: $15/per table
Rentals:: $8/pp (Glassware, plateware, flatware, teacup&saucer, napkins, lace runner)
Specialty Rentals:: $2'500 (ceremony seating, hutch, dressers, lounge, Oak dining Head table & seating, bar cart, assorted items for staging)
Personal flowers:: Bride $250 // Bridesmaid $75
Stationery:: $350 // Invitation Suite + prints
Cake:: $200 (all 3)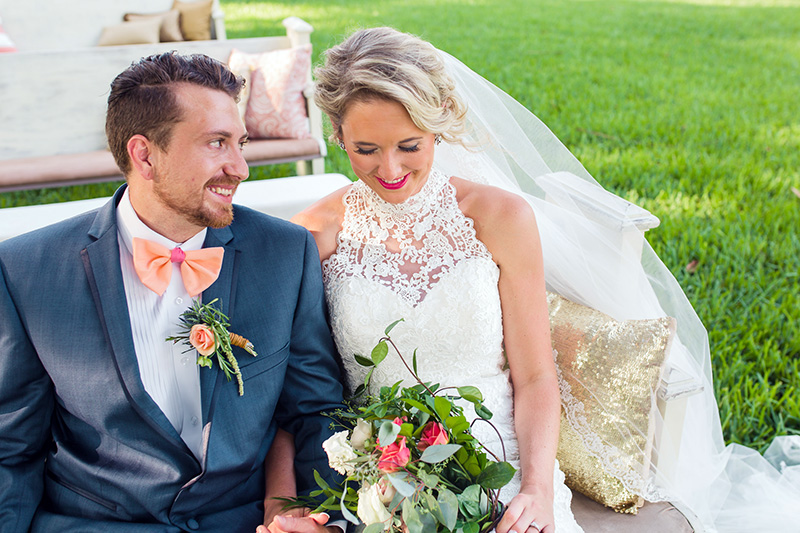 THINGS TO CONSIDER
This wedding style is best fit in the summer or spring time. However, if you are a Floridian this style could be perfect virtually all year long with our lack of seasons. It is a great Southern couple's inspiration for incorporating Southern favorites like Iced Tea and quotes for your guests to enjoy.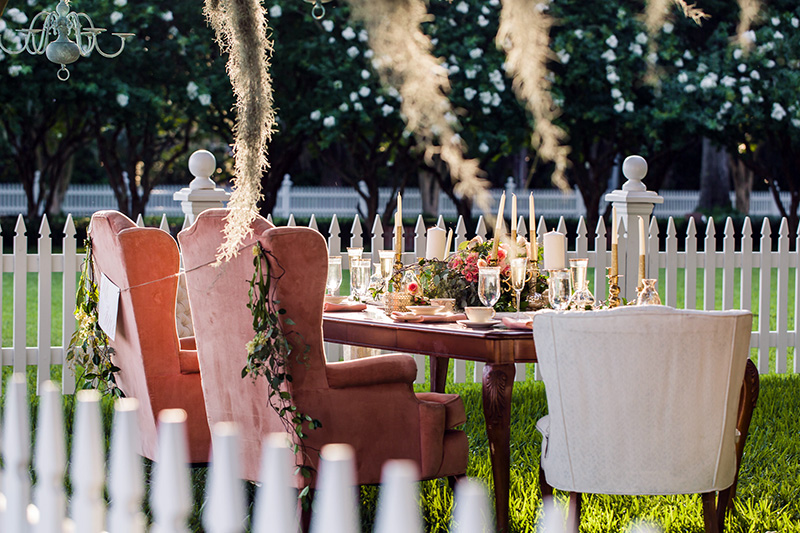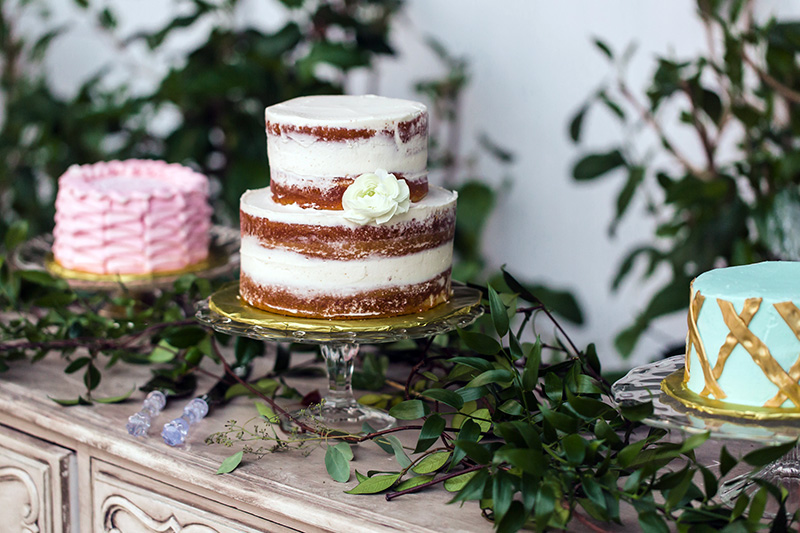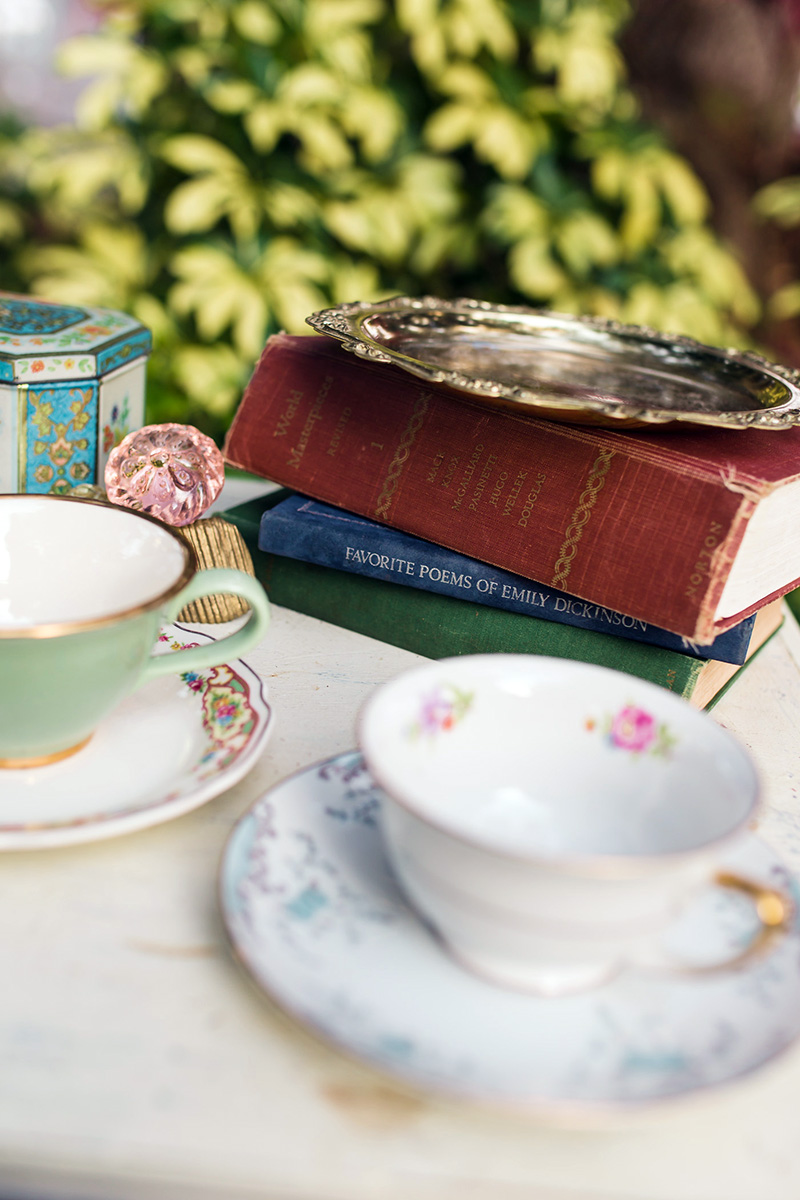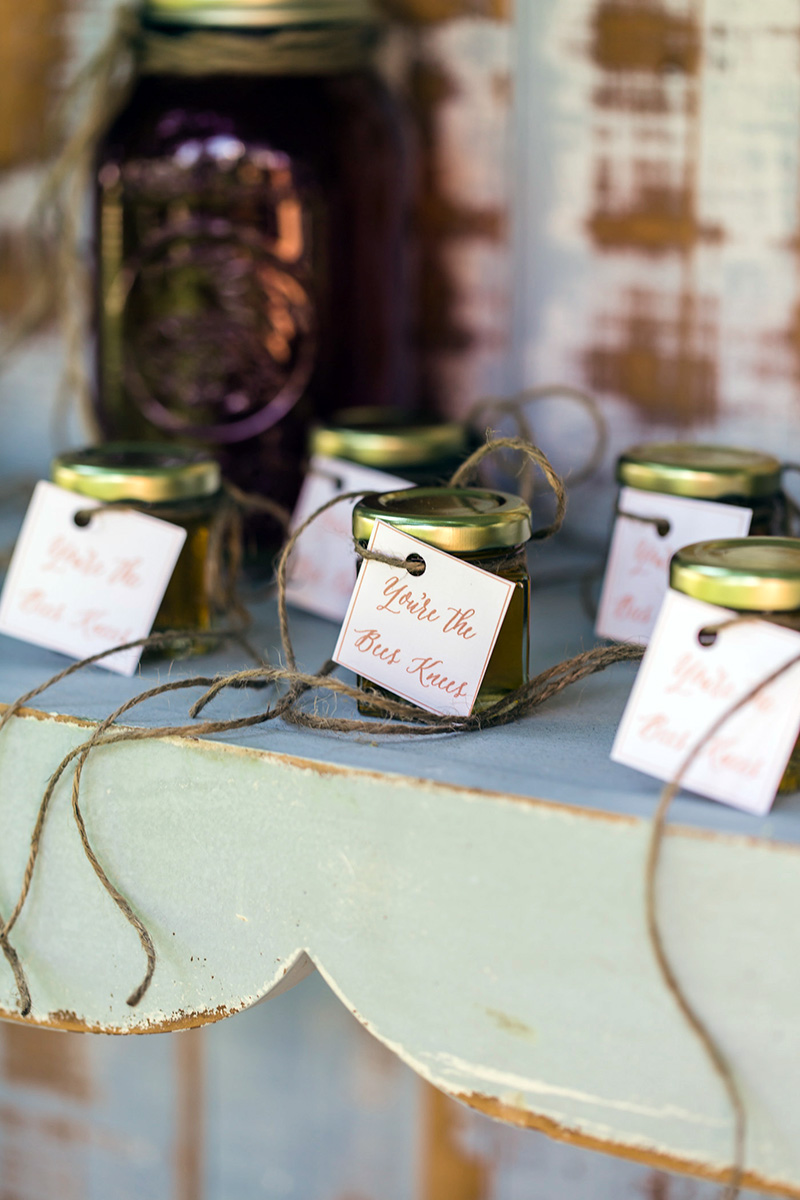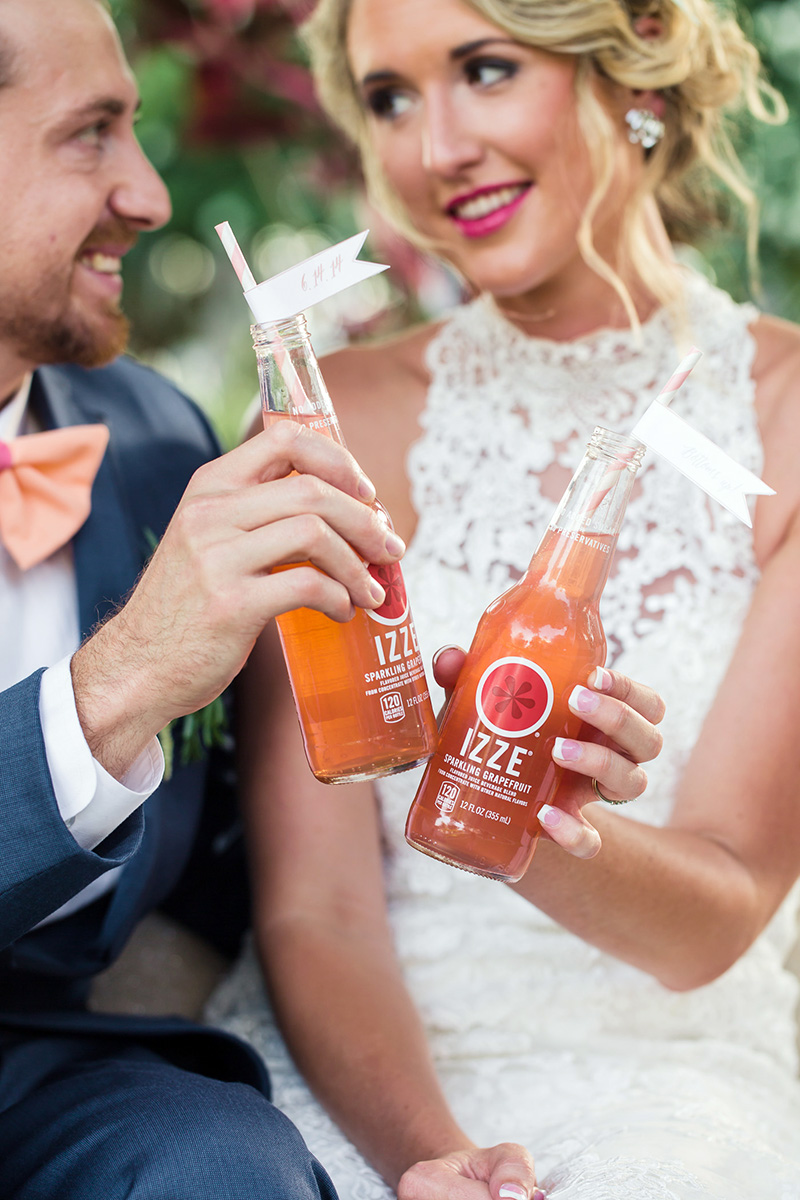 TAKE IT UP A NOTCH
A few things to take this to the next level::
Hire a videographer-. We had videographers that filmed the shoot (link below) which enhanced the overall feel of the shoot and is such a magical addition to any wedding or special event to live inside your pictures through video.
Have a photo booth- This is a great way to add entertainment and a lasting gift for you and your guests with the gift of a photo booth and a fun photo op that they'll cherish forever.
Games – Have some other games for guests to enjoy while you and your family are taking photos during cocktial hour. Examples: cornhole, life-size jenga, horseshoes