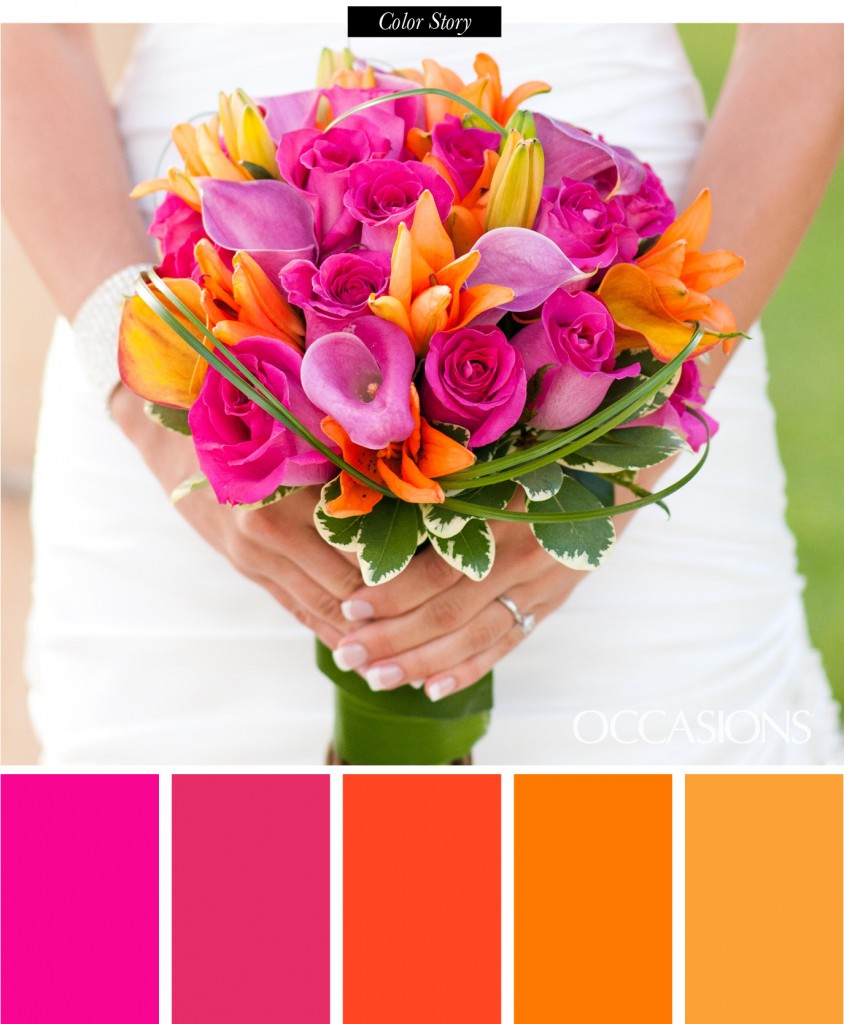 Nassau, Bahamas Wedding at British Colonial Hilton Nassau by Caroline & Evan Photography
It's a fairly solid indication that a wedding is going to be positively epic if the guests actually arrive at the affair via luxury cruise line.  The wedding of Jennifer and Sam was a romantically elegant celebration, the ambiance of sand and palm trees the perfect natural backdrop.  Following a first look between the bride and groom at the historic Cloisters, guests arrived at the beach for the ceremony, officiated by the long time best friend of the groom.  A cocktail hour complete with Bahamian steel drums playing and butler passed hors d'oeuvres followed before the reception on a nearby grass lawn.  Tables accented in blooms of bright pink and orange reflected the native Bahamian flare while the traditional surf and turf seated meal provided a casual elegance.  Personal touches brought the event together in a seamless fashion, from straw bags filled with Caribbean treats, to cruise ship shaped luggage tags, to baskets of flip flops for guests to change into.   And after the last slice of cake had been served and the final toast given, the newlyweds danced the night away under the stars.  Sail away to this tropical celebration with these images by Tampa's own wedding photographer, Caroline & Evan Photography!
Was there a specific theme or style?
Tropical. I wanted the decor to be mostly white with splashes of bright pink and orange. The style was to be elegant, yet laid-back. Sophisticated yet relaxed, with touches of humor here and there.

Tell us how you met. Was it love at first sight, blind date, friends forever?
In the summer of 2007 Sam and I were both at a popular Irish pub in Tampa, FL one night. During a group shot of him and his friends, I decided to "photo bomb" and sneakily run away. He caught up with me and even though I insisted this was "girls night" and I wasn't interested in finding a guy – he insisted I give him my number so he could take me out one night. Our first date was several weeks later. It started off as a movie, then dinner… we both realized after dinner that neither one of us wanted the dinner to end. So we went out for cocktails near my apartment, and he walked me home… just before getting caught in a thunderstorm! We kissed in the rain and it was like a movie. We wrote our own wedding vows, and in Sam's vows he said "remember that first date that we didn't want to end? We're still on our first date… it never ended…" So touching!

What was the most memorable moment?
Our first look was really special. Our photographers Evan and Caroline had me walk up to Sam and tap him on the shoulder. The expression on his face was just priceless as his eyes welled up with tears. I've never seen him so moved in my life and it was a very emotional experience of just the two of us, just before saying "I do."

Now for the proposal…details!
We had been dating for about 4 years. My brother and his wife live in the Chicago area and we were visiting them in July of 2011 for my nephew's christening. Sam loves the city, and had planned for us to stay our last night in downtown Chicago before heading back to Tampa. We went to the Navy Pier at night and rode the ferris wheel. While taking in the city lights and city sights below, he said "I talked to your father today and asked him…" from that moment on I burst into tears because I knew what he was about to ask me! He proposed at the very top of that ferris wheel.
Tell us about your wedding gown and what your wedding party wore.
I wore a diamond white L'amour satin gown by Maggie Sottero, It was a mermaid-style dress with lots of beautiful beading on the bust part of the gown. I paired it with a simple, elbow-length veil with rhinestones along the edges and white shoes (that I already owned) and added a rhinestone/pearl brooch in the center of each shoe to make them sparkle. The bridesmaids wore knee-length luxe taffeta dresses in "Island Pink" by Alfred Angelo with silver shoes and their choice of silver accessories. The groomsmen wore custom-made khaki colored suits from a tailor Sam knows in Bahrain. They were also the groomsman gifts from Sam. They wore them with light orange ties that we ordered online and brown shoes. The flower girl wore a white dress from David's Bridal, with leftover Island Pink fabric from one of the girls's dresses after getting it altered as the ribbon.

Please give us an overview of the event.
This was a tropical destination wedding set in the Bahamas, at the British Colonial HIlton in Nassau. We invited all of our guests to join us on a 3-day Carnival Cruise sailing from Miami, FL to join us in our ceremony. Almost all of the attendees came to the Bahamas via cruise, and only 5 of them flew in. Our ceremony was behind the Hilton on the beach and began at 4:00pm. Our officiate was the best friend of the groom and is a former Olympic para-athlete! He gave a very moving, yet hilarious speech that really set the tone for the wedding. 

Did you DIY any of the details?
I put together the table numbers; they were just simple, jeweled silver frames with painted orange and pink numbers inside.

What was the best wedding advice you received?
It's very cliche, but…. it will never be perfect! "SOMETHING will go wrong." I embarked on that day knowing that things would go wrong, and they most certainly did! But I tried my best just to roll it off my shoulders and enjoy myself anyway. It still was perfect in its own way.

Wedding Professionals
Venue & Catering: British Colonial Hilton Nassau | Floral: Jim Whitehead, The Nassau Florist | Photography: Caroline & Evan Photography | Event Planner: Anna's Wedding Planning Service | Stationery: Invitation Galleria