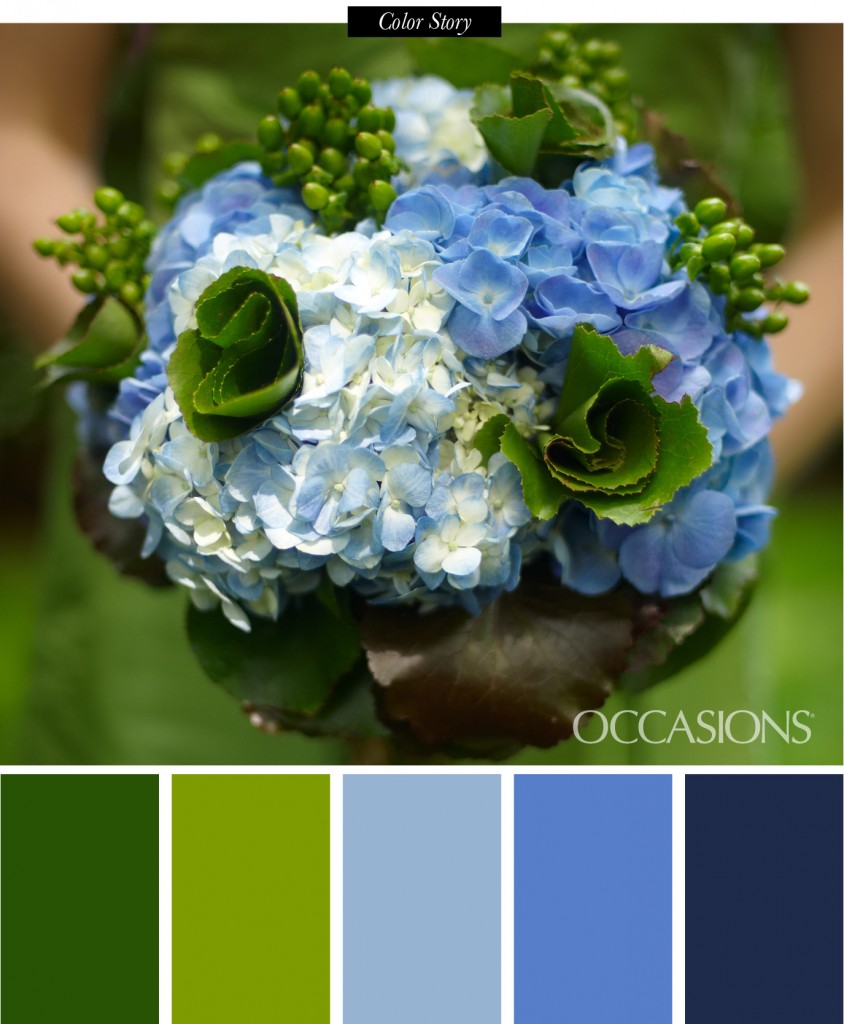 Lake Toxaway, North Carolina Wedding at Private Residence by Kristen Alexander Photography
Seeing the pictures from Emily and Charles' wedding was like stepping into a fairy tale.  Green forests, blooming flowers, butterflies — be still my heart!  Emily knew when she became engaged that she wanted her special day held at her family's garden in Lake Toxaway, North Carolina, and from the moment guests set foot on the mountaintop, the glorious sight of azaleas and rhododendron all around gave them a glimpse of the beauty yet to come.  Greens and blues — the cool colors of nature — were chosen for the celebration, bridesmaids clad in spring green dresses and groomsmen in navy suits with hydrangea blue ties.  The ceremony began, and all rose to honor the bride as she arrived at the scene, her smile beaming bright as she proceeded down the grassy aisle to her groom.  Following the pronouncement of the new Mr. and Mrs., guests spent a cocktail hour exploring the gardens before heading to the clear tent reception, where they dined, danced, and drank in the breathtaking view of the distant mountains.  This enchanting affair is brought to you by Atlanta wedding photographer Kristen Alexander Photography!
Please give us an overview of the event.
Charles and I got married at my family's garden in Lake Toxaway, North Carolina. I have spent every holiday and summer there since I can remember. While the garden is beautiful in all of it's seasons, spring is perhaps the most beautiful.
Tell us how you met. Was it love at first sight, blind date, friends forever?
We met in college. We both went to Washington and Lee in Virginia. I was a senior, and he a junior at the time. After 3 years of having my eye on him, we finally danced one night at a party. That must have sealed the deal, because he tracked my number down and the rest is history.

What was the most memorable moment?
Our photographer encouraged us to see each other before the wedding, which at first we were opposed to. I am so glad she convinced us to do just that. Seeing each other for that first time put us at ease and reaffirmed what the day was all about.

Tell us about your wedding gown and what your wedding party wore.
My dress was Vera Wang. It was the dress I wore to make my debut. After a few alterations, it was the perfect way to rewear a dress that would have probably never been worn again otherwise. Bridesmaids Dresses – Bella Bridesmaid. Groomsmen – grey slacks made by Sid Mashburn Band. Paired with white button down, navy blazer and blue tie – a gift from the groom. Groom – Navy suit.

Was there a specific theme or style?
Rustic Elegance

Now for the proposal…details!
Charles took me to the Atlanta Botanical Gardens for the Thursday night cocktails in the gardens. I didn't suspect anything, but in retrospect should have picked up on the number of cocktails he was downing to calm his nerves. There is a vegetable garden there, given in honor of my grandfather, which is where he got down on one knee. I made him repeat the proposal after I gathered my bearings as I was too excited to really hear it the first time. We waited a little while before calling anyone, which I would recommend to anyone. It gave us some time to just soak it in, before the chaos of calling family and friends began.

What were your playful twists that made the event unique?
After the reception, we gave guests a map of the garden and asked them to meander to the reception site. The garden is set on 120 acres. We had bars and appetizers set up at different sites along the way. We also had a big fire pit where guests could take a break from dancing and make s'mores later in the evening.

What was the best wedding advice you received?
Someone told me that if I had time to walk through the reception before the wedding, to do it. I am so glad I did. Once we were married and at the reception, we were too wrapped up in our guests to notice all of the details that we had spent so many months planning.

Tell us about the food and desserts.
Epting Events – A couple of summers ago, I was at a farm party in Highlands, NC where Lee Epting had catered the most amazing southern supper. I remember approaching him saying, "If I can convince my boyfriend to marry me one day, I want you to do the wedding." And that is exactly what I did. He seemed to exemplify the perfect balance between casual, but sophisticated. Rustic, yet elegant. And, I must add, he has the most amazing port-o-potties (feel free to exclude this part). Music, Air Conditioning, you name it, they have it. Instead of doing a grooms cake, we had cobbler, s'mores and of course Lee's famous pralines.

What kind of energy did your entertainment give the event?
The Voltage Brothers were Amazing. Everyone was out on the dance floor. We passed out florescent sunglasses, which added to the fun.

If there was one thing you could change, what would it be?
We had a flight to Belize (leaving from the Atlanta airport) the next morning. We had to get up at the crack of dawn to drive back to Atlanta to catch our flight. In retrospect, we probably should have taken a later flight, so we could sleep off some of the fun!

Wedding Professionals
Photography: Kristen Alexander Photography | Event Design & Catering: Epting Events | Floral: David Lavoy | Entertainment: The Voltage Brothers