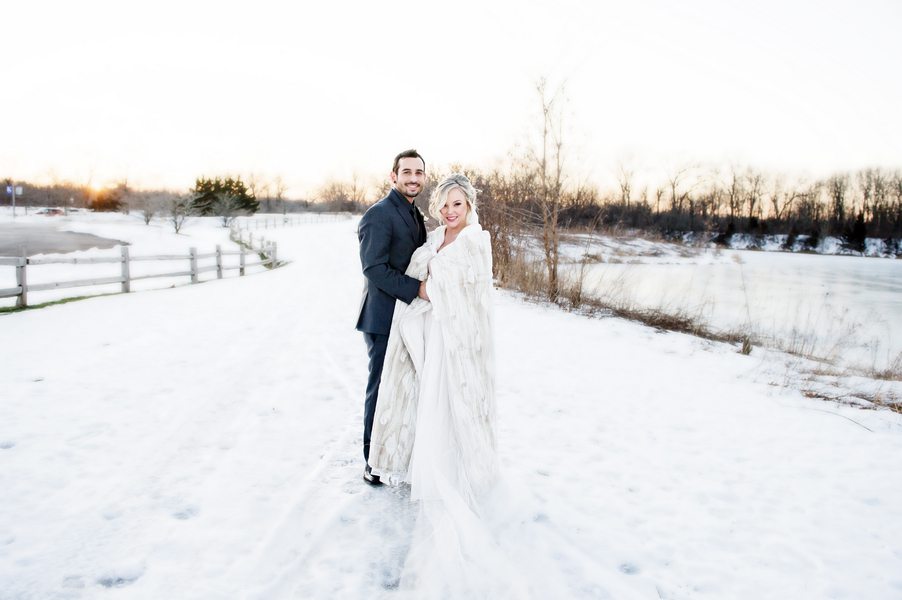 ((Kelsy + Michael)) Rustic Winter Wedding In The Woods
We cannot get over how gorgeous ((Kelsy + Mike)) look in their outdoor wedding photos. From the soft snow and beautiful sunset, their wedding pictures taken by Melissa Marie Photography are truly picturesque.
Rewind to how Kelsy + Mike met, from their photographer: ((Kelsy + Mike's)) families both had an annual camping trip at the same campground Columbus Day weekend of 2009. It wasn't until three years later that they began to date, even though the couple had been probing questions from family who had predicted their marriage from their first meeting!
Mike proposed to Kelsy on that same camping trip… 5 years after they first met. Starry night skies, campfires, and hikes in the woods had become something very special to them.
For their January wedding on one of the coldest days of the year, the wood beam ceilings, bare branch centerpieces, twinkling lights, and black linens captured our love for the outdoors and those chilly fall camping trips at The Sanctuary + Independence Grove – Audubon Hall.
The colors of black, grey, silver, and white, helped create a cozy yet elegant space. The bride says, "Our families were aware of our vast array of nerdy interests and made the reception extra special by placing mini silver dinosaurs throughout the reception hall and surprising us with a lightsaber–tunnel introduction fit for any Star Wars fan! Needless to say, it was a very cold, but very perfect day."
See this beautiful couple say I do:
Photography: Melissa Marie Photography • Ceremony: The Sanctuary •  Reception Venue: Independence Grove – Audubon Hall • Flowers: Balmes Flowers •  Caterer: Catering By Michaels • DJ: DJ Tabitha • Bride's Makeup: Fabb 2 Go Makeup • Groomsmen's Attire: Joseph A. Banks • Bride's Dress: Kathryn's Bridal • Bride's Hair: Vickie's Personal Touch • Transportation: Way To Go Limo Palatine •