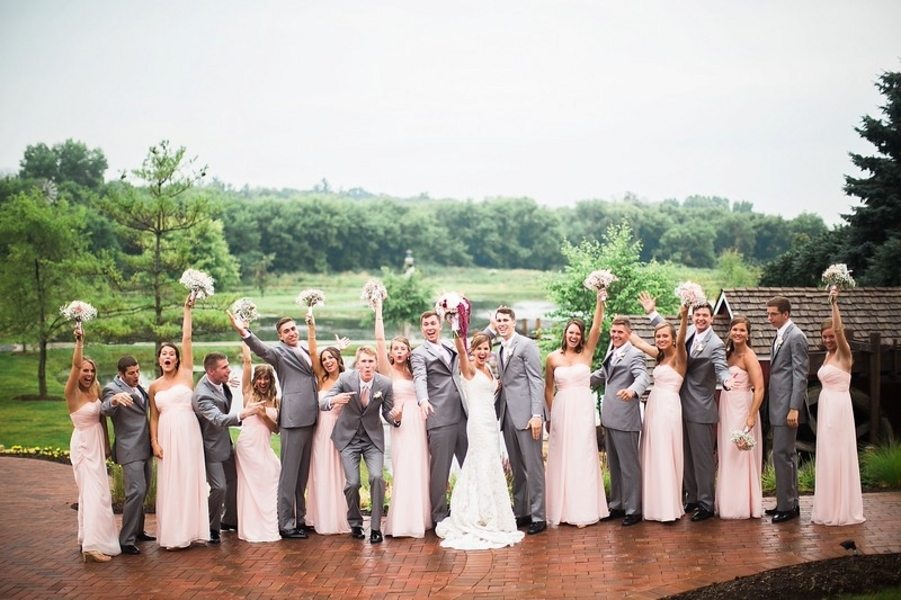 Just Wed in Chicago: Leah + Tyler's Fishermen's Inn Wedding
A stop for ice cream changed everything for bride, Leah. "Tyler and I met at a small ice cream shop in Wheaton. Tyler was in front of me in line and he was sampling every single favor! He made quite the impression on me" Leah says.
Leah and Tyler's proposal story is just as fun and unique. Every girl dreams of coming home to find a dress and jewelry waiting for her. Along with an outfit, there Tyler left a note for Leah which read, "Be ready at 6:00. Tonight is going to be a great night!"
Tyler took Leah to significant spots around town that represented their relationship; a
 soccer field where she played countless games, a gym where she watched Tyler on many occasions, and a park where they had their first kiss. "All the spots were memorable, but what truly made it special is that at each spot stood members of our family – parents, grandparents, siblings, friends." Leah says.
At each stop, all of Leah's friends and family provided her with a small momento and read a short letter of encouragement. Her siblings even rehearsed a small flash mob in downtown St. Charles! At the last stop, Leah was blindfolded and taken to a barn where she had spent many hours as a child. "There were candles, mason jars, and old photos surrounding the barn with Tyler inside. We cried, danced, and he got down on one knee. Then, from over the hill came countless members of our family and friends with sparklers."
No beautiful engagement story would be complete without a perfect love-filled wedding at Fishermen's Inn. The couple's wedding mixed between elegant, bohemian, and vintage. The couple wanted to keep it simple, but have small details that described the couple. With the colors of blush, gold, and champagne, the new bride and groom used rustic lanterns as our centerpieces with gold mercury class around the centerpieces.
"Fishermen's Inn perfectly captured our personalities," Leah said. "I grew up a country girl and the venue captured where I grew up and everything I wanted my wedding to look like. Fishermen's Inn is unique, beautiful. I also loved the staff and the people who run this venue, some of the nicest and genuine people I have ever met!"
Read more about the couple's wedding and fall in love with their beautiful wedding photos sent to us by Rachael Osborn Photography.
Bridesmaids wore long pink chiffon dresses and carried a simple,pink spray rose baby breath bouquet. The groomsmen looked extra dapper in light gray tuxedos.
"Our ceremony was unique in many ways," Leah says. "Tyler and I felt very strongly about writing our own vows. Tyler and I also wanted our faith to be a big part of why we are here in the first place."
The reception was everything the couple wanted and more. Both Leah and Tyler agree, the reception was "fun, emotional, joyful, laughter, full bellies, and just honestly…. a huge dance party. I'm pretty sure it was still going on even after we left!"
~ More Loving ~
Skip the sweets table! Guests took home favors of graham crackers, chocolate, and marshmallows in a bag. On the tag, the couple wrote "S'more loving."
Leah + Tyler are featured in the 'Just Wed in Chicago' section of Wedding Guide Chicago magazine! Submit your wedding to be featured in Wedding Guide Chicago or on SassyChicagoWeddings.com.
Photographer: Rachael Osborn Photography • Ceremony + Reception Venue: Fishermen's Inn • Bride's Dress: Allure Bridals • Bride's Hair: Cynthia Caribacas • Floral: Designs by Janet • Bakery: Devine Desserts • Groom's Attire: Men's Wearhouse • Bride's Dress: The Crystal Bride •