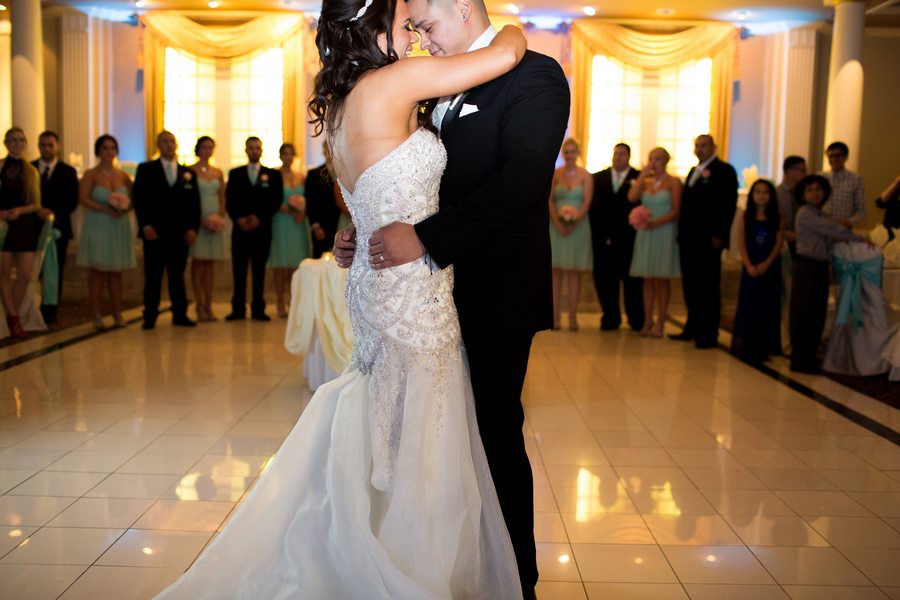 Just Wed in Chicago: Amanda + Oscar's Cotillion Wedding
Amanda and Oscar's wedding at Cotillion Banquets was on a beautiful Saturday in May. The bride glowed throughout her wedding day as she prepared to meet Oscar at the alter.
Amanda says her and Oscar could not be more two different people, but as they say, opposites attract. The couple balances one another perfectly. Oscar has a way of calming Amanda when she is stressed and she is always there to understand him when he is silent.
Oscar surprised Amanda last year when he proposed. Thinking hard of how-to propose, Oscar decided to involve Amanda's closest friends in family. During a walk in a park where Amanda had spent her childhood growing up, Oscar got on one knee. After walking back to her parent's house, Amanda was surprised her family was there waiting full of congratulations, chocolates, champagne, and a bundle of roses.
White, silver, black, and Tiffany blue helped ring in the color in matrimony. With a classic and beautiful wedding day, Amanda looked flawless in a stunning strapless gown with white roses. Bridesmaids adorned Tiffany blue bridesmaid dresses and carried Amanad's favorite — pink roses. Friends and family gathered to celebrate their lives together and party the night away.
Special thanks to Annie Steele Photography for introducing us to this duo!
Amanda + Oscar are featured in the 'Just Wed in Chicago' section of Wedding Guide Chicago magazine! Submit your wedding to be featured in Wedding Guide Chicago or on SassyChicagoWeddings.com.
Photographer: Annie Steele Photography • Ceremony + Reception: Cotillion Banquets • Floral: Athena Flowers • DJ: David William Fuller • Bride's Hair: Gallery of Hair • Groom's Formalwear: GQ Formalwear • Bride's Makeup: LG Makeup Design • Cake: The Baking Institute • Bridesmaid Dresses: Val Stefani •