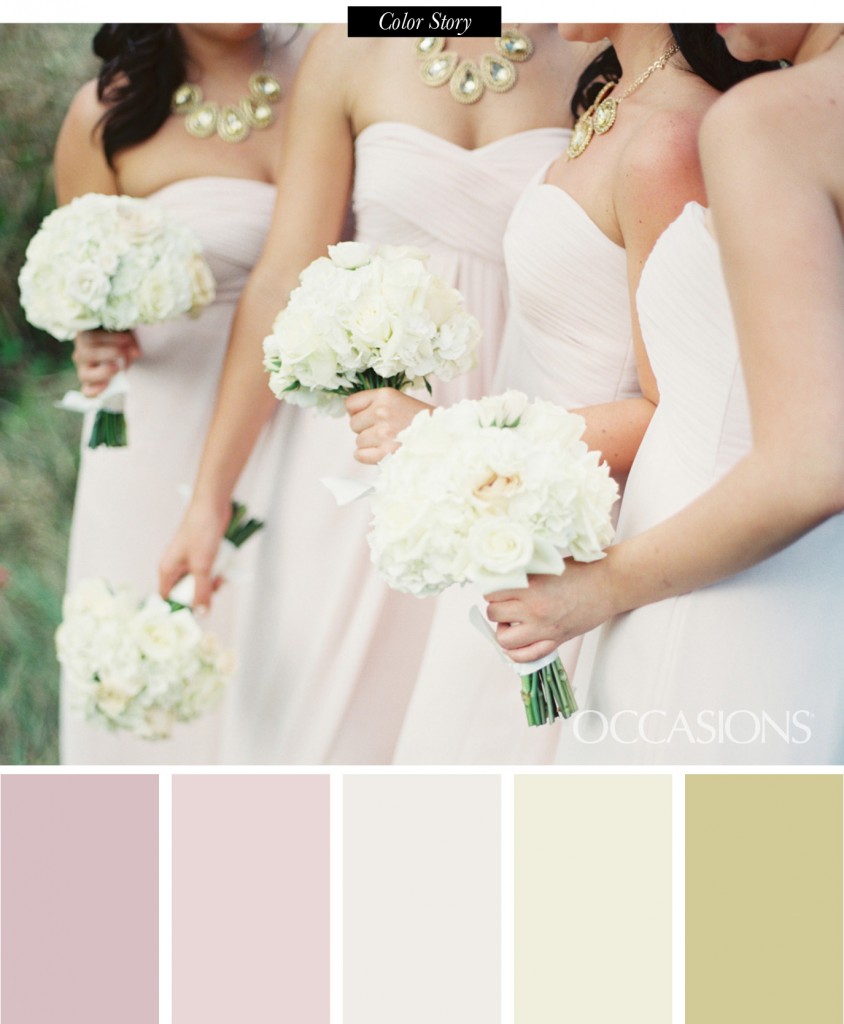 Jensen Beach, Florida Wedding at The Mansion at Tuckahoe by Leslie Hollingsworth Photography
Tones of blush pink, gold and ivory, the view of the water from the front deck of The Mansion at Tuckahoe on the Indian River, the memories shared together in this special place — all these things and so much more culminated in the wedding celebration for Ashley and Andrew.  Intimate and romantic, the ceremony brought together friends and family who had been in the bride and groom's lives for decades, many of them members of the bridal party.  And so the couple vowed forever to one another beneath the light of a chandelier handcrafted by the bride's father and grandfather.  A cocktail hour inside the mansion got the party started, and culinary delights and entertainment by Vision DJs followed in a tented reception on the back terrace.  Many memories were made and happy tears shed.  And when the last guest left the tent, preparing to wish the newlyweds farewell, Ashley and Andrew shared one final dance, just the two of them — a cherished moment neither will ever forget.  This beautiful occasions was captured by Leslie Hollingsworth Photography!
Tell us how you met. Was it love at first sight, blind date, friends forever?
Andrew and I first met when we were 11 years old through a mutual friend. We both had a "crush" on one another, but the timing was not right. We didn't attend the same school and several years went by until we met again. The summer after our sophomore year of high school we bumped into each other once again at the mall where Andrew worked. We were friends for several months before we officially started dating and the rest is history!
Please give us an overview of the event.
For our wedding we envisioned an intimate, laid back wedding on the water. We decided on the beautiful newly renovated Tuckahoe Mansion on the Indian River in our hometown of Stuart, Florida. We loved the style of the venue and we used to visit the picturesque site when we first started dating. We were so excited to get married at a place that had special meaning to the both of us. Our ceremony was held on the front deck of the mansion overlooking the water, with cocktail hour inside the mansion and a tented reception on the back terrace.
Did you DIY any of the details?
My dad and grandfather built a beautiful chandelier arch to use as the backdrop for our ceremony.
Tell us about your wedding gown and what your wedding party wore.
I had the hardest time deciding on a dress! I ended up deciding on a Watters lace gown with a sweetheart top. We had to do quite a few alterations and changes, but in the end the fit was perfect and it came together exactly how I had hoped! The bridal party wore floor length chiffon gowns in blush pink, with a gold statement necklace. it was perfect and all of the girls looked beautiful in it. The groomsmen dressed in classics black slim fit Vera Wang tuxedos.

Now for the proposal…details!
Andrew proposed on our 8 year dating anniversary during a surprise trip he planned to Charleston, South Carolina. He even hired a professional photographer to capture the moment. It was such a surprise and a weekend I will never forget!
Was there a specific theme or style?
The style we were going for was romantic, but laid back.We chose neutral colors of blush pink, ivory and hints of gold for the bridesmaids dresses and décor.

Tell us about the food and desserts.
Dinner consisted of a mixed greens salad along with a choice of seafood or steak, mashed potatoes and mixed vegetables. Dessert was a chocolate and vanilla wedding cake with buttercream icing, along with a lemon flavored FSU themed groom's cake.

What was the best wedding advice you received?
To not sweat the small stuff and just enjoy it, because the night goes way too fast.

What was the most memorable moment?
Both of us agree that our most memorable moment was at the very end of the night. As our guests were waiting for us outside for a sparkler exit, Andrew and I danced one last dance to One Republics, "Good Life." It was just the two of us and it was such a sweet moment.

See Ashley and Andrew's wedding video from Bridges Cinema!
Wedding Professionals
Venue: The Mansion at Tuckahoe | Photography: Leslie Hollingsworth Photography | Videography: Bridges Cinema | Floral: Harbour Bay Florist | Wedding Coordinator: Valerie Mosher of Boutique Events | Catering & Rentals: Eventmakers | Entertainment: Vision DJs | Wedding Dress: Tamera's Forever Bridal Salon | Bridesmaids Dresses: Bridals by Lori | Tuxedos: Vera Wang | Photobooth: Fotobox Photobooth
Click here to learn more about planning a wedding in South Florida.