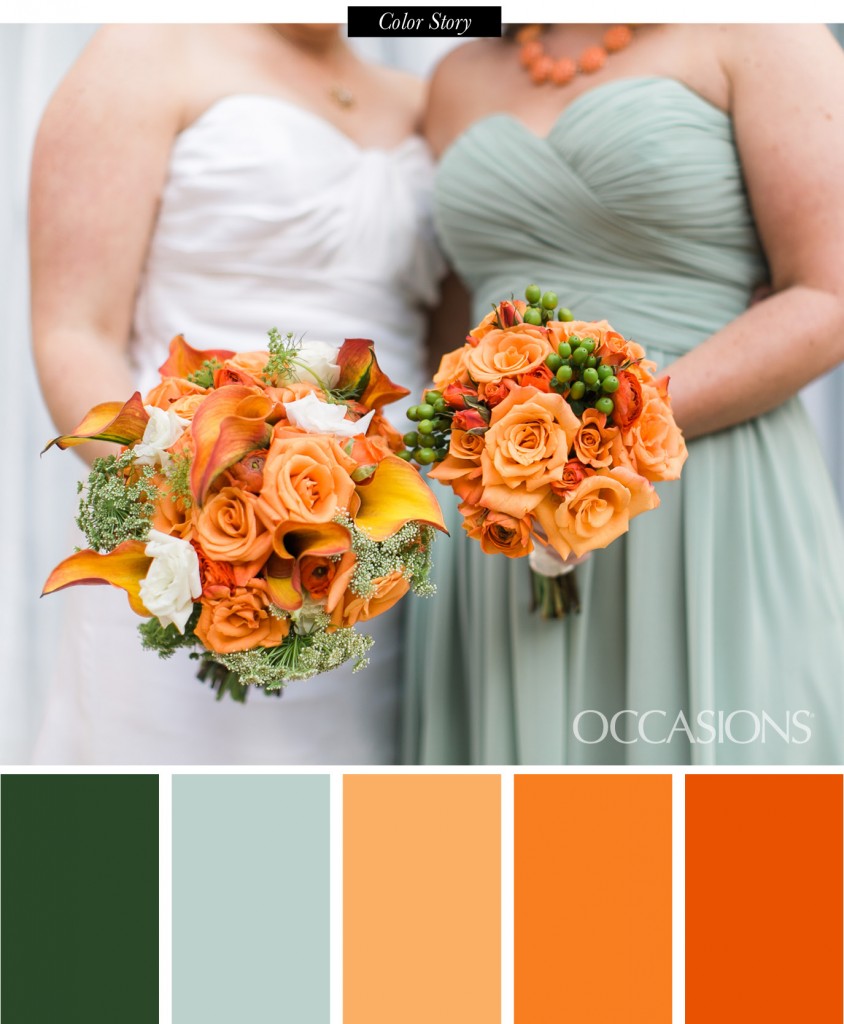 Jacksonville, Florida Wedding at The Conference Center at the Main Library by Ashley Steeby Photography
The wedding of Johanna and Ryan was celebrated at Jacksonville wedding venue The Conference Center at the Main Library in modern style, some of the couple's favorite Southern flair shining through.  The Jacksonville skyline served as the perfect backdrop for the newlyweds to party the night away with their closest family and friends.  Accents of bright orange brought the joyful aesthetics to life with vibrant flowers, citrus leaves, and locally grown oranges used throughout.  Custom bottles of Old Tom Gin and Tonic cocktails proved a huge success, as the guests dined from vintage china, enjoying dishes of chicken and waffles, baked apples, fried green tomatoes and other Southern fare.  A pie buffet proved to be the perfect wedding dessert.  Johanna wore a custom silk dress by Janna Dudley as she danced with her husband to the original song "Butterbean" by The Afterwhile.  It was a magical night that saw the couple off in a shower of smiles and well-wishes, a romantic mini-moon in New York City bright on the horizon.  This fantastically fresh celebration was captured by St. Augustine wedding photographer Ashley Steeby Photography!
Tell us how you met. Was it love at first sight, blind date, friends forever?
We met while working together at the Centers for Disease Control and Prevention, in Atlanta. Two-weeks after meeting, I invited Ryan to ride along with me as I drove to Jacksonville to see my family, and things blossomed quickly after that. However, since it was an office romance, we did our best to maintain a professional relationship at work.
Now for the proposal…details!
Ryan is currently a graduate student, so he didn't really hesitate when my mom offered a family ring to propose to me with. Ryan got anxious being in possession of a family heirloom, so he decided to ask me only hours after he received the ring. That evening, Ryan and I went to my brother's bar that had just opened, the Grape & Grain Exchange, and after a few hours and some tasty cocktails, we stopped by the San Marco Riverside Park to look at the St. John's River. There, on one knee, but without the ring because Ryan wasn't expecting to propose right then, he asked me to marry him. I quickly said yes, and we went home to get the ring. There was only one problem, it was the night before my sister's wedding shower, and not wanting to steal the limelight from my sister, I attended the shower without the ring and didn't tell anyone until after it was over.
What was the most memorable moment?
We revisited the places we visited the night of our engagement for private wedding photos before the ceremony, which included first-look photos inside the Parlour at the Grape & Grain Exchange, and on the banks of the St. John's River in the San Marco neighborhood of Jacksonville. We were chauffeured by two close friends, and our photographer Ashley Steeby helped us to stay relaxed and enjoy the time together.

Tell us about your wedding gown and what your wedding party wore.
I found a silk dress from Debra's Bridal Shop at the Avenues in Jacksonville which I brought to a custom dress designer Jana Dudley in Atlanta. Jana Dudley made some extreme changes to the dress to make it very much a hand-tailored custom dress which was simple and elegant. Jana also made the bird-cage veil to match the style of the dress. The matron of honor (my sister) wore a light green satin dress from Bella Bridesmaids with an orange necklace.  The groom and best man (Ryan's brother) wore charcoal suits, white shirts, with specially chosen orange ties. Keeping with the citrus theme, I wore orange heels and the groom wore polka-dotted socks.
Was there a specific theme or style?
Our event was filled with southern charm, local citrus, and live music. We really loved the natural character of the the public library, and and the downtown Jacksonville skyline. We wanted to decorate with a variety of oranges grown from family and friends yards in Jacksonville, with the added benefit that we asked our guests to take home the oranges as party favors at the end of the night. Our florist, Valerie Feinberg, was great at creatively mixing the oranges, citrus leaves and stems, and flowers into beautiful arrangements.
Did you DIY any of the details?
There were many. My mom collected the vintage china which we dined on, and Ryan's sister made the citrus-leaf garland which formed the backdrop for the ceremony. My dad and friends harvested and cleaned the hundreds of oranges which were used for decoration and party favors. Ryan's mother spent three days before the wedding baking homemade cookies for the welcome gift package for out-of-town guests when they arrived at the hotel. Ryan also made a drawing of the Main Street Bridge in Jacksonville which we used on the wedding invitations, and he designed and all of our day-of stationery, including ceremony program, menu, and seating chart.
What was the best wedding advice you received?
Have the part you want to have, which for us, meant choosing an officiant who was a dear friend, having a small wedding party, and eating pie instead of cake. We elected to do nearly all of our first-look and photos family portraits, before the wedding ceremony, and this really allowed us to maximize the time with our guests and enjoy the party. Although we didn't originally plan to have a videographer, the matron of honor (my sister), gifted us one by hiring Brandon Kari. His 8 minute video was beautiful, fun, and captured the essence of the celebration. This is something we would have overlooked had it not been gifted to us.
Tell us about the food and desserts.
We loved working with the staff at Chef's Garden Catering and Events for both the Rehearsal Dinner and the Reception. Owner Liz Earnest and chef Jamey Evoniuk really helped us to come up with a southern themed 4-course menu that fit within our budget. During cocktail hour, we had appetizers passed which included: skewered Chicken and Waffles with baked apples; Cobb deviled eggs; fried green tomatoes. As guests arrived at their table for dinner, they were offered a green salad with candied pecan, navel oranges, goat cheese, and balsamic vinaigrette dressing. The dinner buffet included sautéed Mayport shrimp and stone ground cheese grits; chicken roulade stuffed with spinach and Boursin cheese; roasted root vegetables including red and sweet potatoes, turnips, fennel, with an aged balsamic reduction; and okra and tomatoes with fresh herbs. Ryan likes pie a lot more than cake, so we decided to just have a pie buffet for dessert, which included pecan pies, chocolate cream pies, and key-lime pie.
What were your playful twists that made the event unique?
My brother, Jackson, is a co-owner in a local bar called the Grape & Grain Exchange, and used our reception to debut their custom bottled Old Tom Gin and Tonic cocktails, which were a huge hit.
What kind of energy did your entertainment give the event?
The Afterwhile were fantastic at setting a lively and festive tone for the event. They played music during the cocktail hour, and performed their original song "Butterbean" for our first dance to kick-off the reception. The music of Bob Dylan is sentimental to my family, so the band covered "Forever Young" for our joint father/daughter mother/son dance. After dinner, the band successfully got the crowd up and moving with a wide range of hits, from "Me and Bobby McGee," "Proud Mary," and surprised everyone with a stellar rendition of "Jump Around," and their other hits.
If there was one thing you could change, what would it be?
We would have partied longer at the library.
See Johanna and Ryan's too-sweet wedding video by BK Films and Photography!
Wedding Professionals
Photography: Ashley Steeby Photography | Venue: The Conference Center at the Main Library | Day-of Coordinator & Catering: Chef's Garden Catering & Events | Flowers: Designed by Valerie | Entertainment: The Afterwhile | Alcohol: Grape & Grain Exchange | Videography: BK Films and Photography | Hair: The Green Room | Invitations & Save the Dates: D.H. Fitzgerald designs | Wedding Dress: Janna Dudley
For more information on planning a wedding in Jacksonville, click here.
Click here to see more conference center wedding venues near you.