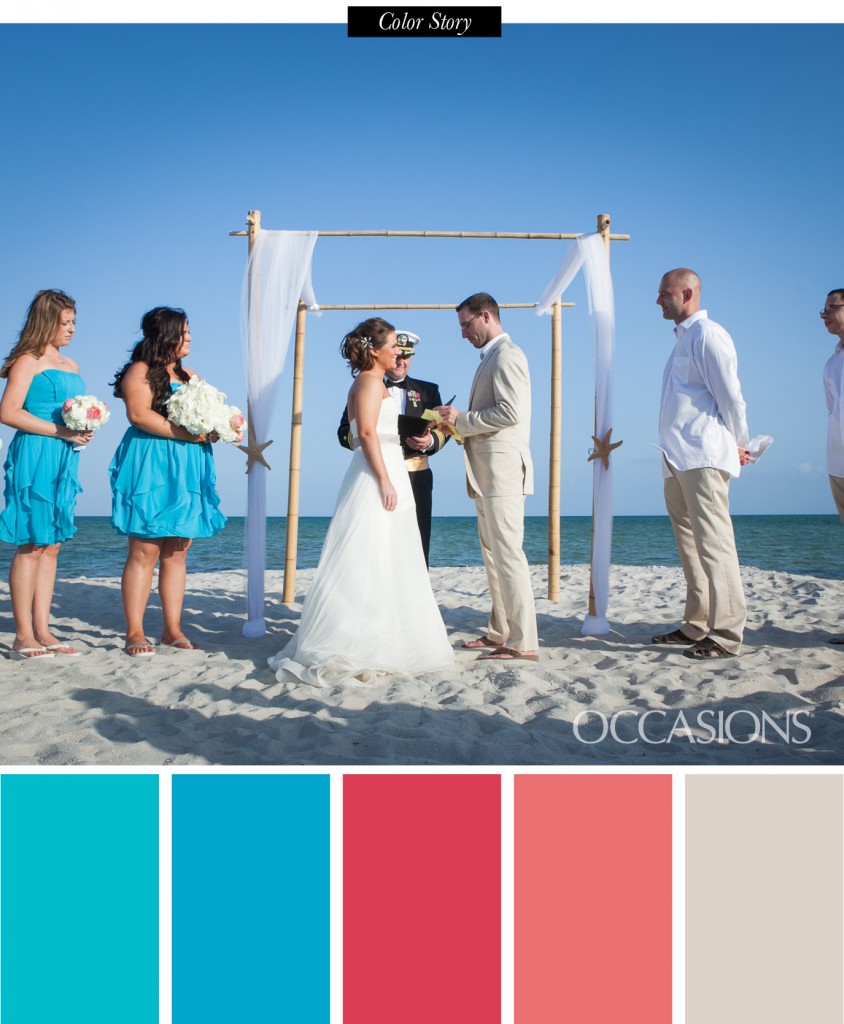 Islamorada, Florida Wedding at Ocean House by Tremaine Photography
If this occasion doesn't make you want to relax in a beach chair with a piña colada in hand, I don't know what will!  Erik and Jacque's wedding was truly a vacation celebration, the turquoise waters and white beaches of Islamorada, Florida, transporting guests to a piece of paradise.  Clad in a khaki suit and sandals, the groom stood beaming beneath an arch of bamboo and tulle as Jacque walked down the sandy aisle, her own father performing the ceremony amidst the whisperings of the ocean behind them.  Following the "I do's," dishes of chimichurri skirt steak, chicken saltimbocca, and blackened mahi-mahi were served before all ventured to the tiki hut for a time of dancing at the lantern-lit poolside, mouthwatering desserts of wedding cake and key lime tarts only increasing the party's energy.  But the act that holds the prize in the minds of all who attended the affair?  The newlyweds' fearless plunge into the swimming pool.  Dive into this fun South Florida celebration with these images by Denver and destination wedding photographer Tremaine Photography, interspersed with commentary from the groom himself!

Please give us an overview of the event. My wife and I were married on May 11th, 2013 at a private beach resort on Islamorada in the Florida Keys. The resort is called The Ocean House and consists of a 2 story, 6 hotel room setup all with picture perfect views of the turquoise blue waters. Our wedding was held on the resort's private white sand beach. The venue was small and personal with 50 of our closest friends and family in attendance making the wedding itself very intimate and picturesque.
Tell us about your wedding gown and what your wedding party wore. My wife's dress (in her own words now) was an A-line Rivini dress with a Rivini sash. (Now my words…) The dress was very delicate with a satin/silk-like tulle and that's about the extent of my dress knowledge. My wife's wedding party consisted of her 3 sisters and 3 best friends. The ladies were dressed in a turquoise blue dress from David's Bridal and they wore ivory colored sandals.
Tell us how you met. Was it love at first sight, blind date, friends forever? The story of how Jacque and I met begins back in 2009. Jacque and I shared some mutual friends who had invited us to play in a two day soccer tournament. It was sheer coincidence, or fate if you will, that we met. As I recall, Jacque wasn't even going to participate but decided to join the second day's games. We played in a single game together and outside of talking on the field, that was the only time we had to meet each other. Not two months after that tournament, I was offered a job in Orlando, FL and off I went to make my living. Some months later, thanks to (you guessed it) Facebook, Jacque and I sparked up a conversation. But life and a new careers kept us both very busy as contact was sporadic until a winter storm hit the Seattle area. Jacque had made a Facebook note saying how she was forced to abandon her car on the hills of Seattle and walk, in the snow, the mile or so to her home. This proved an opportune time for me to brag about my warm 78 degree sunny weather here in Orlando. It's amazing, looking back, that a seemingly unimportant message would lead to such happiness in our lives…but indeed that's what happened. To this moment, I can't think of a day after that cold walk home that we have not talked. Fast forward several months and the next thing we knew, we were planning Jacque's escape from the cold weather of a winter in Seattle to the warm breeze and theme parks of Orlando.
Smartest savings… Save money through DIY invitations. They really are not as hard as you think to make something simple and beautiful. A lot can be done through free computer software trials and then it comes down to picking out the right material to make your invitations. It can literally save hundreds of dollars.
Did you DIY any of the details? Every last detail of our wedding was handpicked and created. The only exceptions to this statement was the outfits, the food, and the DJ equipment. The bamboo arch we created and decorated, the end caps of the aisles were created by us, the centerpieces of the guest tables, the lanterns around the pool and the candles inside them, the engagement notifications, save the date magnets, napkins, matchbooks, and yes, even the bar was self stocked. From top to bottom the event was DIY.
Was there a specific theme or style? The theme could best be described (per our wedding coordinator) as "chic beach style." Our ceremony decorations were tulle draped over our bamboo arch, and starfish hung around the ends of chairs for the aisle way to the arch. We used personally-found pieces of driftwood, different sizes of jars from slender to wide that held the different flowers that we selected (the colors of the jars were clear or turquoise) and personally designed/created luggage tags attached to wine bottle corks of starfish placed atop the dinner plates at each of the guest tables. Around the pool were large and small lanterns providing the only additional lighting that the tiki hut did not come with. The tiki hut had small LED light strips around the inner rim for mood lighting while the vegetation all around the venue had beautiful uplighting – again, setting a private and intimate feel to the whole evening.
What were your playful twists that made the event unique? One of the playful twists that we had was the shoe game between my wife and I where a series of humorous questions were asked based around who would do what or would be the first to do something. For example, a question that was personal to us was "Who is better at soccer?" Based on what each of us thought we'd raise the shoe of that person to signify our answer. With my wife and I being back to back and unable to see each other's responses, the guests would get a good laugh from what we each thought. Another playful twist was in the fact that the resort had a private coral fire pit. We set up a s'more station consisting of different graham crackers, different chocolates, and even different candies such as Snickers or REESE'S to spice up the s'more selection.
What kind of energy did your entertainment give the event? Our DJ was excellent and provided an excellent transition of energy from the sweet loving atmosphere of the ceremony to the dinner followed by upping the tempo and excitement with great song selections. The DJ really was in tune with how the party was going and avoided a lot of sappy romantic slow dance stuff that some weddings have and instead kept the dancing going.
Wedding Professionals Photography: Tremaine Photography | Venue: Ocean House | Entertainment: DJ Buggy | Hair & Makeup: Beauty Boutique | Cakes: Cakes by Karol | Catering: Catered Affairs of Key West | Rentals: Florida Keys Party Rentals | Day-Of Wedding Planner: Just Save the Date | Floral: Lee Forrest Design | Wedding Dress: Solutions Bridal Designer House
For more hotel wedding venues, click here.