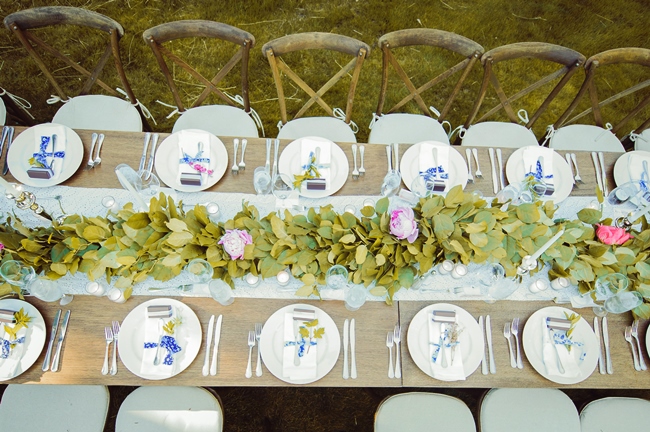 Intimate Outdoor Wedding Inspiration
There's nothing quite like an intimate wedding where a couple is surrounded by their dearest family and friends and the focus is on a warm setting, delicious food, bountiful decor, and good conversation. In fact, these are some of our all-time favorite weddings as they speak to the heart and soul of a marriage and mirror love, laughter and memories.
Lisa and Jay's woodsy Woodway, Washington wedding fell on the summer solstice and the trimmings we worked with were nothing short of spectacular. When we have carte blanche to plan and design to our hearts' content nearly nothing makes us happier. Blushing pink astilble, fresh-from-the-garden coral charm peonies, fragrant mint, and heavenly bleeding heart fixings took center stage. The air was full of the promise of that sunny and fresh season and the celebration carried that same feeling.
Guests enjoyed a special ceremony with cozy vintage furniture and a serenade by the groom's siblings. Our "living" flower wall acted as the altar and the swaying leafy trees towered over the space while a peek of Puget Sound glistened in the background. Tray passed champagne, lanterns floating from the trees, and a life-sized Scrabble board the bride and her father handcrafted awaited guests post-ceremony. Dinner was a true treat within itself. One long family-style table anchored the setting and guests enjoyed a multi-course gourmet dinner that honored local fresh bounty. What a wedding!
Parting gifts needn't be complicated. A simple edible treat wrapped in delicate paper and sat atop a place setting will do the trick.
Add a flourish of color to place cards with a simple water color brush stroke. Use varying colors to represent guest entrées.
Utilize fabrics and ribbons to accentuate a table top. Tie 1″ x 10″ strips of fabric around napkins for an instant band and punch of color.
Family style means sharing and abundance! Pass around carafes of infused waters and wine so your guests will never have to leave the table.
Create lush table runners with greenery garlands, available through most flower shops. Stud the runners with brightly colored flowers.
Wedding Professionals
Planning, design and flowers: Valley & Co. Events | Photography: C2 Photography {Wedding photography by Jenny Jimenez} | Catering and cakes: Lisa Dupar Catering | Venue: Private Home | Rentals: ABC Event Rental