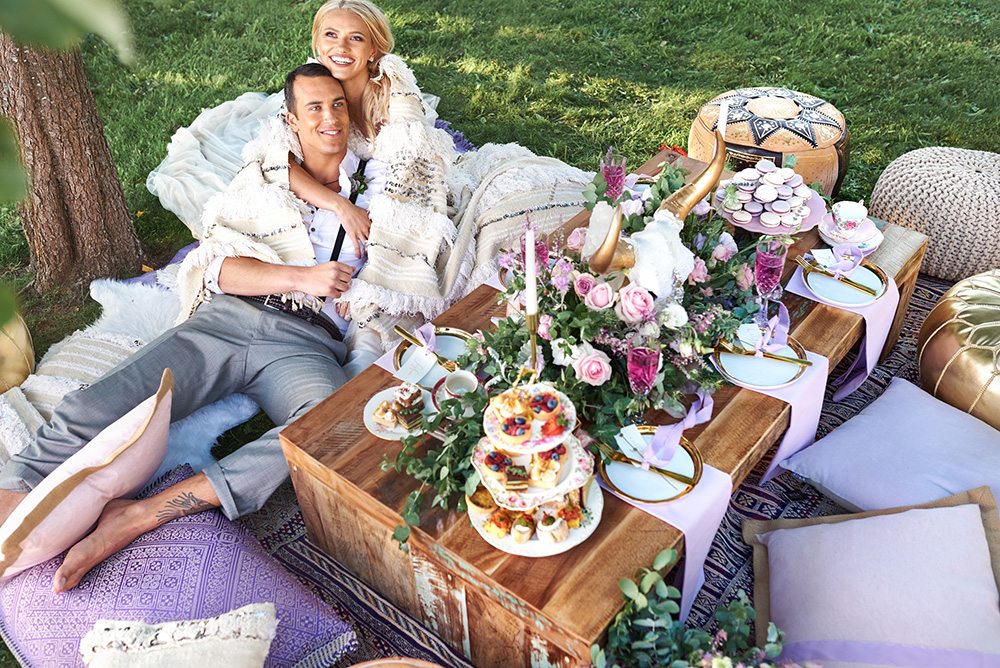 Free Spirited Lavender Boho Inspired Styled Shoot
If you are feeling stuck, uninspired and unmotivated, now is the time to get a bridal boost! This styled shoot sent to us by Adorn Invitations will leave you feeling refreshed, happy, and wishing you were a guest at this gorgeous shoot taken by Sephory Photography.
Think about the best wedding you've ever attended. It's often a wedding that was a bit different and disruptive — maybe it stood out from the clutter? We kid you not, this shoot does just that. It started with a mix of lavender and bohemian touches — something truly different.
Set in an enchanting lavender field, the free-spirited model bride ran wild and free in renowned designer gowns by Maggie Sottero and Nicole Spose.
To pull everything together, lavender was complemented with dashes of blush pink, cream, glitter and gold. Tablescape designs brought together bursting and rich greenery, perfectly accented with light lavender and blush blooms and was given a modern and stylish look with gold-colored geometric candle holders, centerpieces, vases and cutlery. The outdoor setting featured the much-loved high tea setting and magically unified it with a strong bohemian influence.
Surrounding a vintage timber table were plush and sequined fur rugs and metallic and embellished ottomans and cushions to give it that relaxed but super elegant appeal. The DIY element of the shoot was the gorgeously decorated cow skulk. The stylists took to the thrift shop to source the skull and then spray painted  it white and gold before  delicately decorating it with lace, pearls and diamantes found in precious costume jewelry stores. (who knew?!)
Read more about the look and inspiration behind the shoot!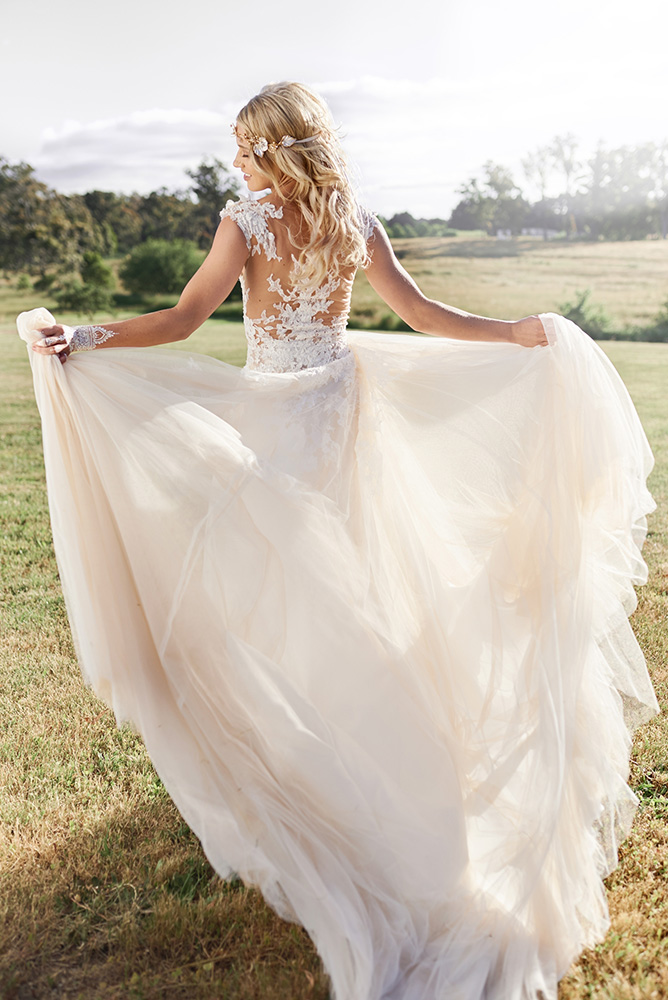 Intricate lace detailing was paired with a mesmerizing low-back and embellished features in a dress from Raffaele Ciuca, floral outlines and nude mesh netting, free-flowing tulle and spaghetti strapped lace and pearl backings. Love On Jewellery provided the gorgeous headpiece you see in the photos below and soft jewelry.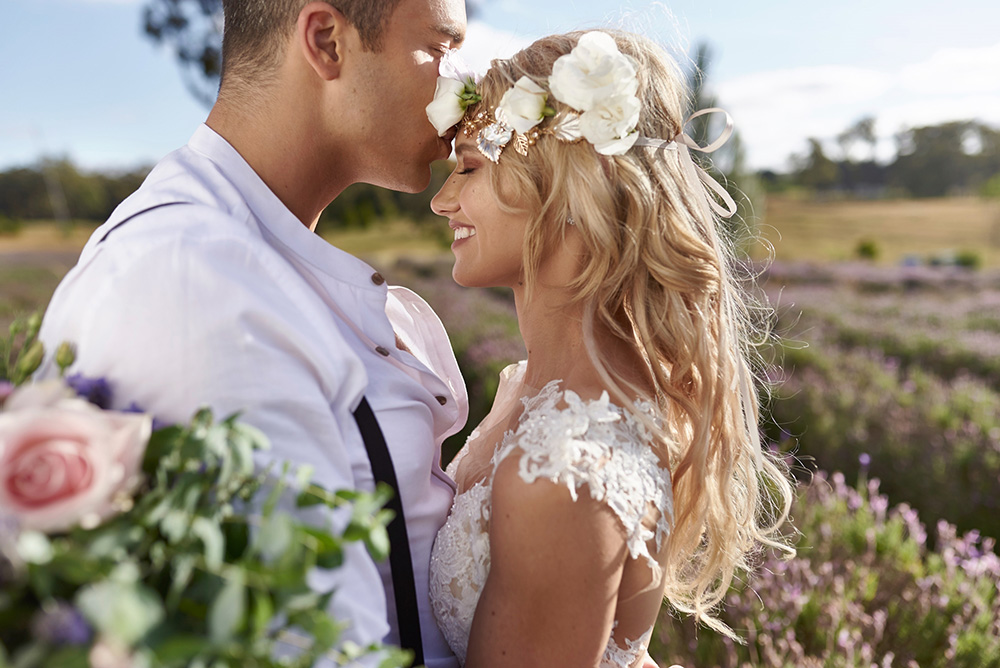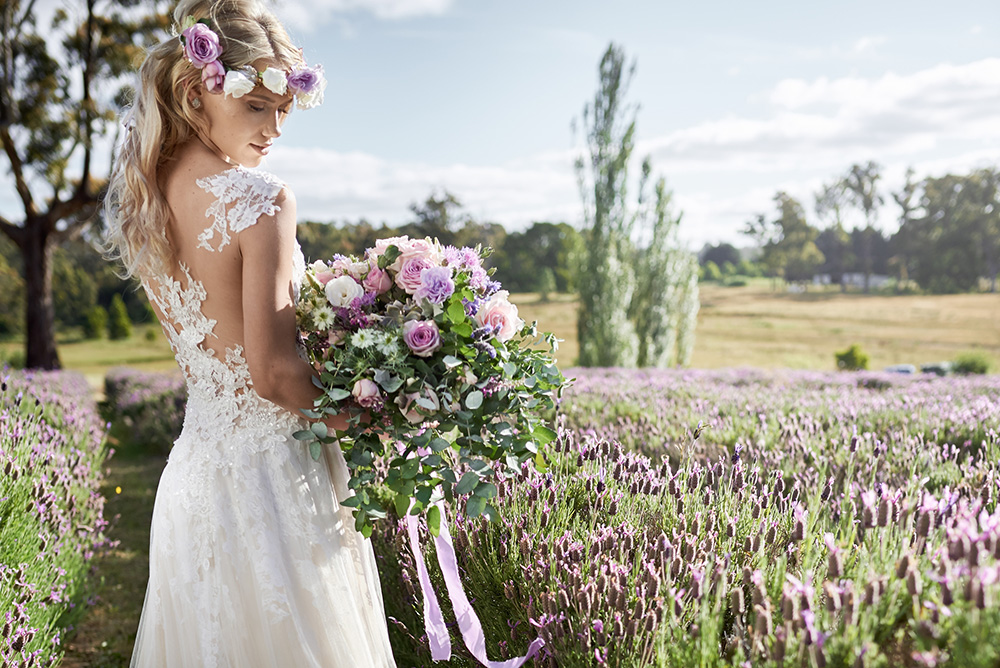 Sweets for this shoot were provided by Mary Eats Cake and featured gorgeous macaroons in shades of lilacs and lavender, garnished with gold flakes and sprigs of lavender. You'll also notice a few sweet treats along the way. If you are looking to model your wedding after this look, the team recommends including summery berry tarts to compliment a bold floral arrangement, or finding a floral tea or infused water to create a purple-toned drink that is beautiful as it is delicious.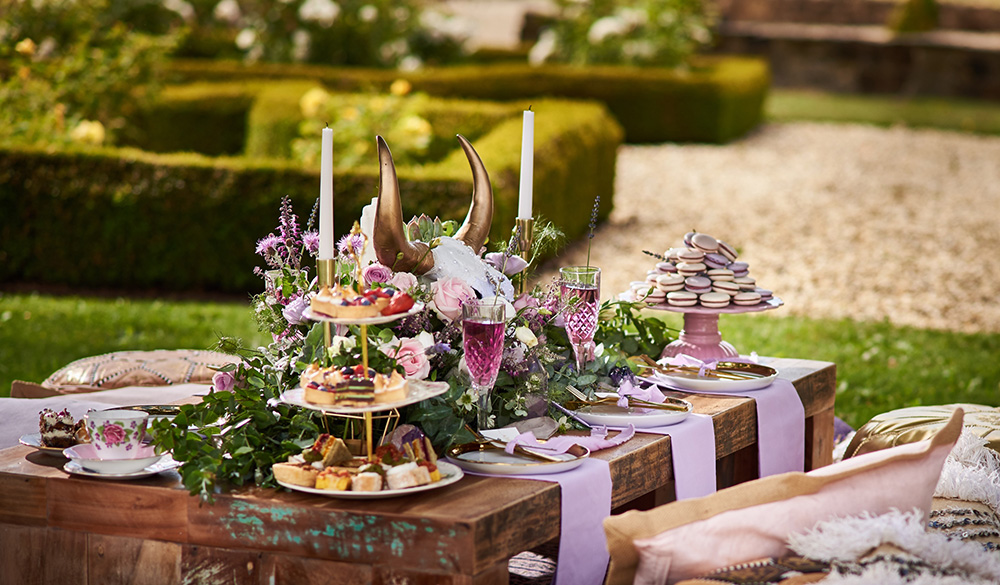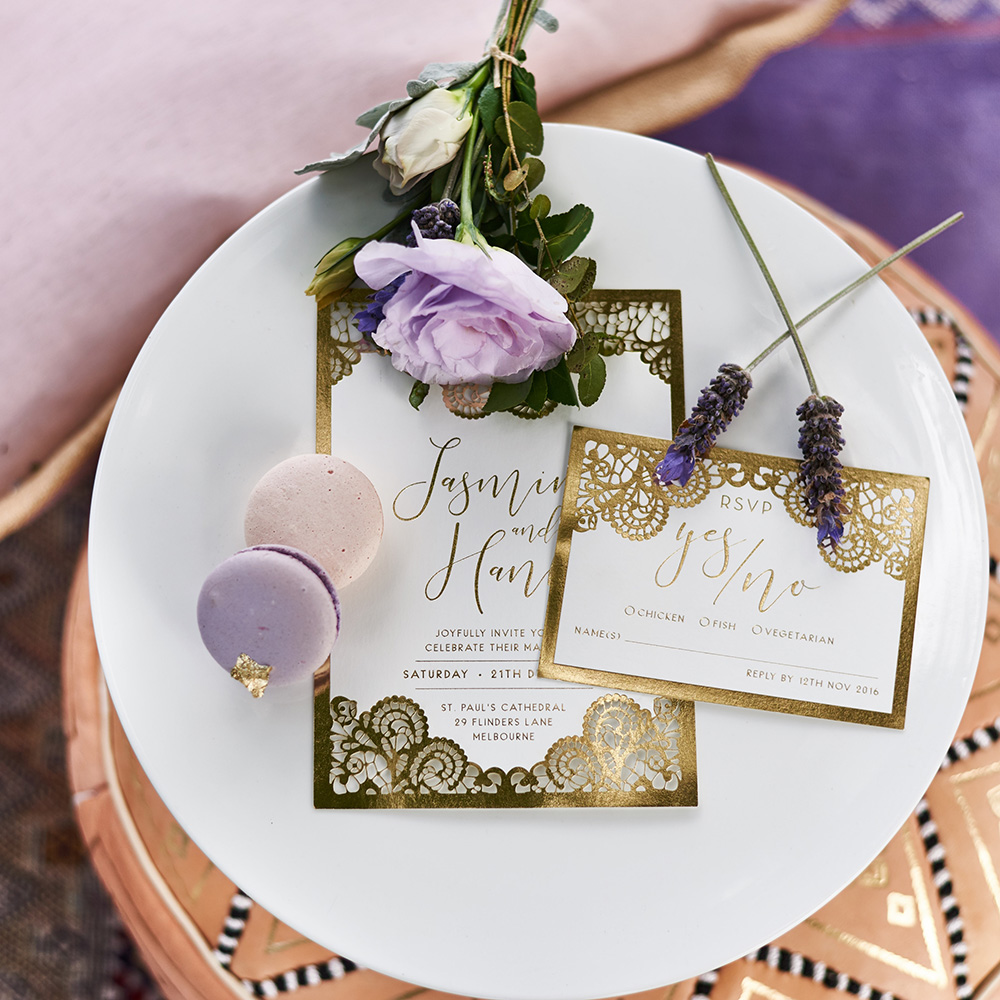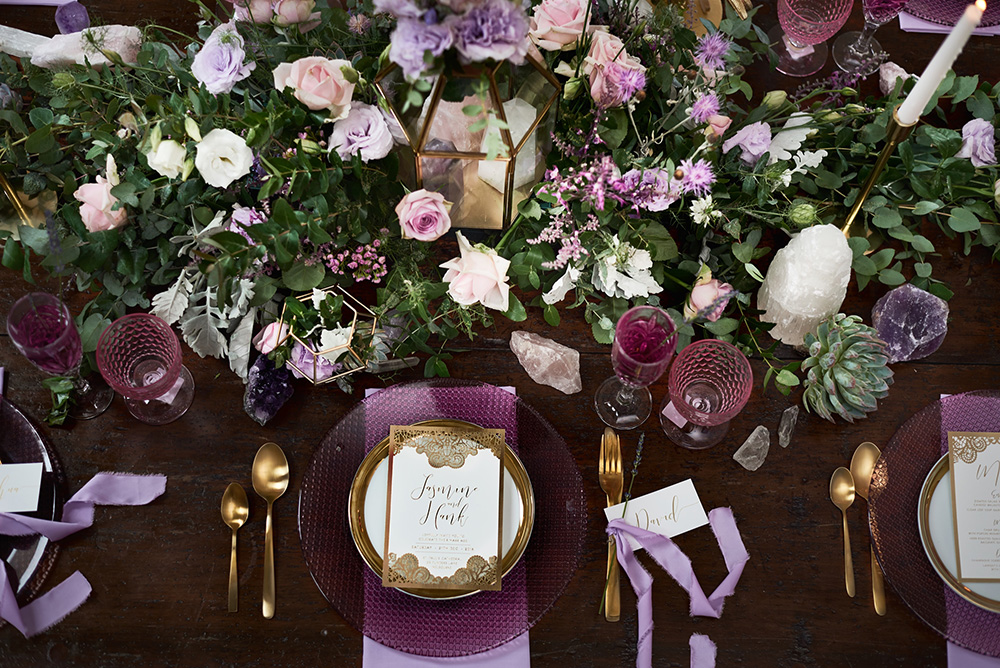 Florals, florals everywhere! How can something be so effortlessly chic? Babylon Flowers paired the greenery throughout this tablescape with roses for that romantic touch and adhered to the lilac color palette by including blush and purple toned wild flowers. Succulents are also a really important element in this theme as they're a match made in heaven when paired with geodes and stones. They'll also bring on a more modern and minimal feel among the roses.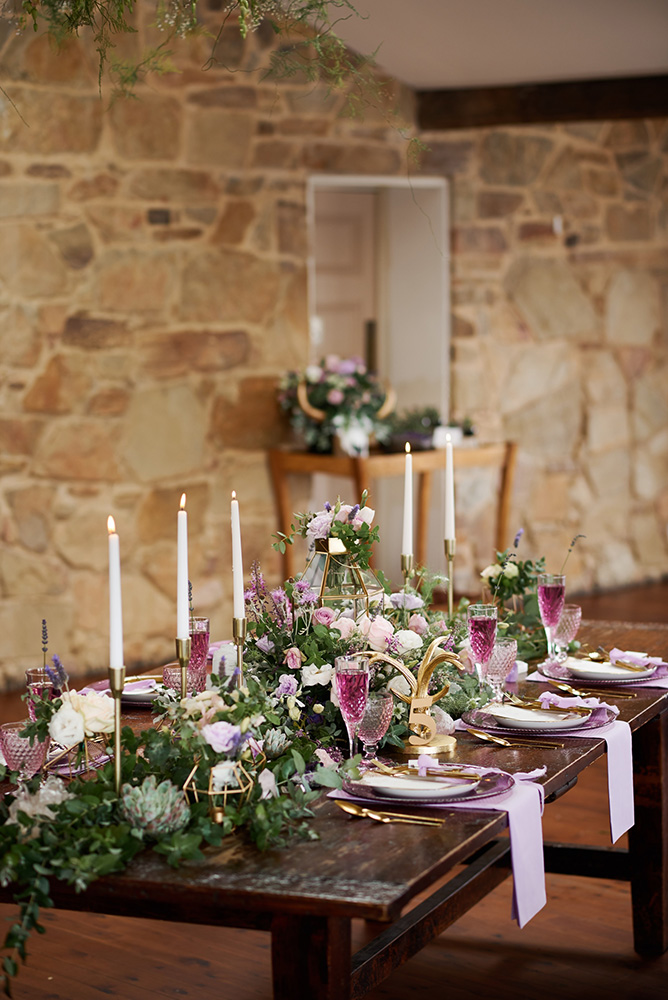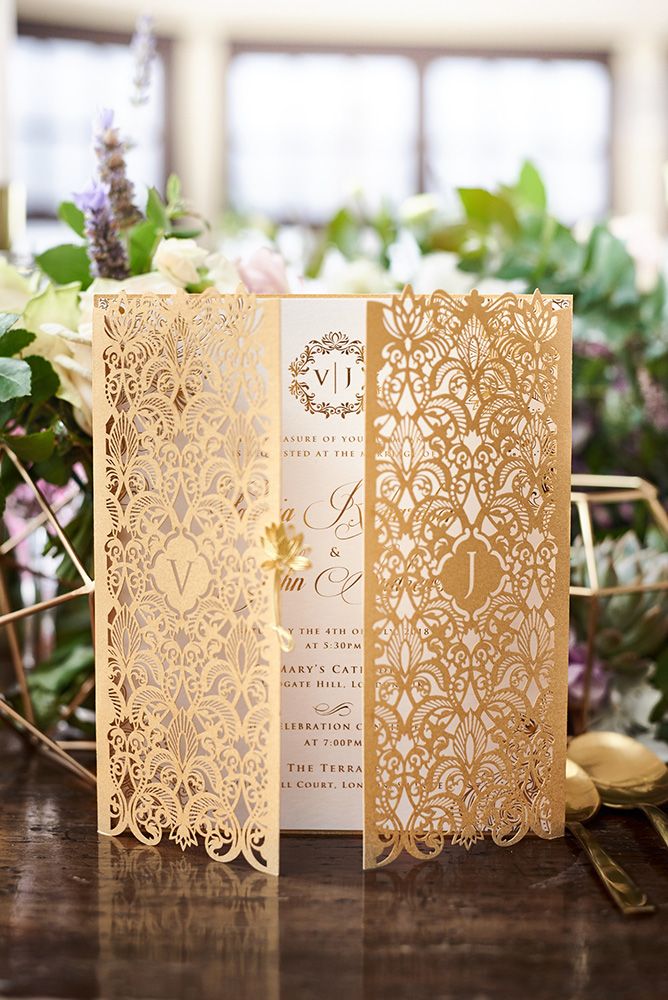 Even though this shoot is a mix of relaxed and luxury, the group still wanted it to feel upscale with a mix of glamour. "We custom created several styles for the shoot and included lavish features such as intricate laser cut paneling and gilded foiling, " Adorn Invitations said.
B Wedding Invitations made sure to use a relaxed script font for a perfectly boho-chic element.  Note to self: if you want to personalize your own stationary set, try to incorporate your own monogram or hot wax seal. Don't forget to finish it with a satin ribbon!
How will you think outside the box on your wedding day?
---