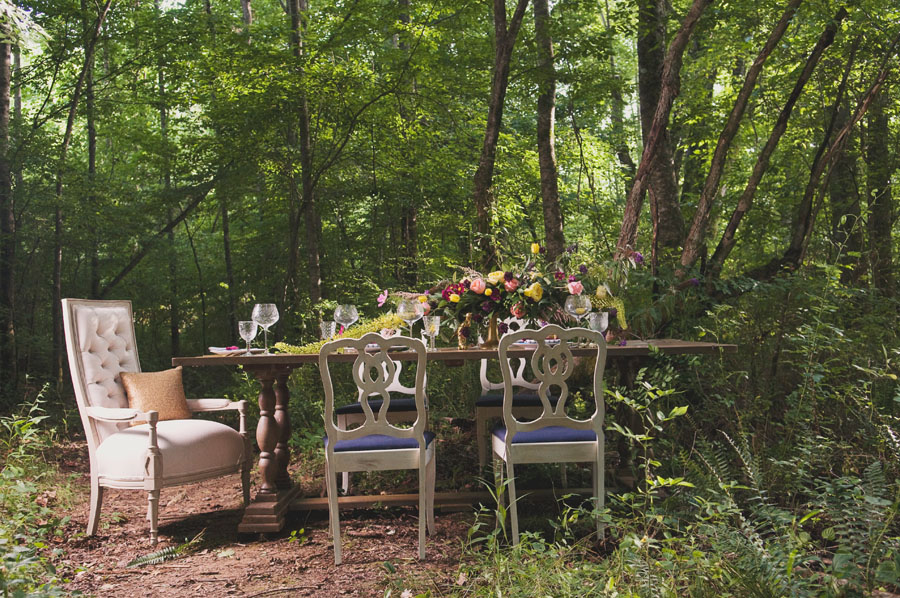 Fairy Tale Forest Wedding Inspiration
Prepare to set foot in another world with this amazing wedding shoot designed by Lemiga Events!  Boasting enchanting green forests, delectable pastries, a fair maiden clad in glistening gold, and nine mattresses piled high in a river, this outdoor shoot brims with magic, adventure, and love, its rich colors and fanciful details making hazy the line between fantasy and reality.  Be swept away in the intrigue and romance of your childhood fairy tales with these images by Atlanta wedding photographer Lytlefoto!
THEME
The Maiden and the Mattresses
COLORS
Wedgewood Blue, Gold, Ivory, Regal Pink, Green
FLOWERS
Campanella Garden Roses, Clony Ranunculus, Scabiosa, Sweet Peas, Daffodils, Heather, Fiddlehead Ferns, Tulips, Astilbe, Cosmos, China Berries, etc.
ITEMS TO INCORPORATE
The blue ticking pattern on the mattresses and the tablescape date back to the 1700s with the feather beds held together by the striped fabric.  The bright and regal-rich fuchsia is used as a royal pop of color among the muted and golden hues.  Lots of greenery, twisted vines and branches create a woodland canopy for mythical creatures and fairy tale setting. Pastries are a common delicacy in the royal kingdom, so our tables were full of these indulgences.
SIGNATURE COCKTAIL
Regal Cocktail: 2 oz Chambord Flavored Vodka, ¾ oz simple syrup, 3 slices of cucumber (skin on), 3 fresh raspberries, ½ oz fresh lemon juice.  Muddle the raspberries, cucumber, and simple syrup.  Add to a shaker with lemon juice and Chambord Flavored Vodka.  Add ice and shake vigorously.  Double stain into a martini glass or a large coupe glass and garnish with a slice of cucumber and a fresh raspberry.
THINGS TO REMEMBER
This would be a great concept for a fall or spring wedding; both seasons render lots of green leaves and cooler temperatures for accenting with fur or leather.
WHAT TO WEAR
Gilded lace; jeweled and delicate crowns; masks and leather; big statement rings of semi-precious stones; masculine suiting with a touch of huntsman game.
TAKE IT UP A NOTCH
Hair and makeup can be something unexpected and big or soft and understated.  Include storybooks as favors or use pages creatively as a photo booth backdrop. Create your own wooded canopy using grapevines and garland.  Hang candles and lanterns from the trees.
PERFECT FOR
The couple who identifies with the romanticism of falling in love; the safety in the arms of the one they love. The couple who relates to this concept exudes the sensuality of an adventurous love with the tenderness of a knight rescuing his lady. This shoot was designed to inspire those with gallant hearts and regal dreams.
Shoot Professionals
Planning & Design: Raquel Mideau of Lemiga Events | Photography: Lytlefoto | Florals: Juli Vaughn Designs | Stationery: Elum Designs | Rentals: CRUSH event rentals | Desserts: Perfect Wedding Cake and Collet French Pastry | Dresses: Kelly's Closet | Hair & Makeup: Christine Pay of Brushworx On Location Hair & Makeup | Groom's Attire: The Modern Gent | Models: Click Models
Click here for more information on planning an Atlanta wedding.