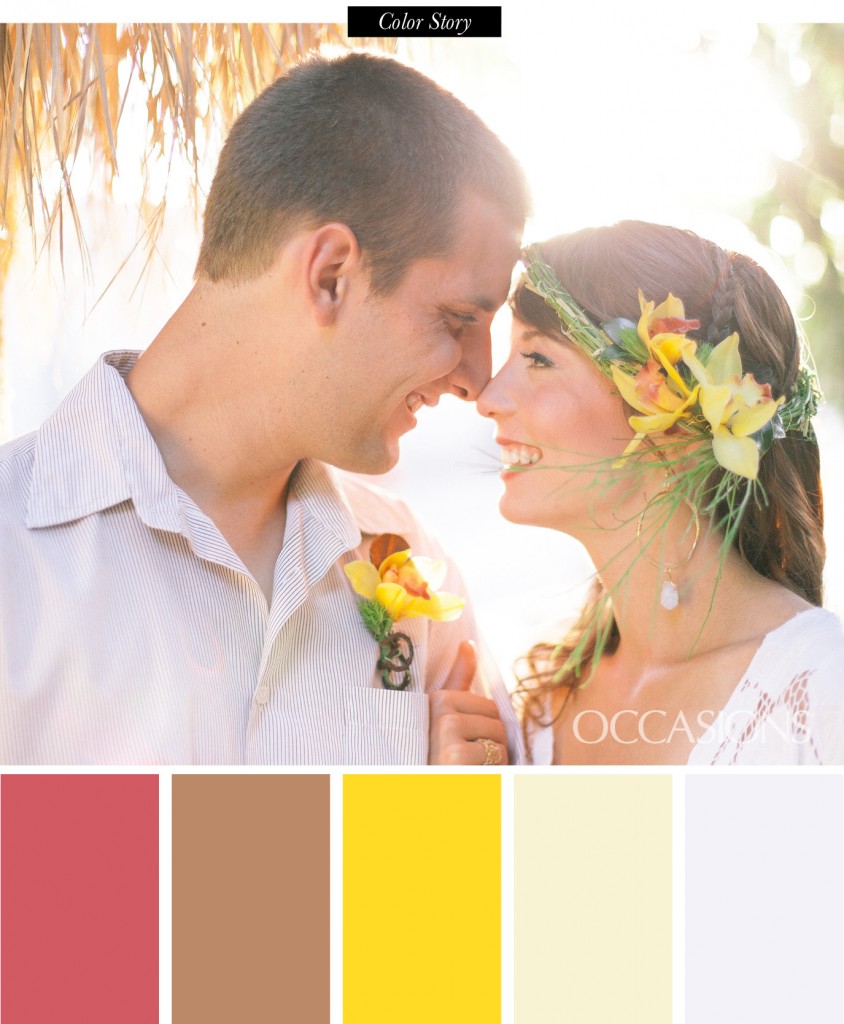 Exotic Arabian Wedding Inspiration
Being a 90s girl who adored Disney's Aladdin and the live-action film The Jungle Book, you know that the exotic Arabian theme of today's wedding shoot had me grinning from ear to ear!  The concept inspired by photographer April Robert's love of travel, the scene was brought to life at Arizona's Phoenix Zoo, where the sand and sun could not have provided a more perfect desert-like atmosphere.  Muted Moroccan pillows were scattered around bowls of fragrant spices, while nearby a small wooden table was adorned with twig balls, locks and keys, and tall white candles in golden candleholders.  The happy couple was dressed to beat the heat, the groom in khakis and a soft purple shirt, the bride in a white Bohemian dress with gold jewelry and a headpiece boasting brilliant yellow orchid blossoms.  But the competing star of the show?  The camel that the pair had the amazing privilege to ride!  Soak in the warm Arabian allure with these breathtaking images by Arizona wedding photographer 10,000 Smiles!
THEME
Arabian Wedding
COLORS
The Arabian theme used the following colors: sunflower yellow, white, coral and tan.
ITEMS TO INCORPORATE
The following items made this wedding theme Arabian: vintage Anna chairs, lock and key sets, candlesticks, Arabian glass lanterns, the plates of spices, Moroccan patterned pillows, twig balls and potpourri. If you are planning for an Arabian wedding an easy DIY center piece would be to have vintage bowls filled with Indian spices. You could also add DIY twig balls and potpourri to fill in the space. The Arabian styled wedding cake looked like something from the movie Aladdin. This gourmet white cake was fondant iced with a homemade butter cream from a local cake shop.
PERFECT FOR
Young 20's and 30's couples who have a passion for exotic decorations and travel. It's was designed to inspire a couple that wants to have a vintage and bohemian style wedding.
WHAT TO WEAR
All of the vintage clothing was styled and bought from a local vintage store called GrowOp. Vintage stores are a great place to buy wedding attire if you are looking for a different adventurous attire at an affordable price. The bride's dress was a simple white Bohemian dress that we embellished with accessories. When brides choose a dress that looks like a blank canvas they can personalize and add details to make the dress their own. She wore a printed vintage scarf around her bosom for a modest and not see through look. The bride wore gold strapped flats with a slight wedge heel that looked perfect for a desert wedding. The bride wore an intricate handmade crocheted wire gold-filled ring, gold chain link bracelet, and handmade gold hooped earrings with Arizonian turquoise native stones. Brides could shop at local vintage shops or on Etsy for handmade original pieces of jewelry. The bride's hair was done to look natural with an elegant style like something Jennifer Anniston would wear on her wedding day. Her hair was framed with a braid and loosely curled and toped with a crown of desert flowers. The groom was dressed in a vintage long sleeve pinstripe button up shirt. The shirt was left untucked for a more casual wedding feeling. The shirt was dressed up with a tan pair of Men's Pendleton Woolen Mills trousers. His outfit was completed with a brown pair of Oxford 12 shoes.

FLOWERS
The bride's bouquet and flower head piece were designed to withstand a long wedding day in the Arizonan dry heat. This floral selection was delicately arranged with the following flowers: yellow orchids, corums, white spider mums and various succulents. A twine wrapped the bottom of the bouquet and boutonniere. The groom's boutonniere was a single yellow orchid with a brown leaf.
THINGS TO REMEMBER
This Arabian theme wedding is perfect for the spring and summer months.
SIGNATURE COCKTAIL
I would recommend serving an Arabian Night. (Recipe can be found here!)
TAKE IT UP A NOTCH
Couples could take this inspiration up a notch with a few other ideas. A couple could jazz the Arabian tables with bold fuchsia florals and burn incense to give the environment a warm desert feel. If the couple does their first look before the wedding I would recommend setting up camel rides for the guest during cocktail hour. A bonus would be for the guest to get a picture riding as an alternative to the photo booth. They could tie it all together by serving their friends and family authentic Moroccan appetizers for a night of entertainment. For music I would recommend the soundtrack from Slumdog Millionaire that was awarded the Golden Globe for Best Original Score and is widely known by the Western culture. For the wedding another suggestion would be for the bride and bridesmaids to have henna designs on their skin.
Check out this shoot's beautiful behind-the-scenes video!


Shoot Professionals
Venue: Phoenix Zoo | Photography: 10,000 Smiles | Floral: God's Garden Treasures | Art Prints: Twopence Creative Studio | Clothing: GrowOp | Hair & Makeup: Tracee Clemons | Furniture: At Last Events | Cake: Honey Moon Sweets | Videography: Minkmade and Nomad Productions | Jewelry: Wendy Grace | Models: Kyle & Alexis