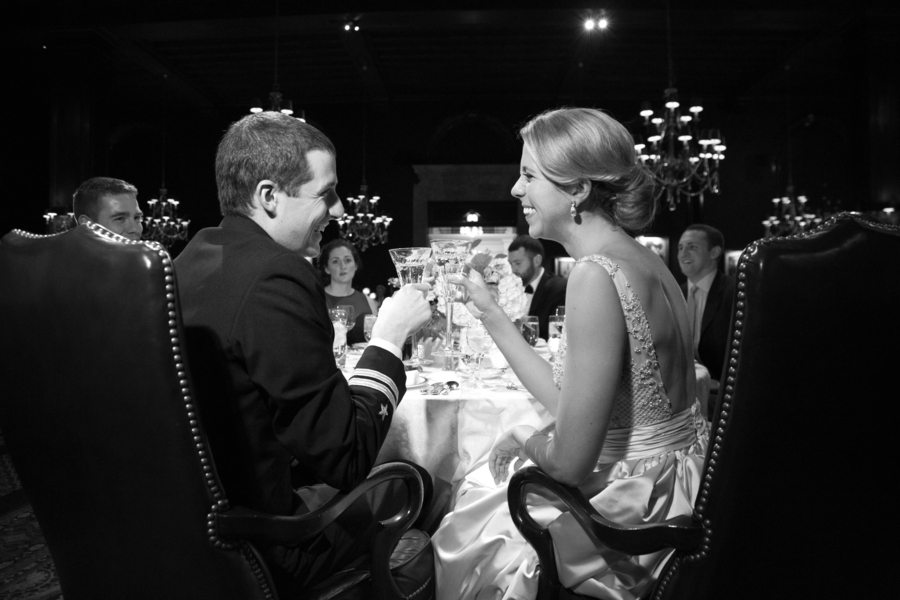 Elegant & Classic Military Wedding at Union League Club
There's something about the look of lots of chandeliers that we just love! The decor from Ali + Alex's Union League Club of Chicago popped in the photos sent to us by Gerber + Scarpelli Photography. It's all because of the dark navy blue walls and soft lighting that the gold chandeliers give off.  Can this wedding be any more romantic?
Ali + Alex dressed to the nines for their Old St. Patrick's Church ceremony. Anne wore a classic Anne Barge gown from Kleinfeld and had her makeup done by Magnificent Brides, while Alex dressed in his handsome naval uniform. They looked like the stars from an old Hollywood romance movie!
Flowers and centerpieces for this couple's big day was provided by Ashland Addison Florist. Bridesmaids wore long purple gowns from Bella Bridesmaids and invitations were provided by Steel Petal Press.
It was a day filled with love and magic for Ali + Alex. Be inspired by their beautiful pics!