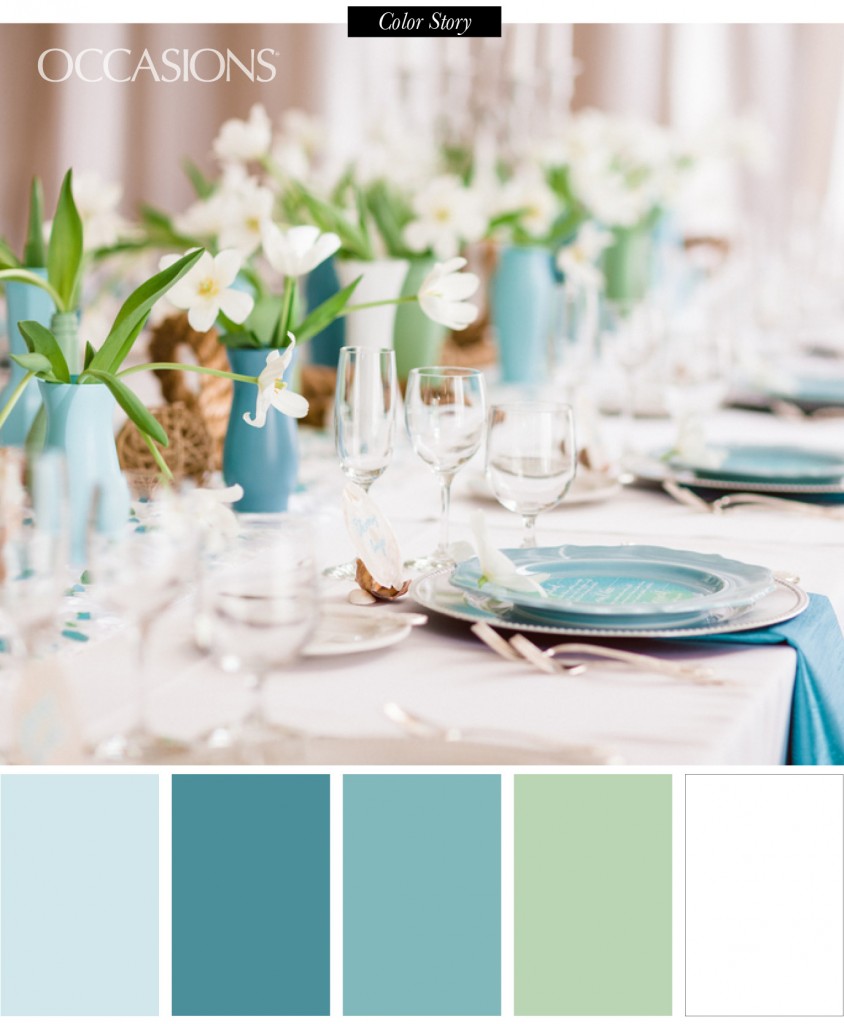 Elegant Blue & White Inspiration for Intimate Destination Wedding
Seashells, starfish, and sand galore . . .  The necessities of destination wedding decor, right?  Wrong!  I know, I know — pretty much every reception you see for a destination affair includes at least a few of these things, maybe even a sand dollar here and there.  And I know that, even though you may not be a huge fan of this more cliché beach decor, you just don't know of another way to bring a seaside vibe to your reception.  Don't worry — Stephanie Mesier's got you covered!  By simply using the right textures, flowers, and a wave of crisp, clean ocean colors, a beach-themed reception that is simple, cool, and classy is right at your fingertips.  But don't take my word for it!  Drink in the elegance and serenity of this tablescape brought to life at the Hilton Naples ballroom wedding venue with these images by Florida's wedding photographer, Hunter Ryan Photo!

THEME
Simple, Elegant Beach Destination wedding. Incorporating the elements of the beach with colors of sea glass and water, texture of the linen, nautical rope, sea glass and capris shells. The white tulips were the perfect finishing touch to complete the tablescape. We wanted to elements of the sea to be the focal point. Adding a simple yet elegant white floral and keeping it al the same was our ultimate goal. The end result was even better then expected. Having the tulips flowing over like waves in the ocean in the sea glass colored vases was the perfect final touch!
COLORS
Various shades of blues, turquoise, green and white.
FLOWERS
Tulips
PERFECT FOR
This design would be perfect for the intimate destination beach wedding. It could also be used for a dinner party on the beach or seaside cottage. Perfect for the couple who wants an elegant and beautiful "beach" tablescape without using your typical "beach" décor.
THINGS TO REMEMBER
To achieve this look I would say less is more. You don't need to add a lot of each element. Just a touch will go a long way. Keep it simple and use the texture and color as your focal point. This style could work year round in South Florida and would be the perfect "Welcome to Spring" tablescape for other seaside areas.
SIGNATURE COCKTAIL
Any type of Tropical Cocktail would be great! There are so many options with Blue Curacao that it would be the perfect finishing touch to the tropical, beach setting! Get creative with the name, make it personal!
TAKE IT UP A NOTCH
You can choose to get a more luxe, fine linen to take it up a notch. By adding layers of blue plates, and not having any of the regular white place settings. Having Steel Drums playing to give it a truly "tropical' setting.
WHAT TO WEAR
Linen suits for men and flowing light dresses for women for an evening affair. For daytime casual linen shorts and shirts for the men and sundresses for the women. Can you imagine your guest all being in white attire that would be stunning! Perfect for an intimate destination wedding or dinner affair.
Shoot Professionals
Photography: Hunter Ryan Photo | Planning & Design: Along Came Stephanie | Venue: Hilton Naples | Decor: Alter Elements | Floral: Isn't She Lovely Florals | Stationery: DM Paper Designs | Tuxedo: The Tuxxman | Wedding Dress: Kelly Chase Couture | Linens: Over the Top | Chairs: Niche Event Rentals | Makeup: Daniela DeSanctis
Click here to learn more about planning a wedding in South Florida.
Search for Waterfront Wedding venues near you here.