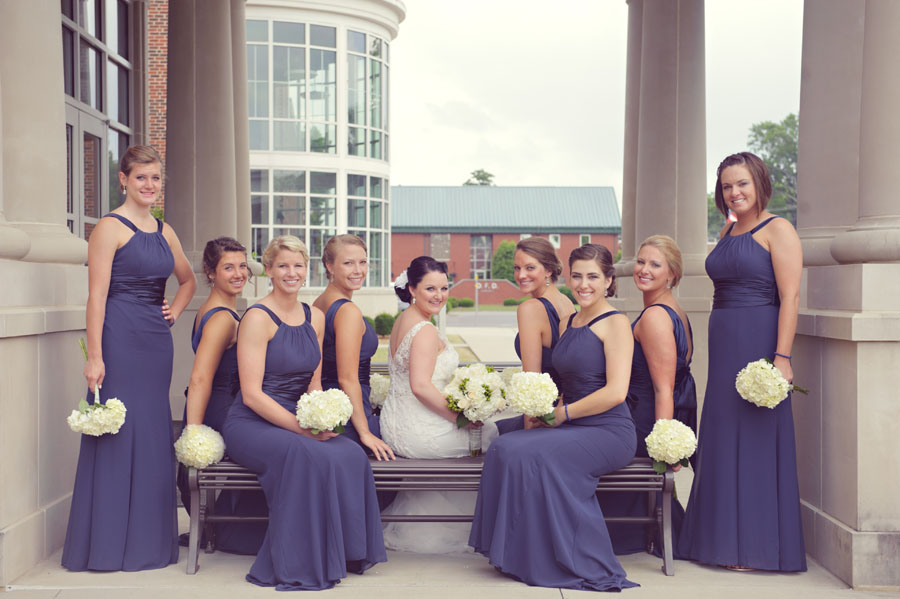 Dalton, Georgia Wedding at First Baptist Church Dalton by Allison Hilyer Photography
After Tyler surprised Loni with a Christmastime proposal in front of all of their family and friends, these college sweethearts began to plan their summertime wedding at First Baptist Church of Dalton — the same beautiful building where the groom's own grandparents were married years before.  It was a celebration filled with a simple, classic elegance, beginning with the gorgeous gown of ivory lace worn by the bride.  Clasping her white bouquet in her hands, her great-grandmother's sky blue brooch attached to the handle, Loni met Tyler for a first look in the prayer garden — a moment neither of them will ever forget.  It was then time for the ceremony to begin.  All smiled as the bride's father escorted her down the aisle.  Vows were spoken, a fisherman's knot tied, and Loni's father — who performed the ceremony — pronounced the two husband and wife.  A cozy reception followed, decorated with the charm of burlap, mason jars, white roses and blue hydrangeas.  After enjoying their fill of homemade goodies, guests danced the afternoon away before the happy couple departed for their Jamaica honeymoon!  Images by Montgomery wedding photographer Allison Hilyer Photography!
Tell us how you met. Was it love at first sight, blind date, friends forever?
We meet at college Shorter University. I played Volleyball and he played Basketball.I first saw Tyler during volleyball practice. He was walking through the gym with the basketball team. Was it love at first sight? I think not, HE HAD A MOHAWK. If anyone knows me, I HATE Mohawks. Tyler was acting silly walking through and one of my teammates walked over to me and said, "LB, that kid would be perfect for you." I looked at her and laughed! A few months later . . . Tyler and I started to hang out a little more with our friends, and then it started to just be us. Tyler asked me on our first date after a basketball game when he was driving me back to my dorm room (the day before Valentine's Day!). I was about to get out of the car and he asked if I wanted to go to dinner and a movie! After the first date, the rest is history. We dated for three years. I knew he was the love of my life and my best friend about a year in. He is truly my biggest supporter and fan. I could not have asked for a better man to be placed in my life by God!! He is an answered prayer!
Tell us about your wedding gown and what your wedding party wore.
My dress was simply stunning, with the ivory color and the lace and beaded detail all the way to the train. The dress was from the Jasmine collection. I felt like Grace Kelly in this dress. The groom and groomsmen wore gray tuxes with gray vests to match along with a studded white shirt and gray bow ties. Our bridesmaids wore floor length navy blue dresses from David's Bridal. I will admit these dresses weren't my first choice, but after I saw them on the girls and the way the dresses flowed when they walked, it was breathtaking! Our four flower girls wore navy blue to match but had a cute bow and some bling to stand out!

What was the most memorable moment?
It would definitely have to be when we said our vows. We said traditional ones but then we said a set written by my dad and after those were said we tied a knot. It is called the fisherman's knot. And with time the more pressure that put on this knot, it only becomes stronger and stronger. The only way to break it is to cut through the middle directly. It was a great symbol for Tyler and I to look at as our marriage grows. It hangs in our house so we can see it every day.

Was there a specific theme or style?
Simple elegance with an emphasis on our love for God, love for each other and love for our family.

Tell us about the food and desserts.
My mom with the help of other family members and friends made all the food and drinks with the exception of the wedding and groom's cakes and cupcakes. Other than that everything was made by the family!  We had Oreo balls, an a cake of stacked Oreos, a cake of stacked zebras cakes(all my groom's favorites). The groom's cake was a cookie cake from Great American Cookies. My cake was red velvet with an assortment of mini cupcakes! We had pita wraps, fruit, sausage balls, these amazingly yummy goat cheeses and herb pops! All made by family members.

If there was one thing you could change, what would it be?
I would have gotten my dress hemmed shorter. It wasn't too long by any means, I just wished I have gotten it tad bit shorter. That was the one thing that bugged me the whole day! Being 4' 10 and all . . .
Wedding Professionals
Venue: First Baptist Church of Dalton | Photography: Allison Hilyer Photography | Videography: Chil Studios | Hair & Makeup: SpaGo | Floral: Ruth and Doyle's Florists and Busseys Flowers, Gifts & Decor | Wedding Cake & Cupcakes: Honeymoon Bakery | Groom's Cake: Great American Cookies | Photobooth: 3 Rivers Photography | Tuxedos: Jim's Slack Shack | Bridesmaids Dresses: David's Bridal | Wedding Dress: Modern Bride, Inc.