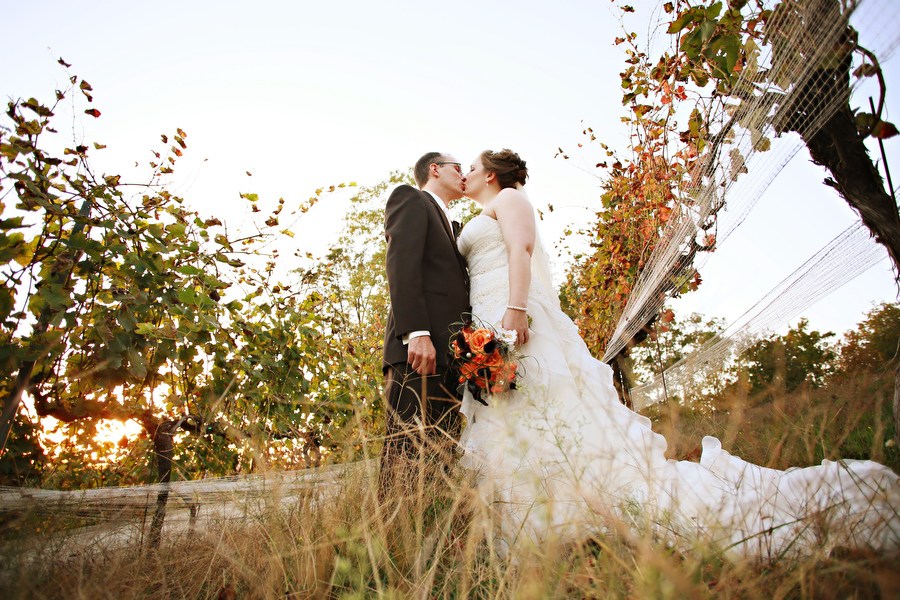 Dahlonega, Georgia Wedding at Wolf Mountain Vineyards & Winery by Melissa Prosser Photography
When Jennifer and Troy vowed to love one another forever beneath a flower draped arbor atop the pavilion at Georgia wedding venue Wolf Mountain Vineyards & Winery, the October sun bathed the onlookers with warm light.  Beloved golden retrievers, honorary flower girl and ring bearer, were extra special additions to the wedding party during the ceremony.  Unique touches prevailed at this event with details like rocks that guests signed in place of a traditional guest book and a unity canvas that the bride, groom, and his daughter poured paint onto for a lasting, one-of-a-kind display.  Following the ceremony guests enjoyed delicious fare by Wolf Mountain, including fried mac and cheese, berry cobbler and an assortment of wedding cake and cupcakes.  A guitar duo, Melonbelly, provided an acoustic flare to the ceremony and reception that proved to be one of Jennifer and Troy's very favorite elements of their big day.  Amid the dancing and celebration that followed dinner, the newlyweds made memories that will last a lifetime and longer.  This intimate autumn celebration was captured by Atlanta wedding photographer Melissa Prosser Photography!
Did you DIY any of the details?
I'm far from crafty so there was not any "making" of things, but lots of personalization. My favorite item was my bouquet – there was a memorial picture of my father on the handle, a toy from my grandfather wound into the flowers, a handkerchief from my grandmother woven in the wrap of the handle, and a necklace from my other grandma tied into the base of the flowers. It was important to me to have a piece of all of them there with me.

Tell us about your wedding gown and what your wedding party wore.
My dress was called La Sposa Fantasia and I purchased it at Bridal Sense. The dress was ivory, strapless, and it had ruching that came together on one hip. It had a Spanish flair with lots of flowing/draping in the skirt and there were sequins interspersed throughout the dress. The bridesmaids wore eggplant colored Landa Designs (style M610) chiffon floor length dresses that had a halter like neckline with straps that crossed in the back, ruched bodice and a flowing, pleated skirt. The groomsmen wore chocolate brown tuxedos with eggplant colored ties except for the groom's, whose was ivory.

What was the most memorable moment?
The most memorable moment may have been the first look. We spent the day apart, getting ready, greeting friends and family, etc. and it was hectic, crazy, I was a bit overwhelmed, etc. That moment before the ceremony with my husband was very important to me. He grounded me, as he always does, and I felt calm and focused. It was only a few minutes, but it made such a difference of how I proceeded into the ceremony so for me it was the most memorable moment. My mind went from jumping around thinking about decorations, dress, makeup, hair, family, friends, flowers, food, music to just…us.
Was there a specific theme or style?
The entire point of the event was to be laid back and low key so that was pretty much the "style." We used fall colors since it was October, but there was no specific theme.
What were your playful twists that made the event unique?
My male golden retriever and my maid of honor's female golden retriever service dog were the ring bearer and flower girl. They were fantastic and were a fun touch to the ceremony. There were a couple things we did that created mementos we see daily that were a bit unique. There were rocks for guests to sign as the "book" and put in a basket. They are now on display as a centerpiece in our dining room. Also, for the unity part of the ceremony, my husband, his daughter, and I did a "painting." We each had a color of paint in a jar and simultaneously poured them onto a canvas. They dried with all 3 colors mixed together and the finished product is on display in our home.
Tell us how you met. Was it love at first sight, blind date, friends forever?
We met several years ago, around 2005, and were friends. He was also a career mentor for me as I continued through my education. We did not talk much for several years, but in 2011 we began talking again through a mutual friend. He lived in Philadelphia and I lived in Atlanta so we started catching up via email and then had frequent phone conversations. The more we talked, the more we regretted ever falling out of touch, and we enjoyed getting to know each other all over again. The admiration and respect that had been the foundation of our friendship years ago were still there and served as a foundation for a romantic relationship.

Tell us about the food and desserts.
AMAZING. Wolf Mountain had many delicious choices to pick from for the cocktail hour and for the dinner. Since we are both very food motivated, my husband and I felt having a buffet was appropriate. One item that stuck out in my mind was the fried mac and cheese…so good! They also served a mixed berry cobbler that everyone was raving about. The wedding cake and cupcakes from Frosted Pumpkin were divine. We had a small cake for cutting, which was chocolate cake with chocolate mousse filling and chocolate ganache topping. If I hadn't just gotten married, I would have proposed to the baker immediately. Then there were 3 types of cupcakes for the guests- one all chocolate goodness modeled after the cake, another that was french vanilla filled with buttercream, and another red velvet topped with cream cheese frosting. Friends mentioned to me months later that they remembered our wedding for its great food and wine so mission accomplished.

What kind of energy did your entertainment give the event?
Melonbelly was the duo playing at our event and they were fantastic. They are a very laid back guitar duo so they fit what we wanted perfectly. They were also lots of fun and got everyone dancing. They went above and beyond and saved the day for the ceremony. I had hired a string trio who did not show up so 5 minutes before start time, the folks at Wolf Mountain helped Melonbelly move their guitars and equipment down to the ceremony pavilion and get set up to play. They played the exact songs listed in the program so most of the guests actually had no idea they weren't the planned music for the ceremony. I cannot say enough good things about these 2 guys- both about their music and how great they were to work with in the planning stages.

If there was one thing you could change, what would it be?
I would have paid the extra fee to have our reception to last longer. We were all having a great time and I would love to have extended it longer into the night. At the time of planning it, I assumed I would be tired and ready to wrap things up.

Wedding Professionals
Venue, Catering & Decor: Wolf Mountain Vineyards & Winery | Photography: Melissa Prosser Photography | Floral: La Petite Fleur | Musicians: Melonbelly | Favors: My Little Chickadee Creations and Recycled Ideas | Transportation: Crown Mountain Limo | Cake & Cupcakes: Frosted Pumpkin Gourmet, Inc.
Click here for more information on planning an Atlanta wedding.
Click here for more winery and vineyard wedding venues near you.