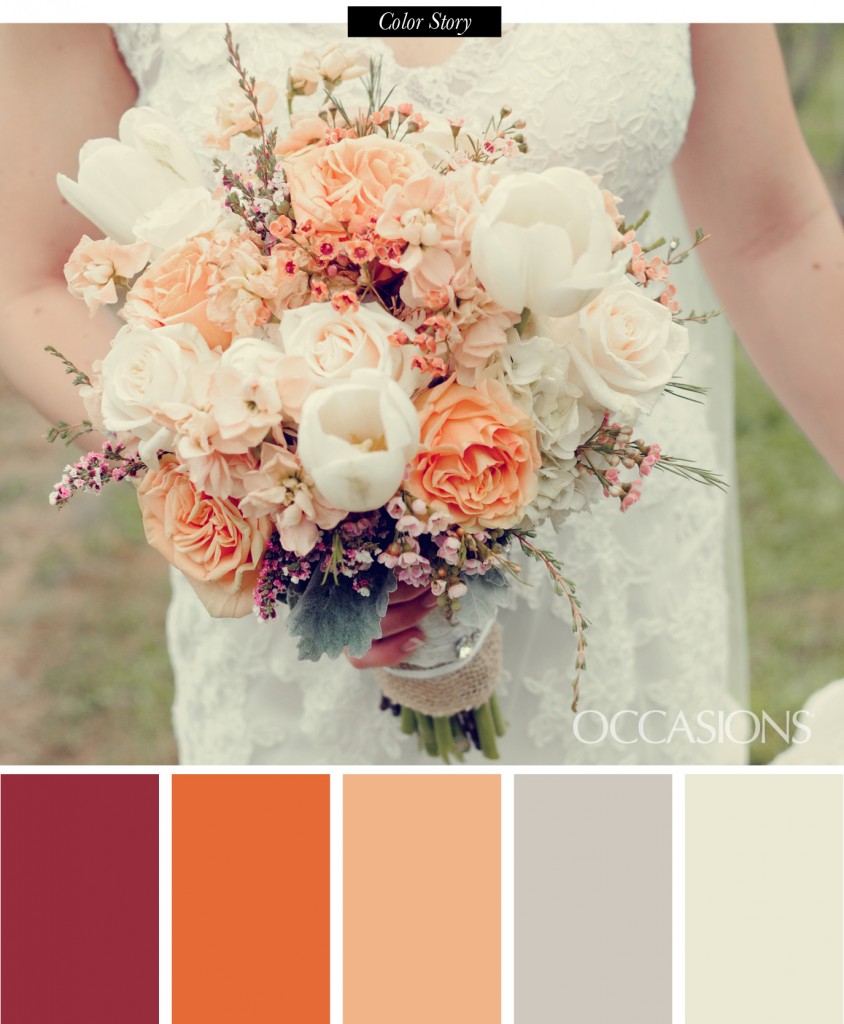 Dahlonega, Georgia Wedding at Frogtown Cellars by Alea Moore Photography
Fellowship and rustic grace ruled the day in the wedding of Christy and Taylor.  The ceremony took place at Dahlonega wedding venue Frogtown Cellars, where accents of vintage lace and crystals, baby's breath and peach peonies proved the perfect sweet accompaniments to the mahogany winery and rolling hills.  The bride wore an ivory lace gown by Allure with cap sleeves and flared skirt that absolutely shone alongside champagne gowns of lace on her bridesmaids.  Following the ceremony guests adjourned to the reception where personalized hand-decor made for familiar intimacy.  Photographs of the bride and groom were used throughout the affair, alongside vintage suitcases, repurposed wine bottles and delicate floral arrangements.  A gourmet meal by Frogtown included bourbon-glazed tenderloin, pecan sweet potatoes, and green beans to name a few.  Three different bridal cakes by GGEvents ensured that guests could indulge to their hearts' desires, while wine flowed and music kept everyone on the dance floor well into the night.  Have a glass of wine as you peruse these gorgeous photos by Atlanta wedding photographer Alea Moore Photography!
Please give us an overview of the event.
The wedding took place at the gorgeous Frogtown Cellars winery in Dahlonega, Georgia. We had the perfect combination of an intimate, romantic ceremony, follow by a crazy fun reception where everyone danced the night away.

Tell us how you met. Was it love at first sight, blind date, friends forever?
We met in class at the University of Georgia, then got to know each other better through mutual friends. Then we dated for six years before getting engaged. People always ask what took us so long, but the timing was perfect for us. And he was worth the wait!

Tell us about your wedding gown and what your wedding party wore.
In line with the shabby-chic theme, I wore an ivory, all lace slip dress with cap sleeves, a tight bodice, flared bottom, and open back (by Allure). Paired with a rhinestone belt and feather hairpiece (Etsy), it was exactly what I wanted. My girls wore champagne lace dresses (purchased at Belk) and the boys were in traditional black tuxes (Men's Warehouse).

What were your playful twists that made the event unique?
While I wanted to have some elements of a traditional wedding, I also wanted it to feel very personal. So we used lots of photographs in the decorations, we had a good friend officiate the ceremony, and our arbor was hand made by Taylor's parents. It was important to me that the ceremony music also be tailored to us, so one of my bridesmaids sang as I walked down the aisle, Taylor's sister (also a bridesmaid) sang before we said our vows, and a good friend accompanied them on the guitar.

Did you DIY any of the details?
I am extremely blessed in that my mom is one of the most creatively talented and crafty people I know, so she designed and created almost all of the decorations for the wedding. She made burlap table cloths and bouquet wraps, created the floral arrangement for the arbor and chair end caps, turned old wine bottles into photo holders, used vintage suitcases on tables to display our favors, and carefully selected a variety of antique silver platters, candle holders, and lace fabrics to create custom "table-scapes" for each guest table.

Now for the proposal…details!
It was a beautiful June Saturday, and we had planned a trip up to Taylor's hometown in North Georgia for a cook out with both of our families. (Since we'd been dating so long, this was nothing out of the ordinary.) Taylor had suggested we go hiking up Black Rock before hand – a mountain near his home where we had hiked a few times over the years. Once on top of the mountain, I walked a few steps away to admire the view from one side of the lookout. When I turned around, Taylor was on one knee with a gorgeous diamond ring in his hand and a huge smile on his face. Before he could even say a word I started hollering YES! and threw my arms around him. I was completely surprised! Then it was off to the cookout where our families were waiting on us with a surprise engagement party. We enjoyed a great afternoon, and when we got back to Atlanta, our closest friends were there to surprise us with a champagne celebration. It was an incredible day.

Was there a specific theme or style?
Everything was very romantic – lots of lace, soft colors, crystals, antique décor, and candlelight. I wanted it to feel vintage, without being too "pinterest-y."

Tell us about the food and desserts.
Mouth-wateringly delicious! The food at Frogtown is just amazing. We had appetizers served during cocktail hour (while we took pictures) that consisted of a variety of cheeses and fruits, coconut shrimp, hummus and vegetables, and beef empanadas with cilantro cream. Then our buffet dinner included a field green and strawberry salad with pecans and gorgonzola cheese, bourbon-glazed pork tenderloin, sweet potato with pecan topping, and green beans. Our florist, Green Gables Events, made the bridal cakes (we had three!) – which were beautiful and delectable; Italian cream cheese, key lime (it sounds weird but it was a huge hit), and white chocolate with raspberry. The grooms' cake was made by a family friend and was made of Taylor's favorite things – chocolate and Reece's cups.

What kind of energy did your entertainment give the event?
We used a DJ that a friend had used at their wedding, and he kept everyone on the dance floor all night! It's just what we wanted. I still have people tell me it was one of the most fun receptions they've ever been to.

What was the best wedding advice you received?
My friends all told me: throughout the day, take time to really pause and just be in the moment. Soak it in. The day is so crazy, packed full of timelines and to-dos and it goes by so incredibly fast. This was so true and I'm so glad I listened.

Wedding Professionals
Venue: Frogtown Cellars | Photography: Alea Moore Photography | Floral & Bridal Cakes: GGEvents | DJ: Ken Marshall of Joboo Entertainment Services | Videography: Bob's Eye View Weddings | Transportation: Crown Mountain Limo
Click here to learn more about planning an Atlanta wedding.