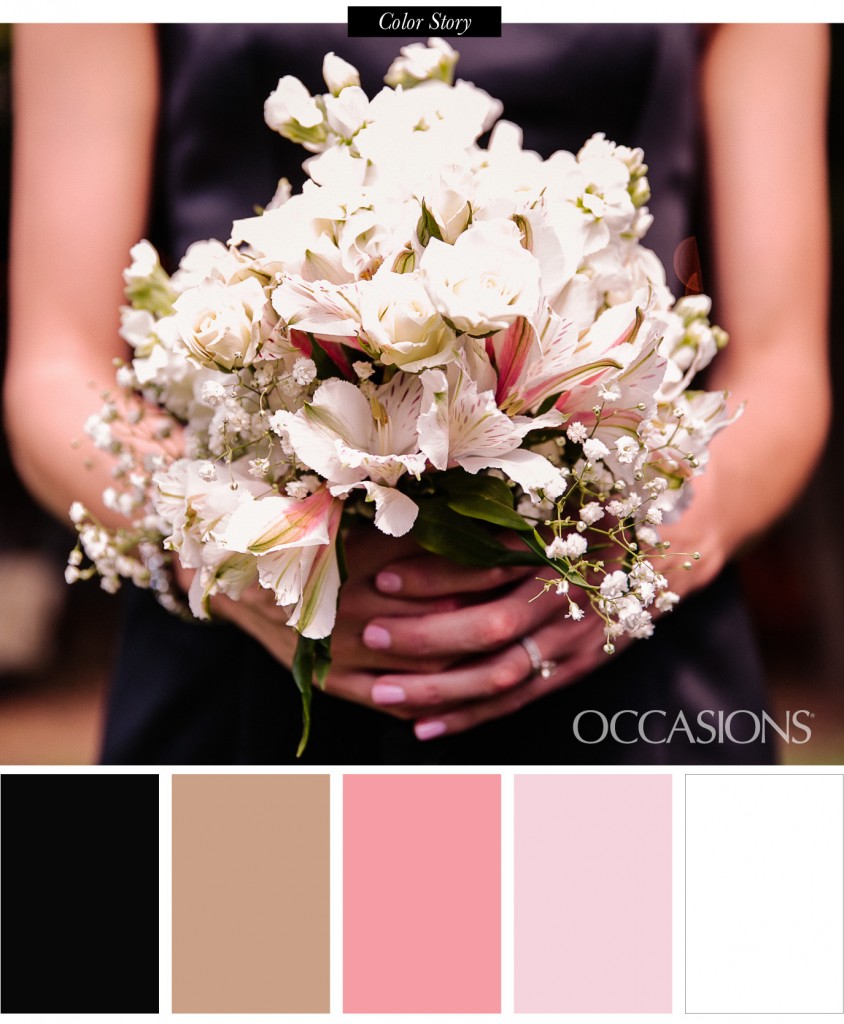 Cleveland, Tennessee Wedding at Fillauer Lake House by Bamber Photography
The September wedding of Stephanie and Mike was a glorious ensemble of Southern hospitality and the overwhelming elegance of the Tennessee woodlands.  An intimate ceremony took place in a stone chapel before guests adjourned to the reception inside the barn at Tennessee wedding venue Fillauer Lake House, the warm light of a glistening chandelier shining down inside the rustic space.  Burlap accents, mason jars, rugged furniture and vintage china complemented arrangements of pale flowers and twinkling string lights.  Stephanie and her bridesmaids were stunning with the bride in sweet, sophisticated white alongside her girls in decadent black satin.  Southern comfort food by Corvette's Bar-b-Que and Catering included bite-sized chicken and waffles, macaroni BBQ bites, and a delectable array of fresh pies.  Mike's pick of 176 Keys Dueling Pianos provided a high-energy good time, with bride and groom dancing the night away surrounded by the people they loved most in the world.  The two exited amongst cheers and cherished embraces after which Mike surprised his bride with a honeymoon in Tahiti.  Photos of this happily-ever-after are brought to you by Tennessee wedding photographer Bamber Photography!
Please give us an overview of the event.
We wanted to give our friends and family a feast of Southern hospitality! From getting married in a little stone church to dancing to dueling pianos in a barn with a chandelier, we wanted our guests to experience everything Tennessee has to offer!
Tell us how you met. Was it love at first sight, blind date, friends forever?
Mike was working at his radio station when an intern was on Facebook. He happened to walk by the second she was on Stephanie's page and said, "Who is that?" We went on a sort-of blind date and hit it off right away. A few months later we were sitting on a bench in Nashville's Centennial Park, and that's where we each realized this person could be The One.
Now for the proposal…details!
We lived in San Diego at the time, so Mike made up an excuse for us to fly to Nashville. He had a friend set up a blanket and flowers in the park. A few minutes later, someone came from behind a tree playing "God Gave Me You" on his guitar. That's when he got down on one knee and took the ring out of his boot. Another friend was there the whole time (without me knowing it) taking pictures, so it's all on film!
Tell us about your wedding gown.
My gown was timeless. Classy and simple with a little bit of bling and a 7 foot long train with beadwork that shimmered when the light hit just right.
Was there a specific theme or style?
Classy southern chic
Did you DIY any of the details?
Tons thanks to Pinterest of course! Mason jars with guests' names, Instagram board, lots of burlap!
Splurge on…
Photography. You will have these pictures forever!!

Tell us about the food and desserts.
The dinner was southern comfort food at its finest. We had everything from bite-sized chicken and waffles, fried macaroni balls and BBQ. The groom's cake was also a massive spread of different homemade pies.
What was the best wedding advice you received?
S. L. O. W. D. O. W. N. It goes way too fast, so take time to take it all in. We each designated a friend to be in charge of pulling us aside and reminding us to take it in. When we were moving fast, they were an extra set of eyes to see the amazingness around us.
What was the most memorable moment?
We were able to take a few minutes during the reception to stand back and see all of the people we love the most in the world in one place. We will never forget that.
Wedding Professionals
Photography: Bamber Photography | Venue: Fillauer Lake House | Floral: Perry's Petals | Ceremony Music: Forte Strings | Reception Music: 176 Keys | Catering: Corvette's Bar-b-Que and Catering