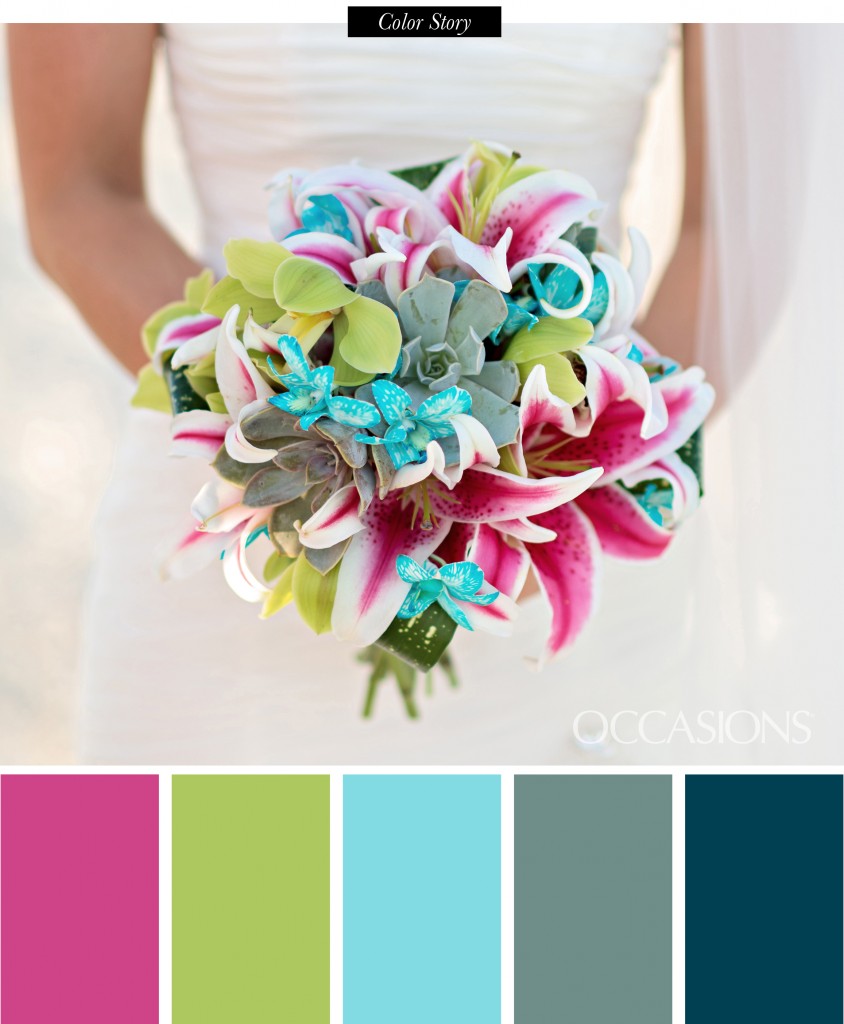 Clearwater, Florida Wedding at Hilton Clearwater Beach by Kristen Weaver Photography
Beach, band and open bar.  These elements were at the top of the list for Natalie and Chay's vacation-style wedding.  Family and friends traveled from all over the country to take part in the festivities, most of them taking the opportunity to enjoy an extended stay on Florida's sandy beaches.  The bride walked down the aisle to "Here Comes the Sun" accompanied by her bridesmaids in perfectly coordinated dresses of many colors.  The couple exchanged vows during a fully customized ceremony complete with an acoustic guitarist.  The intimate setting carried over to the reception where vintage family wedding photos complimented the natural décor, guests leaving signatures on wine corks in lieu of a guest book and a bright teal, orchid-draped cheesecake as the culinary focal point.  A fire pit in the sand and the warm, spicy scent of cigars set the mood for a personal reception, the ocean crashing just beyond.  The reception deck became a dance floor, the band getting everyone to their feet for a night of unforgettable cheer.  This beachside celebration is brought to you by Central Florida's talented wedding photographer, Kristen Weaver Photography!

Tell us how you met. Was it love at first sight, blind date, friends forever?
Chay and I met while I worked for Children's Miracle Network in Oklahoma City. He served on an event committee, and I had my eye on him the entire time I was interning and started working full-time. We both share a passion for supporting children's health within our community. As soon as I changed positions within the organization, I asked him out, he obliged and we've been inseparable ever since.
What was the most memorable moment?
Our first look at the hotel – I had so many excited butterflies and Chay got so emotional so quickly!
Please give us an overview of the event.
Since all of our family and friends were going to have to travel from all over the country for our wedding, we decided to make a vacation of it. Chay and I find so much peace on the water and wanted a casual, tropical setting. It was also extremely important to me that my grandparents attend, so we picked a location that was local for them. I loved how intimate the entire event was and no aspect seemed hazy, as most brides feel on the day. I had personal conversations with every guest and remember every minute of the day. The Florida heat was beautiful! My goal was to plan as little as possible to have as much fun as possible, and that we did.
What were your playful twists that made the event unique?
I spent more attention of crafting the ceremony script than any other element of the wedding. We aren't overly spiritual, so it was vital to us to customize scripture and readings based on our beliefs and future. One of the most memorable parts of the ceremony was our address to the parents, which we formed a circle so they could acknowledge support of our marriage and pay tribute to them. Rather than walking down the aisle to a traditional processional, an acoustic guitarist played the Beatles' "Here Comes the Sun" instead. Since my 5 bridesmaids lived in 5 different states, I had each of them pick their own dress in whatever color they desired, which came together PERFECTLY! We also included vintage wedding photos of our parents and grandparents to be on display to pay tribute to their long-lasting marriages. In lieu of a formal guestbook, we opted to have signatures on wine corks which were placed in a blown glass vase. For favors, we distributed miniature champagne bottles in custom coozies which were the same bright teal. The fire pit outside of the reception deck served as the "ultimate cigar lighter" for those who wanted to enjoy the sand. In lieu of a grand exit, my mom surprised us with 25 lanterns which we lit and sent over the ocean.
Tell us about your wedding gown and what your wedding party wore.
My first gown was a sweetheart neck mermaid style, which I wore with flat sandals. My second dress was a similar sweetheart neck, lightweight high-low dress that I could dance in, as well as not get caught on fire by the firepit. My husband, father & father in-law wore dark tan suits with a teal tie. I told my bridal party to wear whatever they wanted and they each rocked it!
Was there a specific theme or style?
My three B priorities of Beach, Band & open Bar were executed beautifully yet casually. Our guests would venture to say that it was perfectly 'us' via the tropical ambiance and lively atmosphere while still remaining intimate. I carried the turquoise, pink and celery green hues everywhere and incorporated some subtle seahorse emblems.
Tell us about the food and desserts.
Sit down dinner with appetizers, Caesar salad, and dinner consisted of a steak or fish entree. Our cake was a bright teal turtle cheesecake with real orchids. Lots of champagne and drinks!!
What kind of energy did your entertainment give the event?
They were absolutely contagious! Everybody still raves about them. The most unexpected of guests still managed to cut a rug and my cute husband busted out his Michael Jackson impersonation. One of the most memorable parts of the band was seeing my grandfather dance again, as he is a former ballroom dance champion. They brought the uplighting as well which transformed the deck to a sexy ambiance.
Wedding Professionals
Venue & Catering: HIlton Clearwater Beach | Photography: Kristen Weaver Photography | Floral: Iza's Flowers | Decor: Iza's Flowers and Hilton Clearwater Beach | Band: phase 5 | Wedding Coordinator: Lainey at Confetti Events | Hair & Makeup: Beautiful You Makeup | Cake: A Better Cheesecake | Officiant: Ed Philips with Sensational Ceremonies | Bridal Salon: BEloved Bridal Boutique | Bridal Gown: Stella York | Menswear: Jos. A Bank
Click here to learn more about planning a wedding in South Florida.